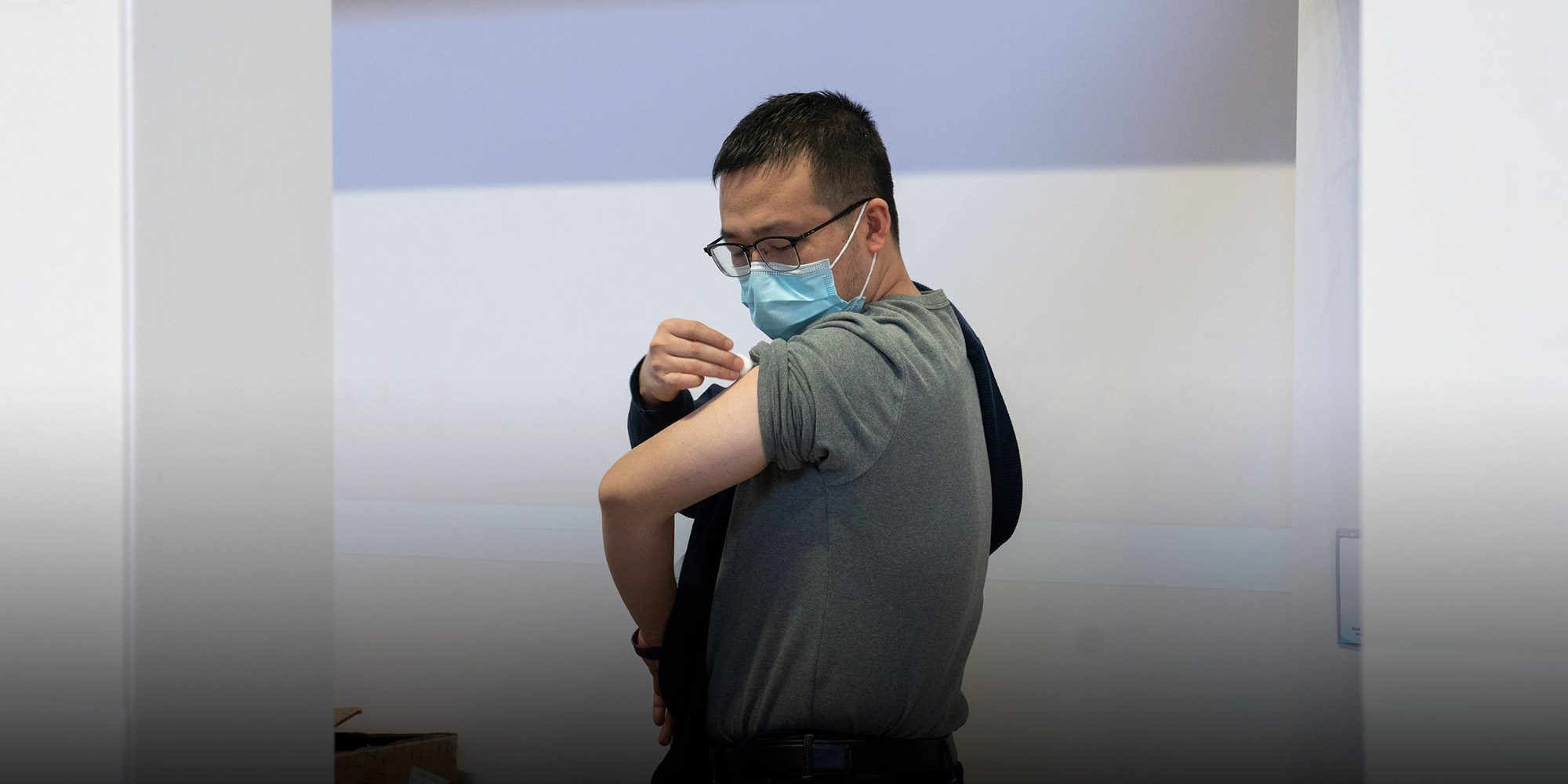 NEWS
Shanghai Kicks Off Mass COVID-19 Vaccination Drive
More than 800,000 people have received the first shot in a two-dose course as the city ramps up its inoculation campaign ahead of the Spring Festival holiday season.
SHANGHAI — The Chinese metropolis of Shanghai has launched a massive inoculation drive to administer coronavirus vaccines to hundreds of thousands of people in certain at-risk groups ahead of next month's Lunar New Year holidays.
As of Tuesday, over 800,000 people in the city had received at least one of their two doses of the COVID-19 vaccine, according to local health officials.
Inside Jiading Indoor Stadium, a designated inoculation site on the outskirts of Shanghai, dozens of people stood in line with their sleeves rolled up, ready to receive the domestically made vaccine from Beijing-based pharmaceutical giant Sinopharm. The vaccine is reported to be 79% effective in preventing the disease, and was the first candidate to be granted conditional approval in China last month.
Health officials had announced a nationwide vaccination campaign in December in a bid to contain the novel coronavirus that has been ravaging the world for over a year. Authorities said they would first target those with jobs that may put them at high risk of contracting the virus, including frontline medical staff, customs officers, and cold chain logistics workers.
Sun Xiaodong, deputy director of Shanghai's Center for Disease Control and Prevention, said during a news conference Tuesday that about 240,000 people in the city have completed the vaccine regimen, which requires two doses spread two to three weeks apart.
"According to the vaccine's instruction manual, those who are 60 and older don't fall within the qualifying age range for the time being," Sun told Sixth Tone. While the elderly and those with underlying health conditions are at higher risk of developing severe cases of COVID-19, they'll have to wait to get their shots.
An employee at state-owned SAIC Motor surnamed Huang told Sixth Tone that she signed up for the vaccine through her company, which offered her an appointment even though she has no imminent plans to go abroad.
"I have many friends in medicine who got the vaccine, so that convinced me," she said at the stadium in Jiading. "Getting the shot put my mind at ease. If you get the vaccine, you'll have greater immunity."
In the wake of recent flare-ups in the northern parts of the country, as well as the approach of the Lunar New Year, Chinese authorities have been on guard against the possibility of widespread outbreaks. Several cities across the country have been urging people to limit their holiday travels.
Editor: Bibek Bhandari.
(Header image: A man presses a cotton ball against his arm after receiving a COVID-19 vaccine in Shanghai, Jan. 19, 2021. Shi Yangkun/Sixth Tone)