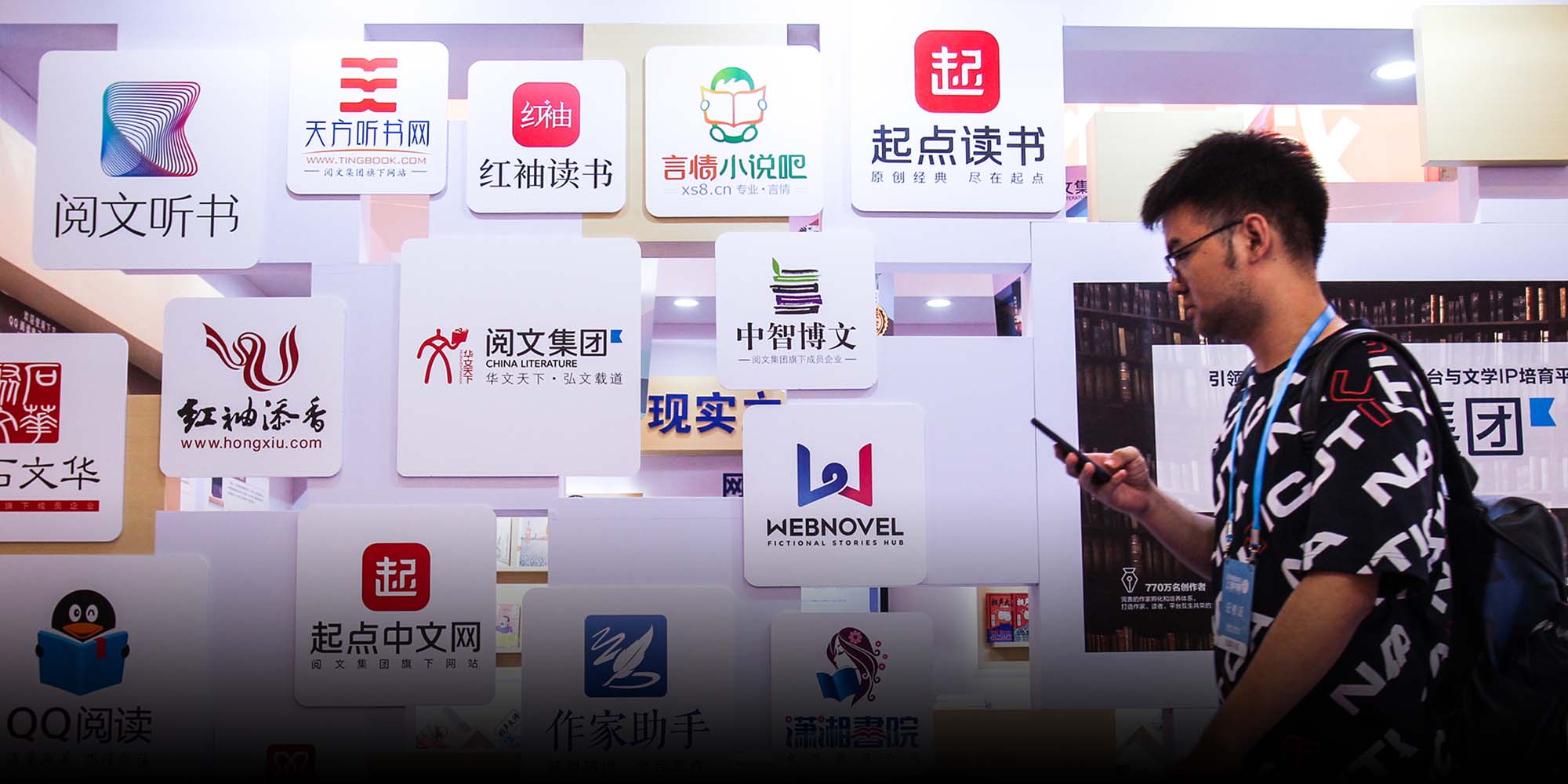 NEWS
Here Are the Top Reads From China's $5 Billion Online Literature Market
From romances and period dramas to coming-of-age tales and martial arts epics, here are the stories that hooked China's e-bookworms in 2020.
A major consulting firm has released a report on China's online literature industry, shedding light on current trends in the booming billion-dollar market.
The report, published Wednesday by Guangzhou-based iiMedia Research Group, said that last year, China's online literature industry was worth 37.2 billion yuan ($5.75 billion), and is expected to reach 41.6 billion yuan this year. The report also said that, as writers born after 1995 have joined the fray, the market has become more diversified in terms of genres and writing styles.
In recent years, Chinese online literature has seen growing fan bases among not only domestic readers, but also those abroad, particularly the West. Some foreigners eagerly devour English versions of Chinese martial arts epics published through online platforms such as WuxiaWorld.
Zhang Yi, the CEO and chief analyst at iiMedia, told Sixth Tone that China's online literature market grew last year alongside an evolving domestic understanding of intellectual property.
"Some leading platforms, such as China Literature, have more mature approaches toward commercialization and applying IP," he said. "The IP market in TV, film, stage performances, and other mediums is becoming relatively more mature and open, while online literature platforms have better operations and clearer market strategies."
Included in iiMedia's report is a list of the past year's top authors. What kinds of stories are they telling, and what does this say about the tastes of China's readers? Here's our overview of some of the most interesting and popular series by iiMedia's top-ranked authors.
The wuxia romance: "You Fei"
The online literature writer Priest is among the top five writers of works catering to female readers. Her series "You Fei" can be classified as a wuxia romance, centering on her protagonist, Zhou Fei, as she grows from a young and inexperienced girl to a knight-errant highly skilled in martial arts. "You Fei" is widely considered the "top IP" among online literature: the most coveted series for adaptation to TV or film. It's also unique as a female-oriented martial arts novel, which typically tells stories from a male perspective.
Although Priest finished the series in 2016, "You Fei" wound up in the spotlight last year when it premiered in December as a TV costume drama, "Legend of Fei," starring popular actors Zhao Liying and Wang Yibo. The show attracted new readers to the series, which should bode well for the success of Priest's future projects, according to iiMedia's report. Previously, her series "Zhen Hun," or "Guardian," was also adapted into a hit TV drama in 2018.
Xia Lie, vice president of the Chinese Writers Association's Institute of Online Literature, described Priest as a talented writer covering a broad range of genres, from romance and martial arts to science fiction and danmei — or stories of romantic relationships between men, usually told by women.
"Each of her works makes you feel new and different, and the quality and creativity set her apart from other writers," Xia told Sixth Tone.
The Asian fantasy: "The Path Toward Heaven"
Topping the rankings of writers catering to male readers was Maoni, author of the series "Dadao Chaotian," or "The Path Toward Heaven," known for a style dubbed "Asian fantasy." In this series, which concluded last August, the writer combined Asian and fantasy elements, telling stories from a made-up world where the characters are bent on achieving immortality.
Maoni's work belongs to two popular Chinese fantasy subgenres, xuanhuan and xianxia, which draw from China's rich literary, cultural, and spiritual heritage, and tell fictional stories incorporating elements from Chinese mythology and Western fantasy.
The writer is known for transporting readers to vividly described fictional worlds. He has published six works including "Qing Yu Nian," or "Joy of Life." After being adapted to a TV drama in 2019, it won plaudits and high ratings from critics and casual viewers alike.
According to Xia, Maoni excels at developing characters and leaving readers thinking after they're done with the latest installment. "The characters are three-dimensional. They have personalities, they feel love and hate, they have childhood experiences and experiences that helped them grow and mature," he said. "Moreover, after the story ends, you're left with the feeling that some serious philosophical thinking went into it."
The ancient romance: "Shan He Sheng Yan"
Tianxia Guiyuan, another famous online literature writer, is particularly well-known for her ancient romance novels and independent female protagonists. Since 2008, she has written eight stories of the same genre, including "Empress Fuyao" and "Huang Quan," triggering a literary wave of female-oriented romance stories set in ancient times.
Her novel "Shan He Sheng Yan," published last year, is the most popular work listed among pieces catered to female readers, with a total readership of over 17 million.
But some readers think Tianxia Guiyuan's latest series is out of step with her previous works. On Q&A site Zhihu, users have complained about a male character's bad romantic relationships with women becoming a recurring frustration for the female protagonist. Some have also taken issue with what they view as superfluous writing and forced online slang that's more awkward than cool.
Nonetheless, many of the writer's novels with television adaptations have been well-received by audiences, who feel connected to the plot and drawn to the characters — as in the case of "Legend of Fuyao," a 2018 production starring high-profile actors Yang Mi and Ruan Jingtian, adapted from "Empress Fuyao."
The medical story: "Great Doctor Ling Ran"
Some online novels on iiMedia's list, though not at the top, are important because they tell contemporary stories incorporating real-life elements. The year 2020 was gripped by the COVID-19 pandemic and its lingering uncertainties, setting the stage for stories revolving around health and medicine.
"Great Doctor Ling Ran" by Zhi Niao Cun, a series still in progress, is about an ambitious medical student who hopes to become an outstanding surgeon and ultimately achieves his dream by going on an epic journey. With an eponymous TV series expected later this year, online anticipation and expectations are already mounting.
According to Xia, the series is like a "written" video game: Every time the main character successfully completes a surgery, he levels up, gaining experience and new skills.
Despite the story veering toward what Xia called "illusory reality," he said the medical information it presents is quite accurate. When writing about hospital departments and human body parts, he said, the content is so well-researched that even a real doctor would be hard-pressed to find fault with it.
Editor: David Paulk.
(Icons: Iconscout/People Visual)
(Header image: A man passes by the online literature booth at the Shanghai Book Fair, Aug. 17, 2019. People Visual)