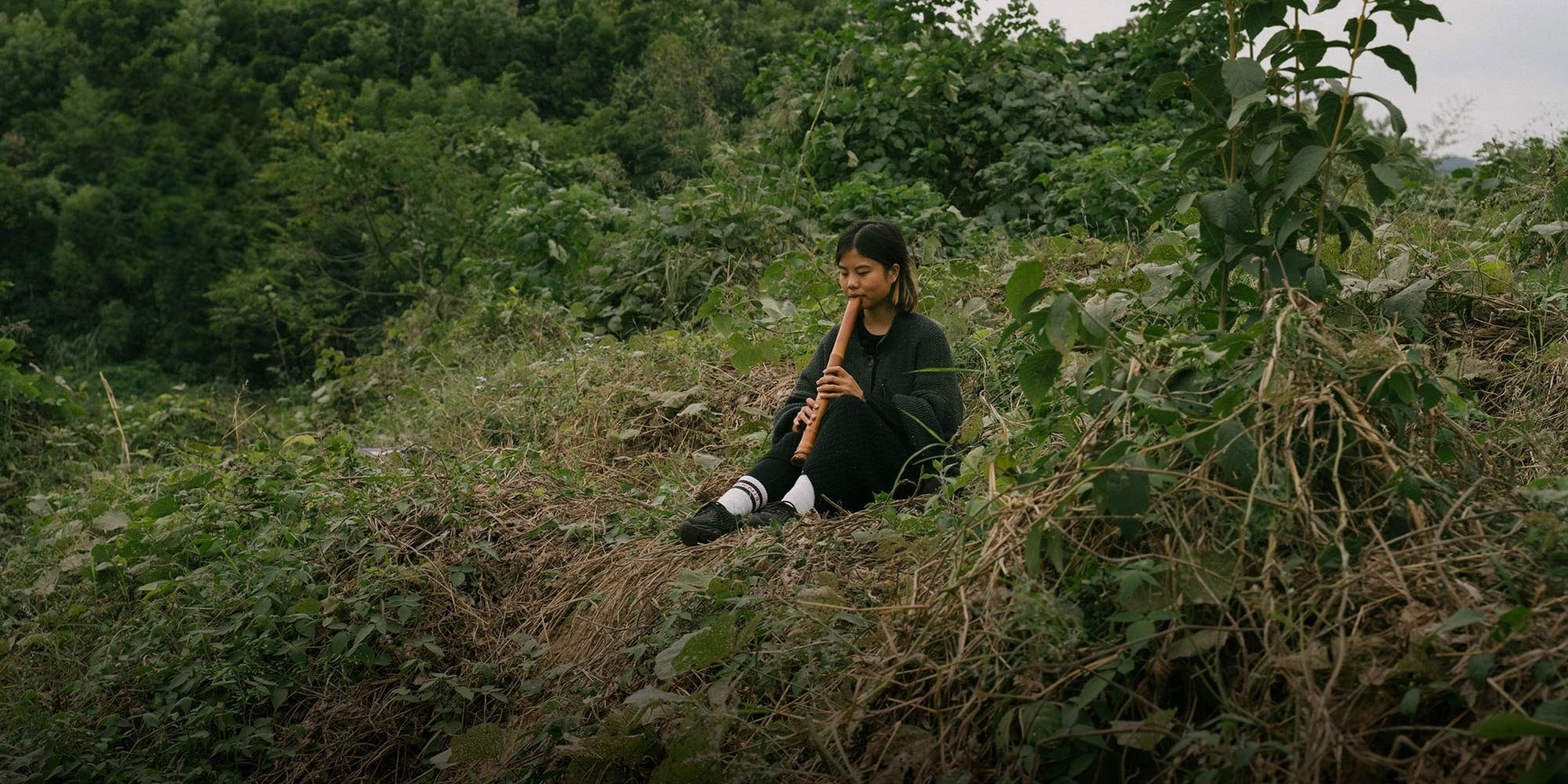 FEATURES
In China's New Age Communes, Burned-Out Millennials Go Back to Nature
Fed up with the grind of urban life, young Chinese are starting over in the countryside, where they aim to build a new society without "privilege or hierarchy."
FUJIAN, East China — On an overgrown patch of land surrounded by jagged hills, Li Junxian grunts as he drives a spade into the ground.
"If my parents could see what I'm doing, they'd be so pissed off," the 30-something laughs, turning up the dirt.
Dressed in a gray hoodie and branded sneakers, Li is clearly no expert when it comes to farm work. Originally from the southern megacity of Guangzhou, he has spent most of the past decade working as a sales representative for an international trading firm.
But a month ago, exhausted by office politics and feeling adrift in the city, something finally snapped. He quit his job, jumped in his car, and drove 10 hours along winding country roads to this remote corner of Fujian province, on China's southeastern coastline.
Li has joined Southern Life Community — one of a growing number of Chinese intentional communities in which members choose to form settlements based on shared values. Many live communal, largely self-sufficient existences apart from mainstream society.
Built on a rough, overgrown hillside, the settlement consists of two houses, a ramshackle shed, and an igloo-shaped structure that residents call "The Dome." There are also six chickens and a composting toilet that uses sawdust instead of flushing water.
The harsh conditions, however, haven't deterred Li and the dozen other people living there when Sixth Tone visits in December. The group members, who are mostly in their 20s and 30s, say they're committed to creating a new society free from "privilege or hierarchy."
And they're not alone. Over recent years, young Chinese have become increasingly disillusioned with the grueling work schedules and cutthroat competition that come with living in the country's major cities, leading many to embrace a range of alternative lifestyles — from extreme saving, to hermit culture and alternative food networks.
Communes like Southern Life Community have received an extra boost from the COVID-19 crisis, which has caused many in China to reassess their priorities and question society's overwhelming focus on economic growth, according to Peter Yang, a graduate student at the University of Chicago who researches intentional communities in China. 
"Many participants in this type of alternative lifestyle movement are looking for a direction," says Yang. "They've often experienced unexpected accidents, hit bottlenecks, or planned to start a new stage in their lives."
Since moving to Southern Life Community, Li has spent his days working the land, making handicrafts, and renovating the commune's facilities. For him, the place offers a glimpse of what a different society might look like.
"It has been a healing process for me," Li says. "Unlike those in the city, people here are always very authentic and willing to help."
The group is fiercely opposed to the top-down power dynamics that often dominate life inside Chinese organizations, holding town hall meetings to decide how to use the commune's limited land, water, and electricity. Members aren't required to perform duties or share their possessions, but they sometimes gather to dine, sing, or read poetry.
"Our time is overstretched due to our excessive consumption," says Tang Guanhua, founder of Southern Life Community. "We want to understand what we truly need and develop intimate relationships with one another."
A lean figure with long hair and baggy cotton pants, Tang is a veteran of China's intentional communities movement. A former freelance graphic designer, he first became disillusioned with life in the eastern city of Qingdao and began thinking about alternative lifestyles in the late '00s.
"My job was to make products look desirable, to come up with a slogan and visual effects to lure people into consuming them," says Tang. "But I didn't really know whether the products themselves were beneficial. What if what I advertised turned out to be harmful to others?"
The solution, Tang decided, was to cut out the capitalist system completely. If everyone could live self-sufficiently, he thought, it would solve all society's problems — abolishing class and gender barriers, promoting self-improvement, and eliminating social competition. 
In 2010, Tang took the plunge, moving to a small hut on Laoshan, a mountain located around 30 kilometers from Qingdao. At first, his only company was a slim, bespectacled woman named Xing Zhen, whom Tang had met at an art exhibition two years previously.
Xing, who held similar doubts about her career as a securities analyst, was intrigued by Tang's bohemian vision, and she would visit Laoshan twice a week to provide him with emotional support. Eventually, she also quit her job and joined Tang on the mountain. The pair would later get married.
Having both grown up in the city, the couple barely had any survival skills. Tang recalls they couldn't even differentiate between weeds and vegetables. But, determined to carry on, they gradually built a life for themselves. 
Through reading online tutorials, they learned to make soap, weave clothes, and cast iron. They generated electricity using a jerry-rigged bicycle. As they went, they documented their progress via a blog, which they later compiled into a survival guide and released free to download.
"It gives you confidence when you know you can make things with your own hands," says Xing. "Even if we're thrown onto an island one day, we'll be able to turn it into our home."
The pair's initiative, which they claimed to be about "the future of human civilization," quickly caught media attention. Though some commentators ridiculed Tang and Xing as "delusional," others romanticized them as living a rustic, wholesome existence, and they began receiving a steady stream of visitors.
In 2015, however, real estate developers moved into Laoshan, and the couple was squeezed out. It was only thanks to help from the Zhenro Foundation — an environmental nonprofit based in Fujian province — that Tang and Xing were able to continue their experiment, establishing Southern Life Community on a 202-hectare plot paid for by the foundation a few months later.
This experience taught the couple the value of having a strong support network, and they decided to focus on growing their new commune. To attract more members, they allowed new residents to choose how self-sufficiently they wished to live. 
From just a handful of diehard followers, the settlement expanded to a peak of around 30 residents and inspired several other communal living projects in China, including the Beijing-based youth collective 706. But watering down the project's anti-capitalist ethos has been painful for Tang.
Many new members only stay for a few weeks, and they rarely live entirely off the grid. There's an internet connection on the mountain, and residents often buy food from a nearby village. Some even place orders through China's ubiquitous delivery apps.
Though local stores are happy to have the extra business, villagers find the commune and its inhabitants baffling. Lin, a local retiree in his 50s, says he often wonders what the young people he sees are trying to achieve.
"They call this 'experience,' but I don't know what it is they're experiencing," he says. "They haven't done anything. Can you see? The land is mostly barren now."
Tang occasionally talks to recent arrivals about living more sustainably, but preaching isn't his style. He tends to leave the other residents to their own devices, often not even bothering to greet new recruits. But he wishes he could inspire them to try harder, he admits.
"Things haven't reached the ideal I expected," Tang says. "I haven't met anyone who's committed to the kind of lifestyle I had when I was on the mountain. Many people just stop after a few attempts."
The new arrivals, however, have their own agendas. Many aren't striving toward an anti-capitalist utopia, so much as fleeing their former middle-class lives and trying to figure out what they really want.
Fan Yueyi, a recent graduate in her 20s, says she came to the commune because she was sick of feeling relentless pressure to climb the social ladder.
"My generation can easily understand the ideology (behind Southern Life Community)," Fan says. "We grew up having the same goals: Ace exams, go to college, and choose majors that'll promise us high-paying jobs. But that illusion breaks down after college, when we find there are more options than we were told about before."
When she was little, Fan dreamed about opening a bubble tea shop, but her mother told her such a career was only suitable for the rich or illiterate. Instead, she dutifully got her degree and landed a teaching job. 
At her kindergarten, however, she was shocked to see her young students already being taught the same harsh, competitive values her parents had tried to instill in her. She recalls one 6-year-old receiving a cram school textbook as a birthday present from her mother. For Fan, it was another sign she needed to get out.
"People should be allowed to live a different life," she says.
Since coming to Southern Life Community last month, the lifelong city dweller has learned to raise chickens, cultivate flowers, and make wine. She's also grown less nervous about making her own decisions, she says.
But choosing such a lifestyle comes at a cost. Several commune members tell Sixth Tone their friends and family saw their decision to join the group as incomprehensible, or even as a betrayal — a waste of years of expensive school fees. According to Tang, he lost a number of close friends when he told them why he was leaving the city.
"It's difficult for many to leave the conventional path," says Yang, the university researcher. "To opt out of mainstream values and expectations isn't just an economic decision, but also a moral one."
Fan, however, wants to see where this new road takes her. Like several commune residents, she isn't sure how long she can stay in Fujian, as she's living off her savings. But even if she leaves, she knows she won't be gone for long.
"I need to spend some time thinking about how I can support myself here," Fan says. "It's a trivial matter to decide exactly when I'll go, because I know I'll come back. I'll definitely come to drink the wine I've made here."
Editor: Dominic Morgan. 
(Header image: Recent college graduate Yin Haitao plays the "shakuhachi," an ancient Chinese flute, near the commune, in rural Fuzhou, Fujian province, Dec. 3, 2020. Shi Yangkun/Sixth Tone)