When she arrived in the United States to begin her graduate studies, Zhang Yingying was determined to make the most of the opportunity her family had sacrificed so much to give her. "Life is too short to be ordinary," she wrote in her journal.
Just two months later, the 26-year-old was dead. On June 9, 2017, she was abducted and killed by a former student named Brendt Christensen, who was convicted of her murder and sentenced to life in prison two years later.
In her award-winning new film "Finding Yingying," Shi Jiayan recounts the harrowing tale of Zhang's death and her family's search for justice. In the process, she also offers a poignant tribute to a life cruelly cut short.
For Shi, the documentary was a deeply personal project. Though she never met Zhang, they led parallel lives for years, and she saw much of herself in the student.
Both women had graduated from Peking University, before moving to the U.S. state of Illinois to continue their studies — Zhang at the University of Illinois at Urbana-Champaign, and Shi just 200 kilometers away at Chicago's Northwestern University. Like Zhang, Shi had even accepted a ride from a total stranger soon after her arrival in America — though fortunately without the same tragic consequences.
So when Shi heard about Zhang's disappearance through a group chat for Peking University alumni on social app WeChat, the then-journalism student decided to drive to Champaign to help with the search. She volunteered to serve as a translator for Zhang's father and aunt, who were about to fly over from China to meet with the local police.
For the next two years, Shi traveled with the family between America and China, assisting them as they attempted to navigate the U.S. justice system. Much of the time, she brought her camera along with her.
Shi says she never set out with the intention of making a film. Initially, she began shooting the Zhang family in the hope that the footage might help reignite public interest in the case should it begin to fade from the headlines.
Once it became clear that Zhang would never be found alive, however, Shi began to think seriously about turning her material into a documentary. After watching U.S. media coverage of the case continually focus on Christensen, Shi felt it was important to show American viewers that Zhang and her family were more than just faceless victims.
"I wanted a story to go beyond the headlines and show the humanity of Yingying and her relatives," Shi tells Sixth Tone. "I didn't want to see a life like hers vanish silently."
Though "Finding Yingying" follows the murder investigation, the 97-minute feature is unlike most true-crime documentaries. Shi opens the film by reading from Zhang's journal, creating a picture of a complex young woman feeling both exhilarated and alienated by life in a new country.
Later, the Zhang family's pain is presented in frank detail — from their grief and regret over their daughter's death, to their confusion and anger at the American legal system, which doesn't give them the harsh retribution they desire.
In China, some have questioned Shi's usage of this footage, accusing the director of profiting from the family's pain. Yet "Finding Yingying" has won plaudits on both sides of the Pacific.
In the U.S., where the film was released Dec. 11, it received special jury recognition for the South by Southwest Film Festival's breakthrough voice award and has a 100% rating on review site Rotten Tomatoes.
Though it hasn't yet reached Chinese theaters and has only been screened at one local film festival, "Finding Yingying" has also been highly regarded in China, winning best foreign language documentary at the 10th China Academy Awards for Documentary Film on Dec. 26.
Speaking with Sixth Tone by phone, Shi discusses the making of "Finding Yingying," the ethical questions she asked herself, and her identity as a minority director in the U.S. The interview has been edited for brevity and clarity.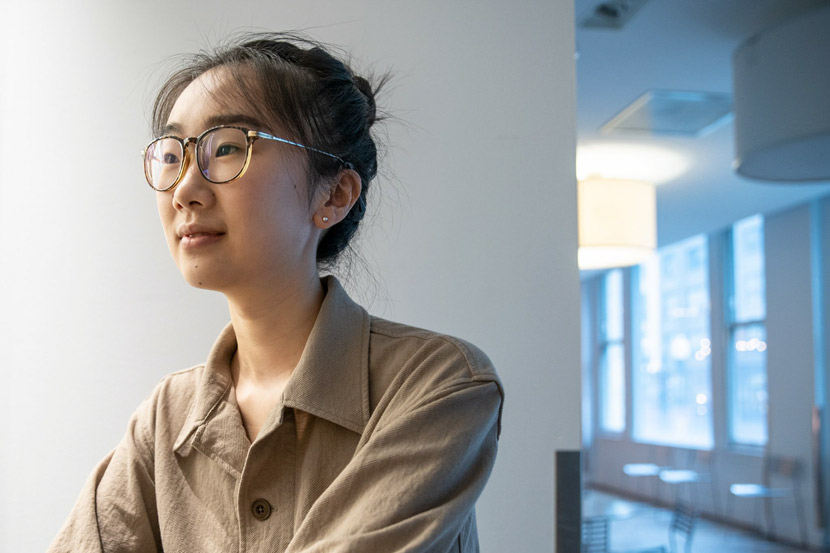 A profile photo of Shi Jiayan, creator of "Finding Yingying." Courtesy of Shi Jiayan
Sixth Tone: How did you first become involved with Zhang Yingying's case?
Shi Jiayan: I first heard the news in a WeChat group for Peking University alumni that a fellow student had gone missing. I knew that she'd just arrived in the United States, and I was immediately worried. I was a journalism student at Northwestern University in Chicago at the time, but Yingying was always in the back of my mind.
At the time, the Chinese community in Illinois had stepped in to help search for her. They were helping post missing person ads and communicating with the police. One week after Yingying's disappearance, I volunteered to join them. Before I was a documentarian, I was a translator for the Zhang family when they decided to come to the United States. 
Three weeks later, the police said a suspect had been detained and that the missing person case was now being treated as a possible kidnapping. I decided at that moment to document the case. I thought it was possible the video records might be helpful later if the search went nowhere.
Sixth Tone: Why did you decide to make a film using this footage?
Shi: When people talk about a criminal case, it's hard to resist the desire to dig out lurid details. Many were more curious about Brendt Christensen than anyone else. When media reported on Yingying's family, they were often just portrayed as grieving victims.
I wanted a story to go beyond the headlines and show the humanity of Yingying and her relatives. I got to know Yingying through my exchanges with her family and her boyfriend. She was an ordinary girl, bright and kind. I didn't want to see a life like hers vanish silently.
I also wanted to address the situation faced by the roughly 360,000 Chinese students in the United States. The tuition fees Chinese students pay help prop up the finances of American universities, but do they receive proper guidance while living in a foreign land, and are they really safe? I felt lonely when I first arrived in America — there usually wasn't much effective support for international students.
The film was originally created for an American audience. I knew how hard it was for them to connect with an ordinary Chinese student. The public might forget about Yingying's case in a heartbeat. I wished to tell her story, and make sure her life is remembered.
Sixth Tone: You spent two years with the Zhang family during the shooting of the film. How did your relationship with them evolve, and how did this affect the final film?
Shi: When I first proposed the idea of making a film to Xiaolin, Yingying's boyfriend, he rejected my request. Yingying's parents were not against the idea, but they had no extra energy to spare. As I helped them with the search, I would ask their permission to film them when I got the chance — I was a fly on the wall.
While the Zhangs were navigating the justice system in a strange country in 2017, access was limited. In 2018, when I visited the family back in Fujian province in eastern China, Yingying's parents were more relaxed and were in a better frame of mind for filming. But once the trial started in the U.S. in 2019, it became extremely hard for me to film again. The Zhang family was very cautious and avoided talking about anything that might affect the trial.
Our relationship, though, has been really close throughout the process. Yingying's mother, Ye Lifeng, told me once at their home in Nanping that I was a lot like her daughter: We were the same age, and if things had been different Yingying would have been with them in the house instead of me. Yingying's father, Ronggao, was calm, but was always under the biggest cloud of sorrow. He smoked like a chimney.
Faced with their sadness, I often didn't know when to reach for my camera. Was I a reminder to the Zhang family that their daughter was no longer here in the world? It was hard to balance my emotions with my job as a filmmaker.
But the bright side was that my feelings for Yingying and her family became helpful while putting together the final film. My emotions translated into passion, and this helped the film resonate with audiences who weren't connected with the story.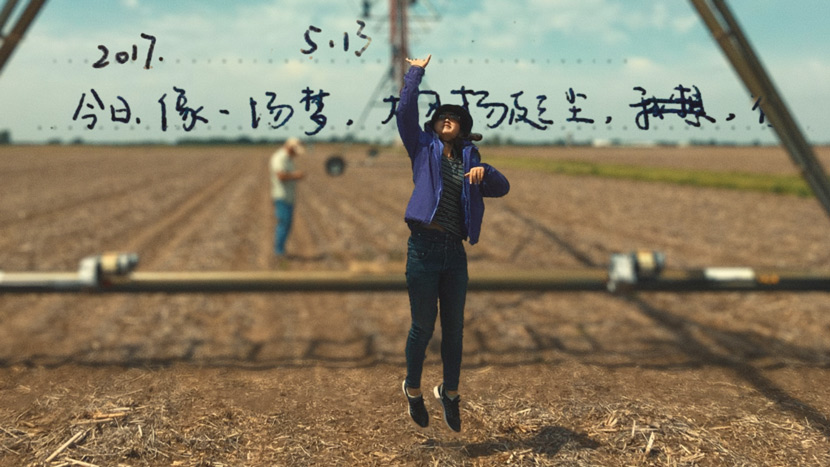 A still from the 2020 documentary "Finding Yingying." Courtesy of Shi Jiayan
Sixth Tone: In the film, you include several excerpts from Zhang's diary, and you read the passages yourself. Why did you decide to use this device?
Shi: I didn't originally intend to be part of the film and I wasn't there in the first few edits. But when I did screenings with some directors and film industry people, they had some thorny comments. They asked why I was making a film out of a family's grief. That struck me. I started to ask myself the same question, and I also tried to figure out why audiences would have such feedback.
So I decided to explain in the film why the case was important to me, and I added the narration pointing out the resemblance between Yingying and me. The diary was also important. American viewers had been telling me that it was hard to connect with Yingying. So I decided to try reading her words, to help show who she was.
Sixth Tone: Some reviewers have also raised ethical concerns about the film. How do you respond to this?
Shi: The ethical questions also haunted me from the beginning of the process. How can I be so close to the family without feeding on their grief? I asked many experienced directors, and they told me to be considerate but not to self-censor when filming. 
I finally concluded that as long as my intentions — which were to introduce people to the case and to Yingying — align with those of the Zhang family, then I wasn't exploiting them. Also, before the U.S. premiere, we showed the Zhangs the work to get their feedback.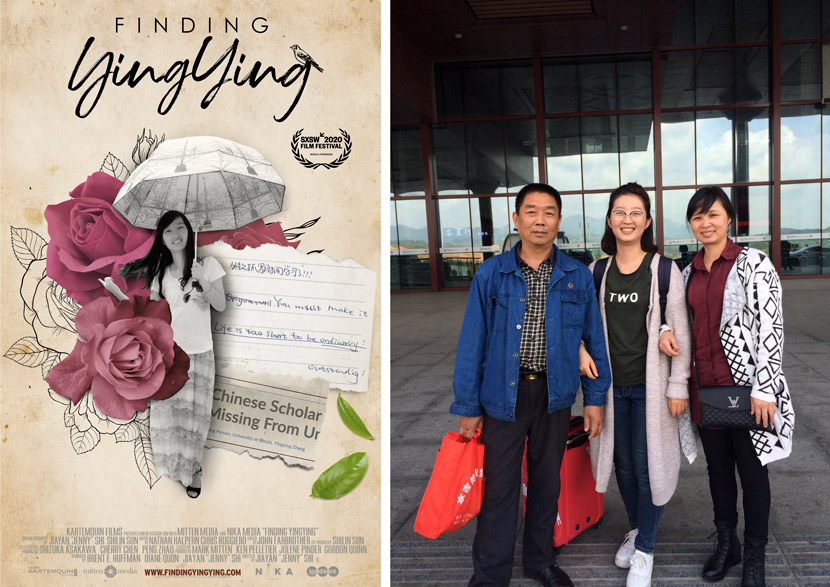 Left: A poster for the 2020 documentary "Finding Yingying"; Right: Zhang Yingying and her parents pose for a photo. Courtesy of Shi Jiayan
Sixth Tone: How did the Zhang family react to the film?
Shi: Because of the pandemic, I couldn't be there with them to watch the final film, so I called in. My biggest worry was that watching the film would expose Yingying's mother to some heartbreaking details about the case. And for Yingying's father, it would mean revisiting his saddest memories. 
But after discussing this with them, they both still decided to watch it. Yingying's mother wept multiple times during the screening. Her father was taciturn as usual. After the trial, he had returned to his old career as a truck driver, and he was very tired that day.
Sixth Tone: During shooting, you followed the family as they tried to navigate the U.S. justice system. What did you learn from the experience? 
Shi: Just like the Zhang family, I knew very little about the American justice system. I didn't even know that in Illinois, the death penalty had long been abolished. I fully understand the Zhang family's confusion. In the U.S., any investigation has to follow certain procedures and evidence is important in every step.
Although I became acquainted with the system over time, I was still shocked and disappointed when Christensen was sentenced to life in prison. I was expecting the death penalty. But I knew there was nothing we could do. I'm not sure if that sentence was really justice. Zhang's family certainly didn't feel it was.
Honestly, I was hoping my work could in some way help the investigation and trial, as well as the search for Yingying's body. Sadly, it didn't achieve any of this.
Sixth Tone: How do you feel about the film's reception so far? How have audiences reacted to the film in China? 
Shi: The documentary was produced in the U.S., and so it was created for an American audience. I hoped the film could in some way act as a voice for Chinese international students in the U.S. It calls for proper support for these students.
After the U.S. screening, many viewers sent me direct messages on social media, saying they felt like they'd known Yingying for a long time after watching the film. I was pleased to hear that.
In China, there hasn't been much promotion and we've only shown it at the Guangzhou International Documentary Festival. Most comments on (review site) Douban were positive, though some said the film was too focused on the Chinese family and lacked a wider cultural and political perspective. In my opinion, however, "Finding Yingying" isn't just an issue-driven work, but more of a character-driven story.
Disclaimer: The author of this article served as an additional cameraperson on "Finding Yingying" for two days, but has no ongoing ties or financial involvement with the project.
Editor: Dominic Morgan.
(Header image: Visual elements from the 2020 documentary "Finding Yingying." Courtesy of Shi Jiayan, re-edited by Ding Yining/Sixth Tone)