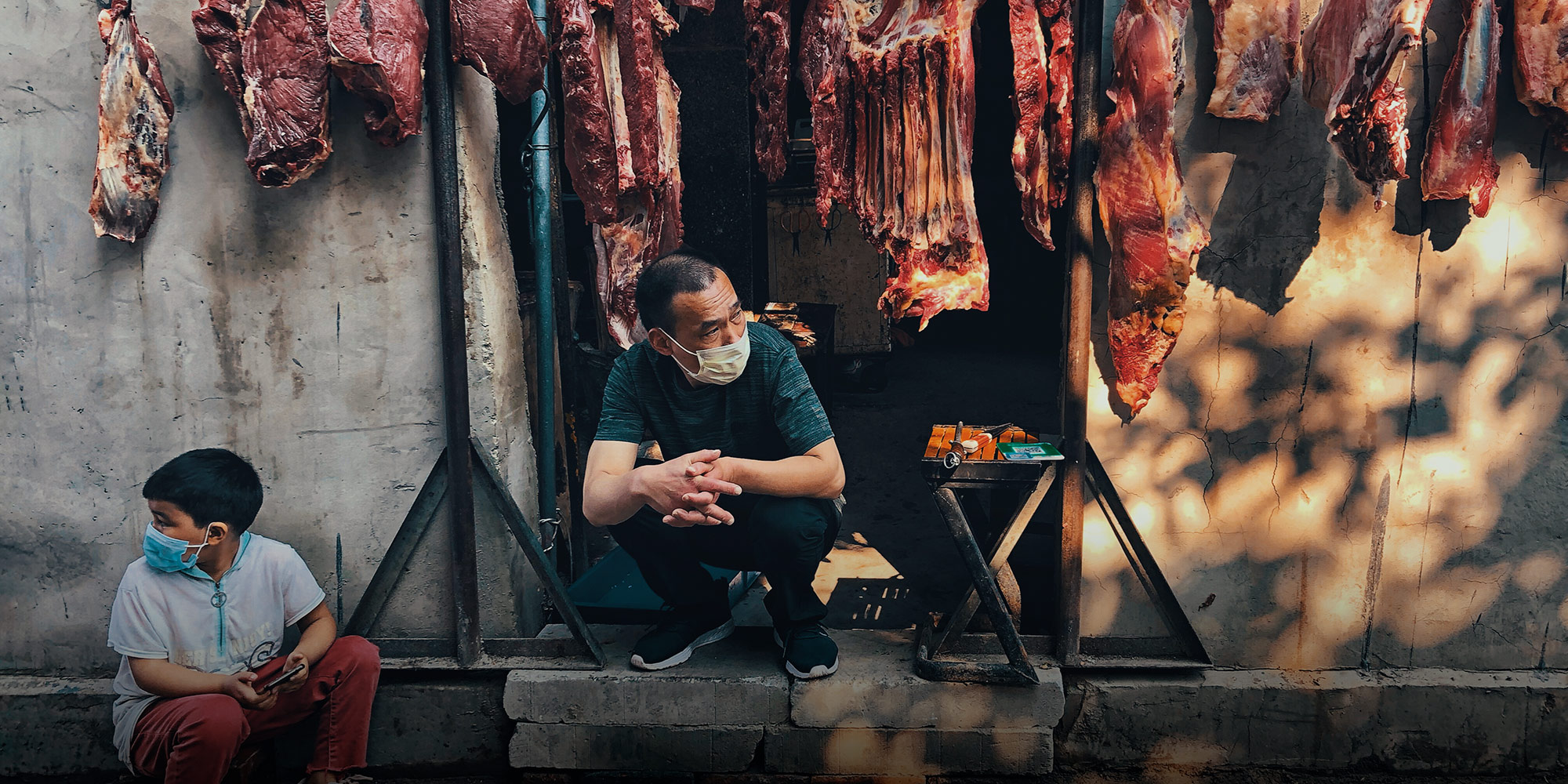 FEATURES
In Virus-Free Wuhan, Businesses Are Still Recovering
Local entrepreneurs say many companies remain closed more than half a year after the city's lockdown ended.
 It's been seven months since Wuhan, the city in central China where the COVID-19 pandemic began, last recorded a local infection. But Cui's restaurant business has yet to return to full health.
Usually, Cui spends the Spring Festival period serving a seasonal rush of diners. But last year, after local authorities finally admitted that the mysterious new virus that had been sickening people could be transmitted between humans, Wuhan went into lockdown on Jan. 23. "The change was earth-shaking," Cui tells Sixth Tone.
As people were forced to stay home, the government paid his restaurant to deliver meals to medical workers and quarantine sites, helping him stay afloat. Cui thought the crisis wouldn't last long, and it would soon be business as usual.
But after Wuhan's lockdown was lifted on April 8, the traumatized city was still wary of a resurgence. The government set strict reopening conditions for dine-in services, delaying when Cui's restaurant could return to normal operations by months. Worse still, customers stayed away, because they feared infection from the quarantine site next door.
The last time symptomatic COVID-19 cases were detected in Wuhan was in May, and life in the city, as in most of China, has returned to normal. But Cui's business is still largely reliant on takeout and boxed lunch orders. "Many people in Wuhan are still afraid to dine out, and there are much fewer tourists than before," Cui says.
Many Wuhan business owners like Cui are struggling with the lingering effects of the country's epidemic. The economies of most of China's provinces — none of which were nearly as hardly hit by COVID-19 as Hubei, where Wuhan is located — are growing again following a dip during the early outbreak. Hubei, however, was one of just four provinces whose economies contracted during the first three quarters of 2020, the most recent period for which figures are available. Its GDP shrank by 10.4% year-over-year.
Small- and medium-sized enterprises (SME) were especially hard-hit during China's pandemic downturn. They usually have less money on hand and have a tougher time obtaining credit. In Wuhan, 98% of the city's 1.3 million market entities are SMEs and sole-proprietorship businesses, said Zhang Hong, deputy chief of Wuhan Municipal Bureau of Economics and Information Technology, during a press conference in May.
According to Luo Zhi, director of Wuhan University's China New Private Enterprise Economy Research Center, the smaller the enterprises, the greater the difficulty they face in recovery. "It's very noticeable this year that a lot of companies have seen a sharp decline in orders," she tells Sixth Tone. "Even if they survive, they will have to spend heavily on fixed costs without enjoying good profits."
Cui's restaurant, which is located in the city's Wuchang District and serves Cantonese food, is paying about 250,000 yuan (nearly $39,000) in rent, utilities, and staff salaries every month, despite monthly revenues barely exceeding 100,000 yuan, he says.
Across the country, many smaller companies have disappeared. A survey project last year on entrepreneurship in China, led by researchers from Peking University, interviewed 2,500 SMEs in seven provinces and municipalities — excluding Hubei. Between the first round of calls at the start of the COVID-19 pandemic in February, and the second round in May when China's infection numbers had gone way down, 18% of respondents had closed their businesses for good.
While labor shortages and logistics disruptions as regions of China went into various lockdowns were the main issues, the survey showed the biggest current challenge to be a lack of demand. Over 70% of the firms surveyed in May listed it as their top challenge. Both domestic and international demand is still not back to its regular level, Luo says.
The picture appears even grimmer in Hubei. Cui, who is also the vice chair of the Hubei Culinary and Hotel Industry Association, estimates only around half of the restaurants in Wuhan survived the lockdown.
"Many businesses in Wuhan are still struggling," Chen Hui, general manager at Wuhan Tianli Fresh Food Distribution Technology Company, tells Sixth Tone. "A lot of store fronts are closed, and only a few businesses remain open in the industrial park we are in."
Chen's company, which is primarily engaged in the packaging, distribution, and cold chain logistics of agricultural products, has experienced a sharp drop in revenue as a result of uncollectible payments and a decline in clients. One major group of customers are hotels and restaurants in the area, but, she says, many of them seem to have closed — either temporarily or for good.
"The whole industry is lacking cash flow," Chen says. Her company currently owes more than 300,000 yuan in unpaid wages to employees and rent to the industrial park.
To provide financial support for businesses, the Wuhan government in April announced a bailout fund of 40 billion yuan, providing one-year interest-free loans for local SMEs. Later, another 20 billion yuan was added to offer subsidies on loan interest for sole-proprietorship businesses. As of late September, the size of the fund had been expanded to 100 billion yuan, with the extra 40 billion yuan giving guaranteed support to make it easier for local SMEs to apply for loans.
Local authorities have also provided several tax and rent relief policies. In Hubei, for example, qualifying small-scale value-added taxpayers were given tax breaks from March to May, and then to the end of 2020. Landlords who had provided rent relief to SMEs during the pandemic are eligible for a reduction in property and land use taxes according to the amount of the rent relief.
The policies have helped some SMEs recover. Ma Xinhui owns the second-largest chicken farm in Wuhan's suburban Xinzhou District, and chairs the Xinzhou Poultry Industry Association. Due to road closures, many farms in Xinzhou experienced feed shortages and sales difficulties during the lockdown — though Ma's own farm received logistical help from volunteers and the government.
After the lockdown, the Xinzhou Poultry Industry Association has actively helped its members obtain guarantees from the government-owned Hubei Agricultural Credit Guarantee Co. Ma's own company was also granted an interest-free loan. "The industry's depression is nationwide this year," he says, "but the policies of Hubei province and Wuhan City have helped us a lot."
The tax break expired in December, however, and no new extension has been announced, something Luo thinks the government ought to consider. She thinks the Hubei and Wuhan governments might be short on money themselves. Provincial revenues through November were 25.8% lower than the previous year, official figures show.
The policies didn't benefit every company, either. Cheng is the co-founder of a Wuhan public relations agency, a subsidiary of a company group headquartered in Beijing. Cheng, who did not want to use his own given name and the name of his company because he commented on the business conditions of his clients, says his agency is not eligible for the VAT relief because it does not qualify as a small-scale VAT payer, nor does it qualify for loan support.
With 20 employees and average annual revenue of 8 million yuan, Cheng's company mainly provides marketing and media services for listed corporations. Unlike more traditional businesses, Cheng's suffered little during the lockdown. "When the staff were working from home, our work efficiency was not compromised," he says. Clients sign annual contracts.
Still, the company encountered a decline in revenue as the hardship slowly made its way along the value chain. Some of Cheng's clients were forced to cut costs. As a result, around one-fifth of Cheng's clients decided not to renew their contracts for the year to come. "Although we managed not to collapse this year, the next year will be harder," Cheng says. "The transmission of these impacts takes time."
Despite the challenges, Luo also sees signs for optimism. Data from the local Administration for Market Regulation indicates that the number of registered companies in Wuhan has increased by 5% year-over-year as of August, she says. Although there may well be defunct companies that have not been deregistered, Luo thinks that at least it is a good sign that many new companies are apparently being set up. "The economy surprised me with its resilience," she says. "It means that many business owners in Wuhan are trying hard to get through this tough period, rather than giving up right away."
Chen, who sells agricultural products, is busy preparing for the peak season before Lunar New Year. Her company recently started a business processing cooked food and is trying to expand its sales through online channels. Having lived through the initial outbreak and its many tragedies, she is slightly worried about the virus resurging in Wuhan. But she's confident it wouldn't be as catastrophic as last year.  "People are taking better precautions now," Chen says. "I am also confident that the government will be able to respond to emergent situations better."
Cui expects the restaurant industry and his own business will face at least one more tough year. But he's not close to giving up. "We still have some foundation. The business is relying on delivery orders now — we will continue to do that, and see how it goes in one or two years," Cui says.
"I've been running it for 14 years. I treat it like my own child," he says. "If your child is ill, or even disabled, you don't abandon him."
Editor: Kevin Schoenmakers.
(Header image: A father and son wait for customers at their meat stand in Wuhan, Hubei province, May 2, 2020. Ren Xiaomin/People Visual)