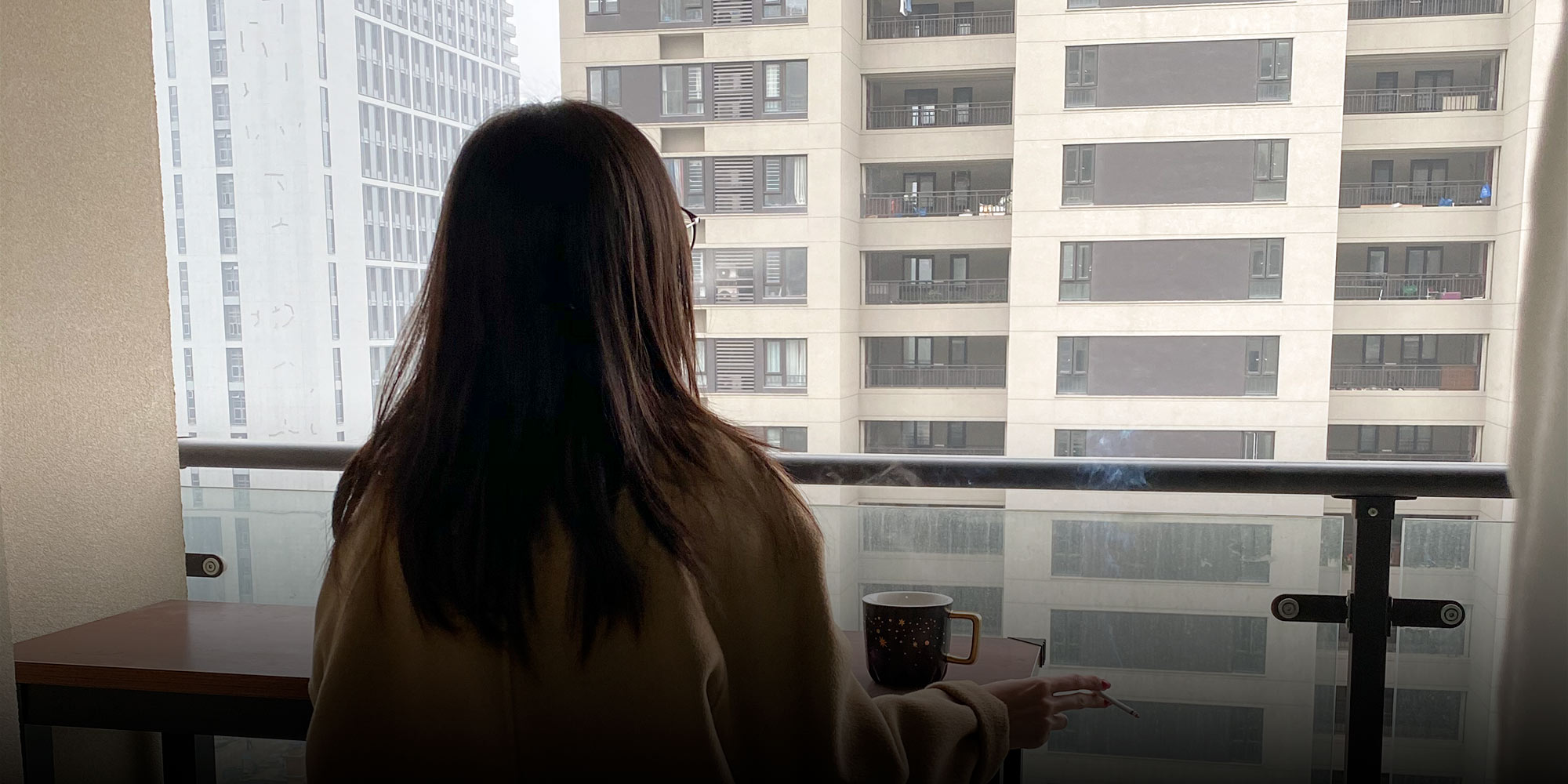 FEATURES
Libel, Caution: Smeared Online, a Woman Fights Back
How a young woman, the unwitting protagonist of a made-up love affair, became an example for China's victims of online bullying.
ZHEJIANG, East China — The worst months of Wu Min's life, when her peace and quiet were upended by a pernicious rumor set to become the subject of a landmark legal case, began with a sharp knock on her door.
It was late one night in August, and Wu was just about to fall asleep after a busy day at work. Her close friend and their boyfriend stood outside her apartment. Not long after Wu, 28, had moved to Hangzhou four months previously, the couple had followed suit to build their careers side by side.
"Something bad's happened: You've been secretly filmed," her friend said, showing a video a mutual friend had forwarded. Wu rushed to the bedroom and grabbed her phone. The more she saw, the more she was shocked.
It was a nine-second video taken while she'd picked up a parcel at her neighborhood's courier station a month before. In it, she is standing next to a shelf of packages wearing a lavender floral dress, the camera showing first her legs, then moving up until she is entirely in the frame, her face clearly visible. Three men walk about in front of her, and no one notices that someone nearby is taking a video.
The innocuous footage was paired with screenshots of a chat conversation completely new to Wu — with her depicted as a lonely mother, repeatedly trying to seduce a delivery man, at one point even sending a hotel address to invite him to come and meet her.
To Wu's boyfriend, Lin Feng, who was standing beside her, the chat was obviously faked. But the way the screenshots and the video were being sent around together made it look like Wu was the unfaithful woman. The whole thing was "textbook libel," he told The Paper, Sixth Tone's sister publication.
The two had a sleepless night. Wu felt helpless. She had no way of knowing how far the video would spread, and who would see it.
By the next morning, it was no longer a question. Messages from group chats came in waves: People talked about the video in her own neighborhood as well as others nearby. Colleagues discussed it in her company's group chat on messaging app WeChat.
Co-workers began sending her private messages: "Be careful, stay safe!" Wu realized, with a jolt, that it was out of control, and decided to call the police.
After reporting the case, Wu, her friend, and both of their boyfriends went to the courier station. They figured out that the person who shot the video was Lang Bin, who owned the grocery store next door. They asked the manager of the courier station to talk to Lang and ask him to admit his actions to the police. An hour later, their request denied, the four of them stormed into Lang's grocery store.
After some negotiation, Lang agreed to turn himself in and told them about his friends He Yuan and Tao Li, who had helped create the fake chat logs and put everything together to share online, respectively. (Wu, Lin, He, Lang, and Tao have all been given pseudonyms, because they are involved in or affiliated with an ongoing lawsuit.)
Lang told The Paper he'd taken the video when someone asked him to show where he was: "I just shot it like that." Lang then sent the video to a local group chat of nearly 300 car enthusiasts. When He saw it, Lang said, he wanted to play "a joke" on the chat group. He used a second WeChat account he'd set up to look like it belonged to a woman, and together the two role-played a vulgar dialogue between a lowly delivery man and a "rich woman."
After six days, on Aug. 13, the Hangzhou Yuhang police issued a notice of the nine-day administrative detention for Lang and He, for defamation. 
But by then, the damage had been done. Their salacious fabrication had become a trending topic on Weibo, one of China's biggest social media platforms, and had been shared innumerable times through group chats. The lie had outrun the truth, and Wu had to cope with the fallout.
At work, a new colleague of Wu's secretly filmed her, and sent the three-second video to Tao, the third person involved. After Wu reported the incident, this colleague messaged her privately: "What about that guy? Did you have sex with him?"
At the time, she received many such messages. Even people living abroad sent texts saying, "I heard you had sex with a delivery man." This prying, in the name of concern, made her uncomfortable — and she began deleting her contacts.
After the rumors spread through her company, she was pushed out of her job because, "Her physical and mental state are very weak and have had a serious impact on the company's business development, and as she cannot resume her duties in the short term, this has a negative impact on the company's reputation." Night after night, Wu was unable to sleep. She sat on her bed, staring out of the window lifelessly, drinking coffee and smoking one pack after another.
She tried to find a new job, but whenever she told interviewers about what happened, they stopped responding. Her boyfriend, Lin, was also pushed out of his job due to reasons such as being unable to travel.
Along with the despair came a sense of powerlessness. In their living room, Wu would often stomp around uncontrollably, as if unable to stop for even a moment. When she was tired of walking, she would freeze by the sofa, then sit abruptly on the floor, hugging Lin's knee to her head and crying.
When Lin couldn't cheer his girlfriend up, he would curl up on the sofa with her. These were the most difficult moments for him. He would quietly soothe Wu until her fits passed. She frequently had nightmares.
Before police got involved, neighbors would speculate wildly about Wu's supposed affair in a chat group. For her, it's still difficult to forget their gawking and schadenfreude. She's postponed her evening walks to 11 or later at night to avoid neighborhood gossip. Even though the lack of COVID-19 cases in Hangzhou have made face masks no longer necessary, she insists on wearing one, covering up everything but her eyes. She avoids looking at people for fear of being recognized.
Wu rarely leaves the neighborhood and no longer hangs out much with friends. Her case has been described as a prime example of "social death" — a recently popular term for people who, for whatever reason, feel like they can no longer be seen in public.
The couple's health has also suffered. For several months, because of sleepless nights, Lin's immune system declined. With liver problems, edema, and weight gain, his doctor recommended he be "immediately hospitalized." The couple postponed their marriage plans.
On Sept. 8, Wu and her boyfriend Lin went to the hospital. When she pulled out a thick stack of test reports and handed them to the doctor, the doctor gently said to her, "This is hurting you so much, and they're doing it for the sole purpose of having fun?" She could hold back no longer, and tears fell from her eyes. She was diagnosed with clinical depression.
Taking stock of what Lang and He had caused, Wu and Lin considered seeking some kind of settlement. Wu thought she could never forgive the pair's actions, but a settlement would at least mean she could tell herself she had put a period at the end of the whole episode, and move on.
At the same time, Wu did not want to sue, fearing a conviction would forever weigh on Lang's and He's lives. During Lang's detention, his wife took the initiative to add Lin's WeChat to express her apologies. In her WeChat avatar, they saw Lang's child, "maybe just 2 or 3 years old." If Lang was convicted, Wu thought, it might be too hard on his child — the child may have to wear their father's stain.
And so, when Lang and He got out of detention, Wu and Lin approached them with a settlement proposal. Wu wanted them to release an apology video with a complete statement of what happened, and she even allowed for them to record the video wearing masks and sunglasses. But Lang and He requested their images be blurred.
This angered Wu. If they had blurred her face in their video, perhaps nobody would have recognized her and the whole episode could have been avoided. The more she thought about it, the angrier she became. Wu also said Lang kept watering down the wording of the apology, showing to her that he wasn't truly sorry.
Lang told The Paper he had recorded an apology video as requested, but Wu was slow to publish it, claiming the apology was insincere.
In the settlement, Wu also asked for compensation of 58,200 yuan ($9,000) each, covering Wu's salary for six months, Lin's salary for three months, attorney fees, notary fees, and transportation costs incurred in handling the matter. She did not seek compensation for mental or reputational harm.
"Some aspects of the amount of compensation she proposed were not very reasonable," Lang said. "I asked to see a breakdown of the costs, but she neither provided one nor replied." In response, Lin said that Lang had never asked him for a cost breakdown.
Lang said he did bear fault, but that, in his view, he had adequately atoned for it: "I caused some harm to the other party, but what could be done, had been done."
At one point, He met with Wu at a cafe, where he said "sorry" to her, the first apology she'd heard. At first she was somewhat placated, but then she realized she was fooling herself, and He's real purpose was to try and reduce the compensation.
Ultimately, the parties were unable to reach a settlement. Wu, instead, explored legal options.
What impressed her lawyer, Zheng Jingjing, was that although Wu appeared worn out, she was nonetheless determined.
On Aug. 12, Wu posted on Weibo: "Everyone, if you see defamatory posts about me, please take a screenshot and send it to me! Please!" She opened the resulting private messages one by one, saving the valid evidence and thanking each user. She also began to speak out in her neighborhood chat group, identifying herself as a victim and appealing to her neighbors to forward her any relevant information.
Some people sent Wu comforting words and apologies, and others helped her collect evidence. The support gradually revived her strength, and the stone on her heart seemed to be lifting.
Zheng proposed two options for Wu. One was to file a criminal complaint against Lang and He for defamation. But the investigation and evidence collection would be much more difficult. Without the investigative powers of the police, even lawyers would have limited power to investigate and collect evidence — let alone ordinary people.
The second option was to file a civil complaint for reputation infringement. As far as the current evidence was concerned, Zheng believed this option would have a better chance of winning a lawsuit. There would be no problem with the request for apology and compensation for damages, and this option could also claim for emotional damages.
However, Wu immediately decided to choose the first. "As long as there is a hint of the possibility of a court accepting the case, we will choose criminal prosecution," she said.
Wu considered a possible dismissal. If that ended up being the case, she said she may feel sad and it may take time to accept it, but in the end she would have no regrets pursuing it: "Even if things don't work out, they don't work out — no regrets."
On Oct. 26, Wu filed a suit with the Yuhang District People's Court in Hangzhou, asking that Lang and He be held criminally liable for defamation. The suit was accepted on Dec. 14. It was "the best news of the year," Wu said. "The court's acceptance of the case shows the matter is illegal and it isn't a joke."
Since the filing of the suit, the video and forged chat logs have spread even wider online. It led the provincial police and prosecutor to publish a notice on Dec. 26 saying Lang's and He's behavior had not only hurt Wu's individual rights, but had also given the public a feeling of unsafety, and seriously harmed public order both on and off the internet. Accordingly, they had determined that the case would be prosecuted as a public lawsuit instead of an individual lawsuit. Local police opened a defamation investigation into Lang and He.
Wu has helped her case through her assertive and systematic collection of evidence. This, as well as her steadfast defense of her rights, has made her an example to other victims of online bullying. After deciding to come forward on Weibo, Wu has received lengthy private messages from strangers, one after another.
One young woman, who lives alone, told her that she gets scared when she sleeps at night and leaves the light on — but this was photographed by neighbors and sent to their neighborhood chat group. "Are you picking up clients?" her neighbors asked. "Are you conducting some shady business?" Rumors spread swiftly, and the woman felt the undisguised disgust of those around her.
Wu tried to encourage her with her own story, and also talked about her experience defending her rights. But her reply seemed to have landed nowhere, and she didn't hear from the woman again. Two weeks later, the woman sent a message saying she had depression and was being hospitalized. This incident touched Wu deeply, making her feel that she was not alone in "wanting justice."
Her Weibo account has also become a "tree hole" — an online place where people get things off their chests in long comment chains — for victims of similar cases. Almost all posts are by young users who are still in university or who have just begun their careers. They "do not have power," Wu said, and in the face of rumors and online violence, "the first thing they show is fear, then they retreat and are overwhelmed."
Wu believes she also experienced these feelings, nearly causing her to miss the opportunity to collect evidence and defend her rights. "When the bad guys aren't punished, we punish ourselves instead," she said.
Between The Paper's interviews, Wu goes to her balcony, lights a cigarette, and slowly blows smoke rings. She closes her eyes in a rare moment of peace.
Wu has not had time to plan for her future. Online, people have suggested she move out of her neighborhood. But she did not hesitate to shoot back, "They are the ones who did wrong. Why should we hide?"
A version of this article was first published on the website of Sixth Tone's sister publication, The Paper. It can be read here.
Translator: Matt Turner; editors: Kevin Schoenmakers and Yang Xiaozhou.
(Header image: Wu Min takes a break in Hangzhou, Zhejiang province, December 2020. Wang Hang for Sixth Tone)