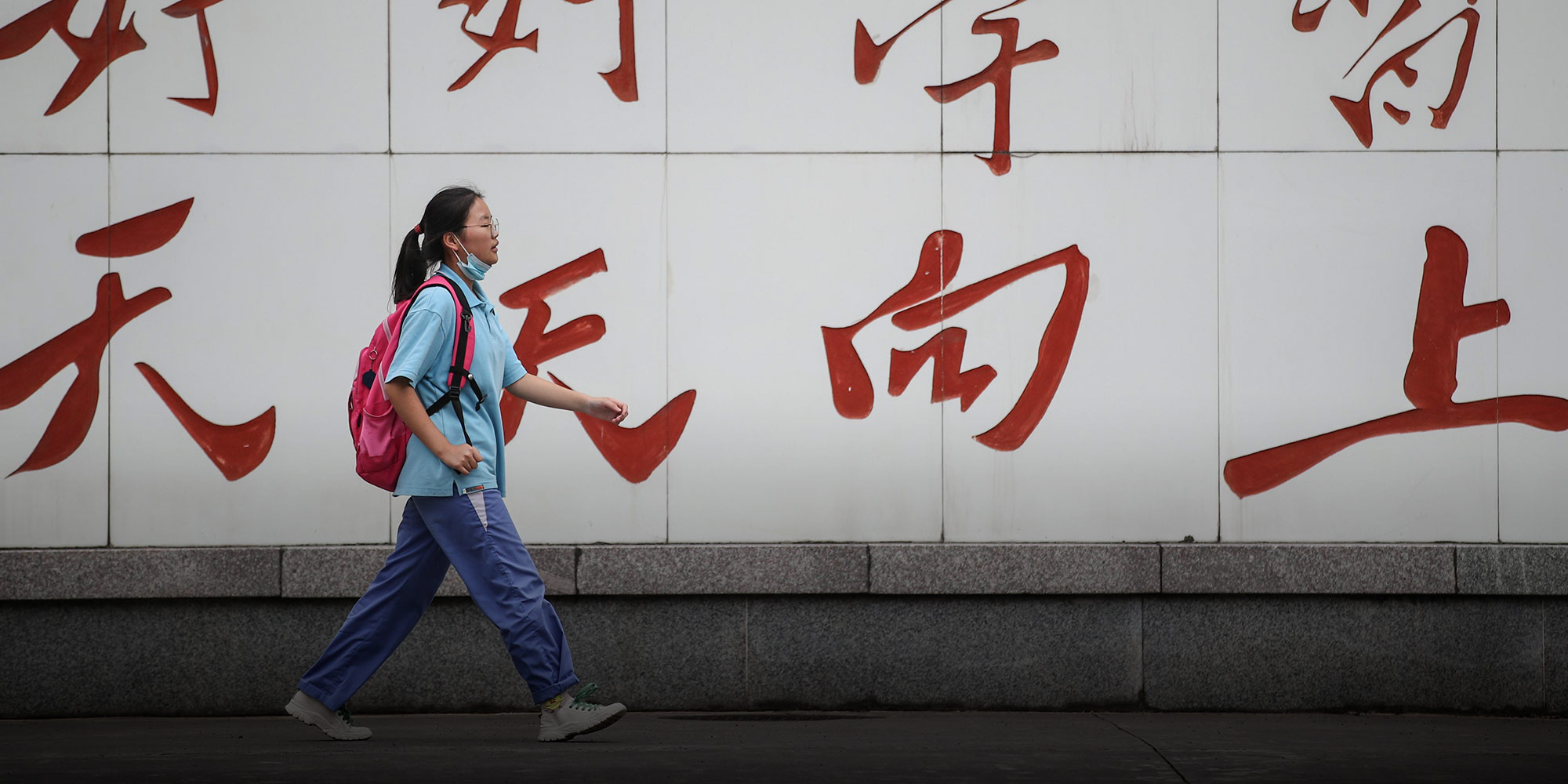 VOICES & OPINION
On a Guizhou Mountainside, a Lesson in the Limits of Sex Ed
The author traveled to the province with visions of helping lead a rural "Spring Awakening." Once there, she found herself competing with a far more compelling teacher: Douyin.
I boarded my late-October flight to the southwestern city of Guiyang clad in a heavy coat and a baseball cap. It wasn't until later that I realized the hat I happened to grab on my way out the door was a fortuitous choice for this particular trip: a souvenir from the Broadway musical "Spring Awakening." The play, centered on the sexual awakening of a group of German teens, seemed to align perfectly with my plans to host sex-ed trainings in the countryside of Guizhou province, one of China's poorest.
My trip was organized by the philanthropic organization Stand By Her, an outgrowth of the Coronavirus Sister Support project that had provided period panties and other menstrual products to frontline medical workers across China during last year's COVID-19 outbreak. After China's epidemic subsided, we continued to collect donations for the young girls living in impoverished areas, in the hopes of alleviating their widespread period poverty. To that end, we were going to Guizhou to distribute sanitary pads to girls in the province's poor mountainside regions and give a lecture on sex, gender, and puberty.
We wanted to do both at the same time, because girls in rural Guizhou often lack access to either of them. Their parents might work as laborers elsewhere, leaving many of them to live with their grandparents. Given the year-round shortage of teachers, the local schools, most of which function as boarding schools, commonly rely on a single teacher to instruct multiple classes. Academic burdens aside, teachers frequently have to assume government-assigned tasks and oversee their students' everyday lives, leaving little time for anything not deemed essential.
To be quite honest, I still felt a little apprehensive about the task ahead of me. I had no experience teaching sex ed. To ensure our lecture was both factual and practical, our team of volunteers browsed through all sorts of sex ed materials we had found on the market and created a set of one-hour lessons. We also attended online training sessions to learn how to engage with middle school girls, frame examples, and set them at ease with menstruation-related vocabulary. The Guizhou team that met us at the airport tried to comfort us, telling us not to be nervous and that we'd be fine if we just followed the handouts.
From Guiyang, the provincial capital of Guizhou, we took a 1.5-hour high-speed train to the county seat of Congjiang, and then a 5-hour car ride to our final destination: a secondary school in one of Congjiang's tiny, remote, mountainous villages. The teacher who greeted us, surnamed Wu, wore a suit just for the occasion, his party badge pinned onto the collar. He gave us a rundown of the school, apologizing for just about everything. "I'm so sorry that the principal just left to take care of poverty alleviation work and is unable to be here." "I'm so sorry that our one printer works so slowly and we weren't able to finish printing the handouts." "I'm so sorry that our seventh graders look a bit messy. They haven't received their uniforms yet due to financial difficulties." "I'm so sorry that we don't have a lecture hall here and the best we can do is assemble our female students in this regular classroom."
We stepped inside and found a group of girls clustered around the handouts, talking quietly. I was immediately struck by their small stature. In the central city of Wuhan, where I live, everyone jokes about how quickly middle school students these days seem to grow up, to the point that some are almost indistinguishable from college students. But the girls here were much smaller.
We suggested they call us "sister," rather than the more distant title of "teacher." We also encouraged them to speak up at any time during the lecture. During the first half, they asked the usual questions: "What makes my periods irregular?" "What happens if I get headaches while exercising?" "What if I start growing a moustache?" Quietly, I was pleased at hearing these routine questions. I figured I would be able to get through this without a hitch.
The atmosphere seemed to change during the second half, however. Perhaps it was because we had earned their trust, but they started asking us questions we felt less prepared to answer: "Sister, how do I get skin as light as yours?" or "How can I lose weight and become as skinny as you?" Some even asked for recommendations on weight-loss pills or the best way to take height-enhancing drugs without winding up like their friends, who had vomited blood from the medication they were on.
I could hardly believe my ears. The question that weighed heaviest on them — thin, small, and young as they were — wasn't about puberty or sex at all. It was about losing weight. And if the cost of doing so was vomiting blood, they figured the only problem was the way they took the pills.
Feigning more composure than I felt, I asked one of the girls why this was so important. "Why do you have to be thin or fair-skinned to be beautiful? I think you're really pretty."
"All the popular girls on Douyin are tall and white and thin," she replied timidly, hiding her face in her hands. "I want to be just like them."

"If you want to become taller, you need to eat more eggs," I suggested to another girl, trying to be helpful.
They just laughed. "We don't have any eggs to eat," they replied.
I was stunned. First, that any place in China still considered eggs a luxury; then, that children who lacked even basic food or educational resources could somehow be so immersed in commercially defined beauty standards. These village girls might live on an isolated mountainside, but they can see the whole world through the lens of the internet, particularly short-video platforms like Douyin, the mainland of China version of TikTok. The reach of online companies has penetrated into China's third- and fourth-tier cities faster than fundamental public services like schooling. In the process, they've invited these girls into seductive, dazzling worlds far from their own.
Their idea of the "perfect look" is no longer based on local traditions or standards, but on a combination of what they see through their 5-inch screens and their imaginations. When they apply these standards to themselves, however, it exposes all of their flaws: They aren't tall enough, white enough, thin enough, and their legs aren't slender enough. Unsurprisingly, they start seeing these flaws as a hindrance to the life they want.
Though at a loss, I struggled to stay calm as I explained why they shouldn't lose weight during puberty or whiten their skin, as well as shared some healthy ways to grow taller. I tried to be more emphatic by mixing in certain values, like "all girls are beautiful" and "you have to love yourself."
But I knew my words would likely fall on deaf ears. According to a local teacher I spoke with, only about one-third of this county's middle school students continue their education, including vocational high school. Many get married right after graduating middle school, if they even get that far. This part of the country is still quite patriarchal, and it's not unheard of for families to pull girls out of school early, refuse to support them through university, or sanction an underage marriage. We'd hoped to empower them, but in a world where male-dominated family structures continue to wield such authority and online information can distort so much, how can these girls hope to change their own destinies?
After class, the other volunteers and I bade farewell to the girls, smiles plastered on our faces. Then we walked out of their classroom, out of their school, away from the unimaginable pressures they were under, and burst into tears.
Translator: Katherine Tse; editors: Wu Haiyun and Kilian O'Donnell; portrait artist: Zhang Zeqin.
(Header image: A girl walks past a poster of the Mao-era slogan "Study hard and make progress every day" at a middle school in Zunyi, Guizhou province, June 2020. Qu Honglun/CNS/People Visual)