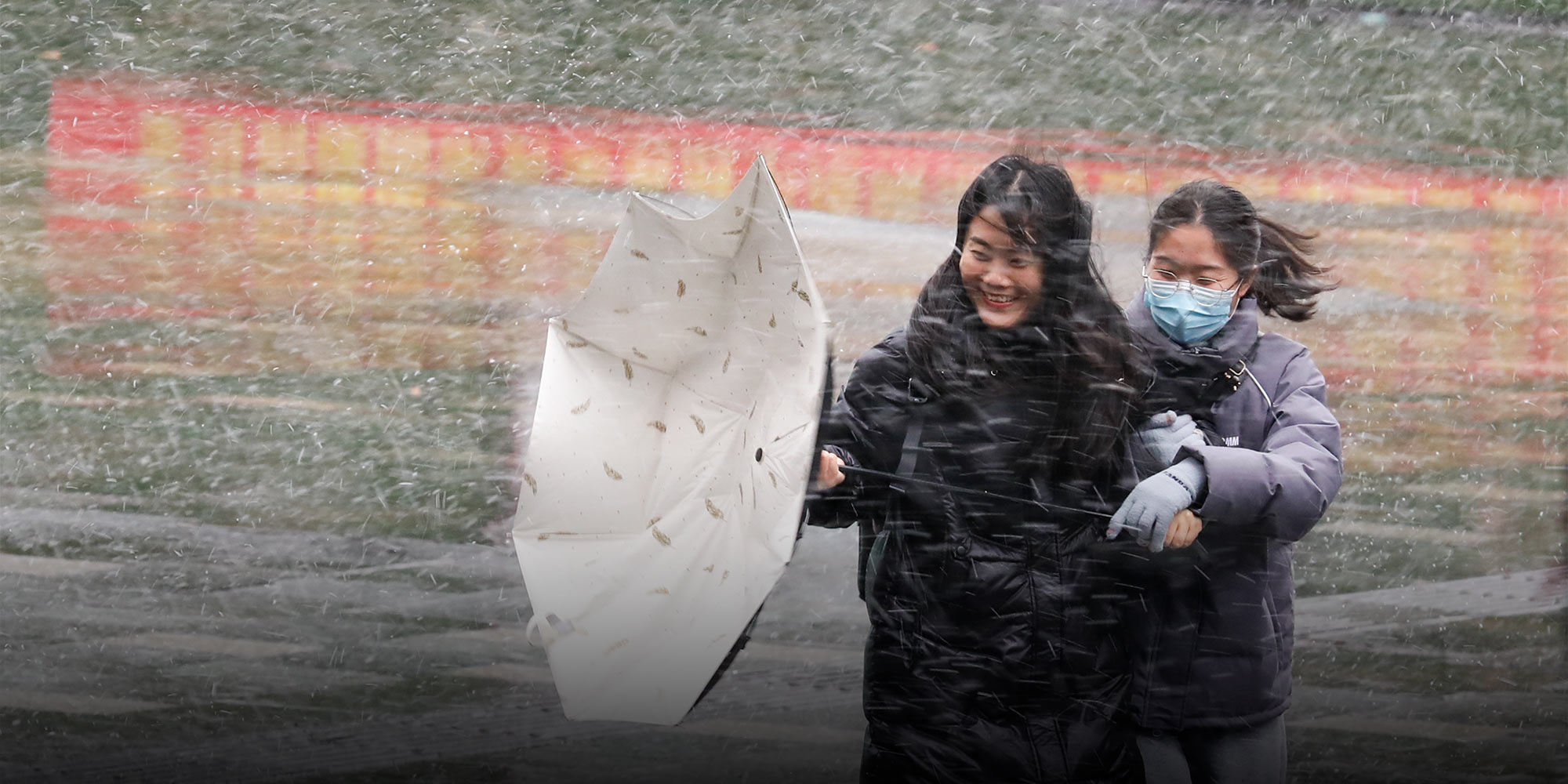 NEWS
China Ends 2020 Shivering in Cold Snap
Temperatures in 80% of China's provinces have been close to, or lower than the average since December.
Many people across China are ending the year on a chilly note.
A strong cold wave from the south has swept the central and eastern parts of the country since Monday, prompting the National Meteorological Center to issue its highest cold wave warning alert for the first time in four years.
Some 20 weather stations across the country have reached or broken the lowest temperatures recorded for December since such record keeping began. Meanwhile, Beijing's Foyeding meteorological station recorded -26.4 degrees Celsius, and Shanghai Pudong recorded -6.2 degrees Celsius late Tuesday night — both lower than the temperatures compared with previous years.
In some parts of the country, temperatures plummeted by up to 18 degrees Celsius on Wednesday. Between Friday and Saturday, the temperatures in northeastern and southern China are expected to be 3 to 5 degrees Celsius lower than the average temperature from the previous years.
"This cold wave has impacted a wide range of areas in China, with high intensity, and a severe cooling effect," Fu Yi, chief service officer at the Shanghai Meteorological Bureau, told Sixth Tone.
He added that the intensity of this cold wave is stronger compared with the same period in previous years, while bearing similarities to a historic cold wave in 2016.
Monitoring data from China's meteorological stations show temperatures in 80% of the country's provinces have been close to, or lower than average this month.
Yuan Yuan, a researcher at the National Climate Center, told China Meteorological News that the colder temperature this winter is partly due to the La Nina climate phenomenon — the large-scale cooling of ocean surface temperatures — and nearly record low sea ice in the Arctic Sea, which impacts the monsoon winds.
In northern Inner Mongolia, over 100 households in a local herding community are said to be facing a water shortage, as supply pipes have frozen in a rare nighttime temperature of -40 degrees Celsius, according to media reports. Some cities in the eastern Zhejiang province have cut water supply for certain time periods to prevent pipes from freezing.
The frigid winter has also led to a rise in demand for electricity, especially for heating purposes. Several provinces in parts of southern and eastern China are experiencing power crunches during peak times, while Beijing has restarted a coal-fired power plant for emergency use to guarantee heating despite transitioning to gas in 2017.
Since December, the country's electricity generation and consumption has increased by about 11% year-on-year, according to an official at the National Development and Reform Commission. The official said the country's highest daily electricity load has exceeded the summer peak, which has been "rare in history."
In 2020, experts say the weather pattern has shifted from the El Nino phenomenon earlier this year to La Nina, increasing the uncertainties of global climate anomaly. This year, China has seen extremely heavy rainfall, historic floods, irregular typhoon patterns, and some record-breaking high temperature days, including the warmest xiaohan — the beginning of the coldest period in the lunar calendar — in Shanghai in 80 years.
Despite a decrease in global carbon emissions this year due to disruptions caused by the COVID-19 pandemic, climate change has continued to prove its ill effects on Earth. According to a recent report by the World Meteorological Organization (WMO), 2020 is on track to be one of the three warmest years on record, with 2011-2020 to be the warmest decade.
"La Nina typically has a cooling effect on global temperatures, but this is more than offset by the heat trapped in our atmosphere by greenhouse gases," said secretary-general of the WMO, Petteri Taalas, in October. "2016-2020 is expected to be the warmest five-year period on record."
Editor: Bibek Bhandari.

(Header image: Two women struggle to walk during a snowy day in Nanjing, Jiangsu province, Dec. 29, 2020. People Visual)