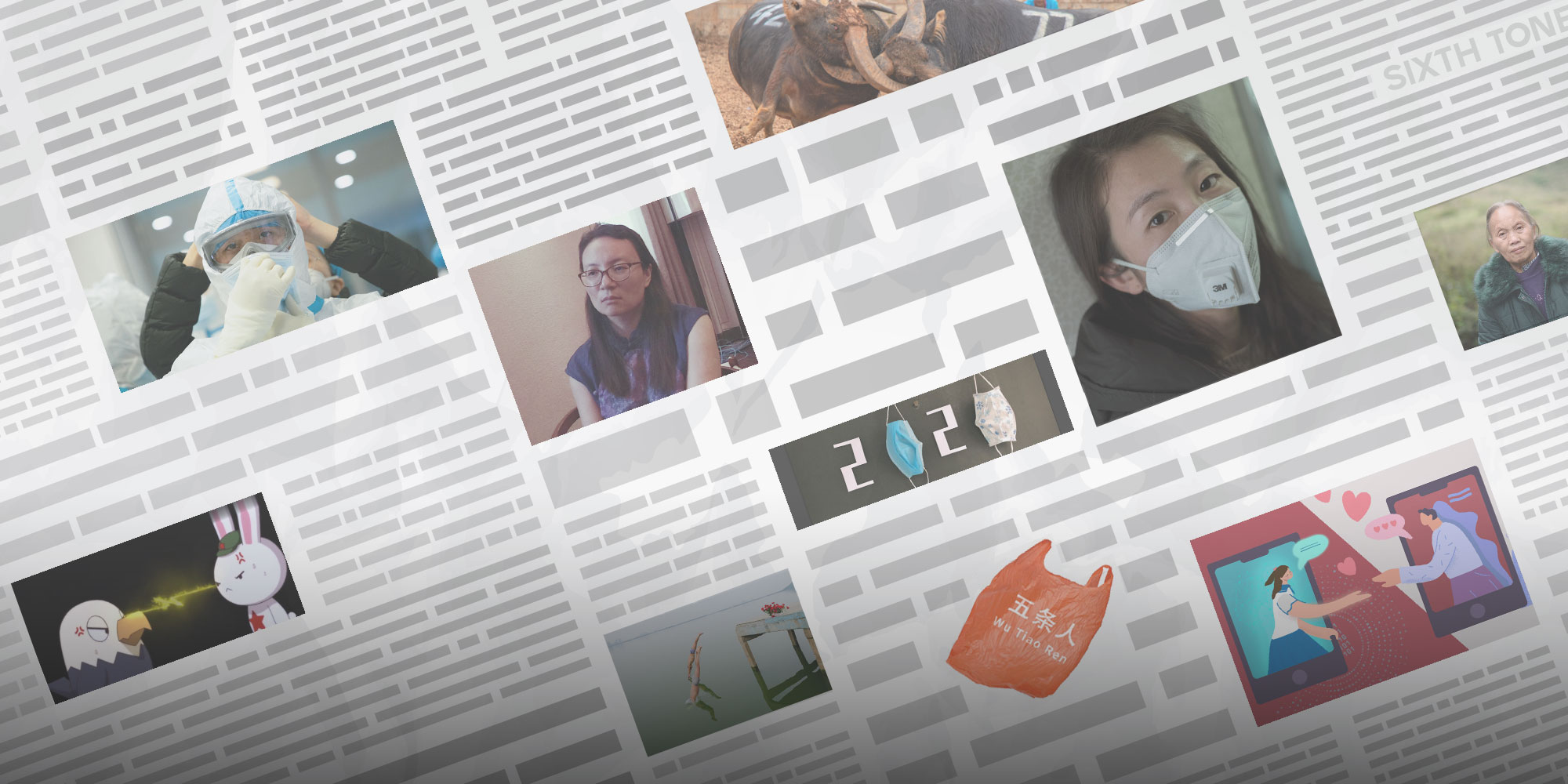 NEWS
Year in Rearview: Sixth Tone's Top Stories of 2020
Recapping the past year with a list of our — and your — favorite news, features, commentaries, and visual stories.
2020: It was the year we didn't see coming.
Masks became mandatory in January, in the dead of winter, and not because of the pollution. We first reported about the mysterious viral pneumonia in the central city of Wuhan in early January. We had no idea that in the days, weeks, and months that would follow, the world would be enveloped by a formidable new scourge that, as of this month, has infected every continent on Earth.
During the early onslaught, we continuously reported on how COVID-19 pounded Wuhan and launched a deadly game of cat and mouse across China. The stories encapsulated a full spectrum of emotions: love and fear, hope and despair, life and death, patients' trauma and the long road to recovery. We paid tributes to the heroes who lived and were martyred, becoming venerated memories.
Spring slipped away in a blip. Then came summer and life after COVID-19.
As the coronavirus was gradually brought under control in China, the masks began coming off, and life sprang back into motion, albeit with some lingering restrictions in the surreal "new normal." Classes resumed. Movie theaters reopened. Restaurants started serving again. Disneyland welcomed back visitors.
As the dark clouds gradually receded, the cracks caused by the pandemic were laid bare. The hospitality industry had to learn to adapt to massive market upheaval. Live entertainment venues struggled to stay afloat. Students' study abroad plans were thrown into disarray. Small businesses with limited or no financial safety net were left to pick up the pieces.
But in between the agonizing anecdotes, we also found stories that we came to think of as ephemeral distractions from the desolation and doomscrolling, leaving us with deep impressions of the world that was, and hopefully will be.
We profiled folk-rockers Wu Tiao Ren, who captivated China's internet, as well an alien hunter, a sex therapist, and a pet detective. We embarked on a trip to the southwestern Yunnan province, where bullfighting events are quietly thriving. We reported on China's historic floods and a history-making moon mission. We continued our award-winning coverage of the grim realities of sexual harassment and violence against women, and on the marginalized existence of China's LGBT community.
Now, with another winter upon us and much of the world still weathering the pandemic, we're cautiously preparing to welcome a new year, hoping 2021 will see better days. In wrapping up this year, we'd like to share some of Sixth Tone's best reporting.
Here are 10 of our most-loved stories of 2020:
I Spent Seven Weeks in a Wuhan ICU. Here's What I Learned
In this first-person account, Wu Feng, a doctor from an intensive care unit in the southern Guangdong province recounts her trial by fire after being dispatched to Wuhan, where she spent nearly two months on the front lines of the outbreak, treating some of the country's most severely affected COVID-19 patients.
Domestic Violence Cases Surge During COVID-19 Epidemic
Locked inside with nowhere to go during stay-at-home orders, there were reports of surges in domestic violence incidents in several Chinese cities. In the months that followed, similar upticks in such cases were reported across the world, underscoring the perils of women, children, and sexual minorities during this time of crisis.
The AI Girlfriend Seducing China's Lonely Men
He's a lonely man. She's a sassy chat bot. And they've found in each other a mate. One of our most-read stories this year offers a peek into how vaguely dystopian artificial intelligence is already becoming a reality, with cutting-edge technology challenging and redefining conventional ideas of romance and relationships.
A Brief History of Face Masks in China
As the world battled a highly contagious virus, face masks became essential tools for curbing the contagion. While daily use of face coverings was likely new for many people around the world, Chinese have relied on face masks to safeguard them from pollution, disease, and even chemical warfare for more than a century.
Life on the Slow Train: Views of a Vanishing China
Qian Haifeng, an award-winning photographer, has traveled an estimated 150,000 kilometers on China's iconic green trains since 2006, taking some 200,000 digital photographs along the way. With its rich visuals, this story takes you for a journey on the train that's considered to be "a metaphor for the life of the underclass."
The Lasting Pain of China's Identity Theft Victims
China's college-entrance exams, known as the gaokao, are notoriously stressful, as a high score can unlock an elite education at one of China's most prestigious universities. For decades, powerful families have exerted influence to benefit their children by stealing the scores of brighter but less privileged kids. Guo Jing was one of these victims. This is the story of how identity theft robbed her of the future she believes to this day she deserved.
The Chinese Couple Who Dared to Have a Third Child
China scrapped its decadeslong one-child policy in 2016, finally allowing all couples to have second children. But the country's relaxed family-planning policies are still restrictive, the punishments for violating them severe. A couple in the southern Guangdong province believed it would be safe to quietly have a third child. They were wrong.
This story is part of Sixth Tone's weekend series of translated articles from China's most respected media outlets. This long read from Guyu Lab is a heart-wrenching tale of a woman from the Bouyei ethnic minority group who was trafficked across China 35 years ago. She had no name, as far as her captors were aware, and no one in the village where she ended up who could understand her language. This year, against all odds, she finally found her way home.
Why It's Time to Rewrite China's History Books
In this final chapter in a three-part commentary series, historian Wang Rui writes that young Chinese — specifically those after the "reform and opening-up" generation — are rethinking and reframing their country's history, and in doing so becoming targets for critics eager to ridicule them for espousing ideas they view as naive. But instead of heaping further criticism on this generation, Wang says his fellow academics have an obligation to help them.
The Workshop of the World, Unraveled
This video series takes viewers to southern city Guangzhou, a microcosm of small workshops, big factories, and the hundreds of thousands of migrant workers who power some of China's major industries. Before the coronavirus outbreak flared up, thousands of these workers, mostly from the central Hubei province, went home for the Lunar New Year holidays. When they returned, they were caught adrift in a place upended by the pandemic.
Written by Bibek Bhandari; edited by David Paulk.
(Header image and icons: Visual elements from Iconscout and DigitalVision Vectors/People Visual, re-edited by Ding Yining/Sixth Tone)