Renowned pianist Fou Ts'ong has died from COVID-19 after battling the disease for two weeks, domestic media reported. He was 86.
The Chinese-born British pianist died Monday local time in the United Kingdom, according to media reports. Fou was hospitalized for two weeks following the diagnosis. 
"Master Fou Ts'ong, a great artist whom I respected very much, may there be no illness in heaven," wrote Chinese pianist Lang Lang, mourning Fou's death.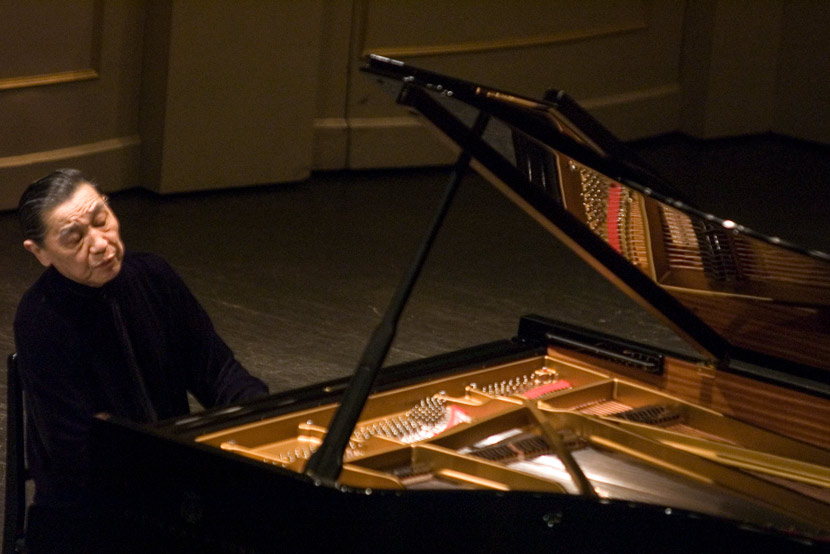 Fou Ts'ong plays piano in Shanghai, 2006. Weng Guangjie/People Visual
Son of a notable translator and writer father, Fou was born in Shanghai in 1934 and went to study piano in Poland two decades later. In 1955, he won third place at the International Chopin Piano Competition in Warsaw, as well as the special "Mazurka Prize," becoming the first Chinese musician to win prizes in an international piano competition.
Fou settled in London in the late 1950s, often returning nearly two decades later to his homeland for concerts and lectures in cities including Shanghai and Beijing. In China, he is known as "China's Piano Poet" and "China's Chopin," referring to legendary Polish pianist Frédéric Chopin.
Zhu Hao, a Ph.D. candidate at the Shanghai Conservatory of Music, remembers Fou's visits to give master piano classes at his school during his undergraduate program between 2005 and 2009.
"That was my first time meeting Mr. Fou," he told Sixth Tone. "He's very kind, after all. He is such a great pianist, but he doesn't put on airs."
As a tribute to the piano master, Zhu also wrote a memorial note, recalling his monthlong classes wherein he would teach different themes, including the classics from Mozart, Chopin, and Debussy. The student also remembers Fou patiently combing through a Mozart concerto to help him understand its nuances in one of the classes.
"The piano department then held a competition for students, and when each of us played onstage, Mr. Fou was too nervous to sit down but just peeked through the door backstage to listen to us play ... At the end of the competition, he was finally relieved and came onstage to congratulate us," he wrote in a personal note shared with Sixth Tone.
Following reports of Fou's death, there has been an outpouring of fan tributes on microblogging platform Weibo, with some reminiscing about attending his concerts. 
"Having had the privilege of hearing Mr. Fou's concerts twice, I remember his music as warm and philosophical, where he blended magnificent technique with the music itself," read one comment under a related media post. "He truly took your breath away."
Editor: Bibek Bhandari.
(Header image: Fou Ts'ong smokes a pipe in Milan, 1965. Giorgio Lotti/Mondadori Portfolio via People Visual)