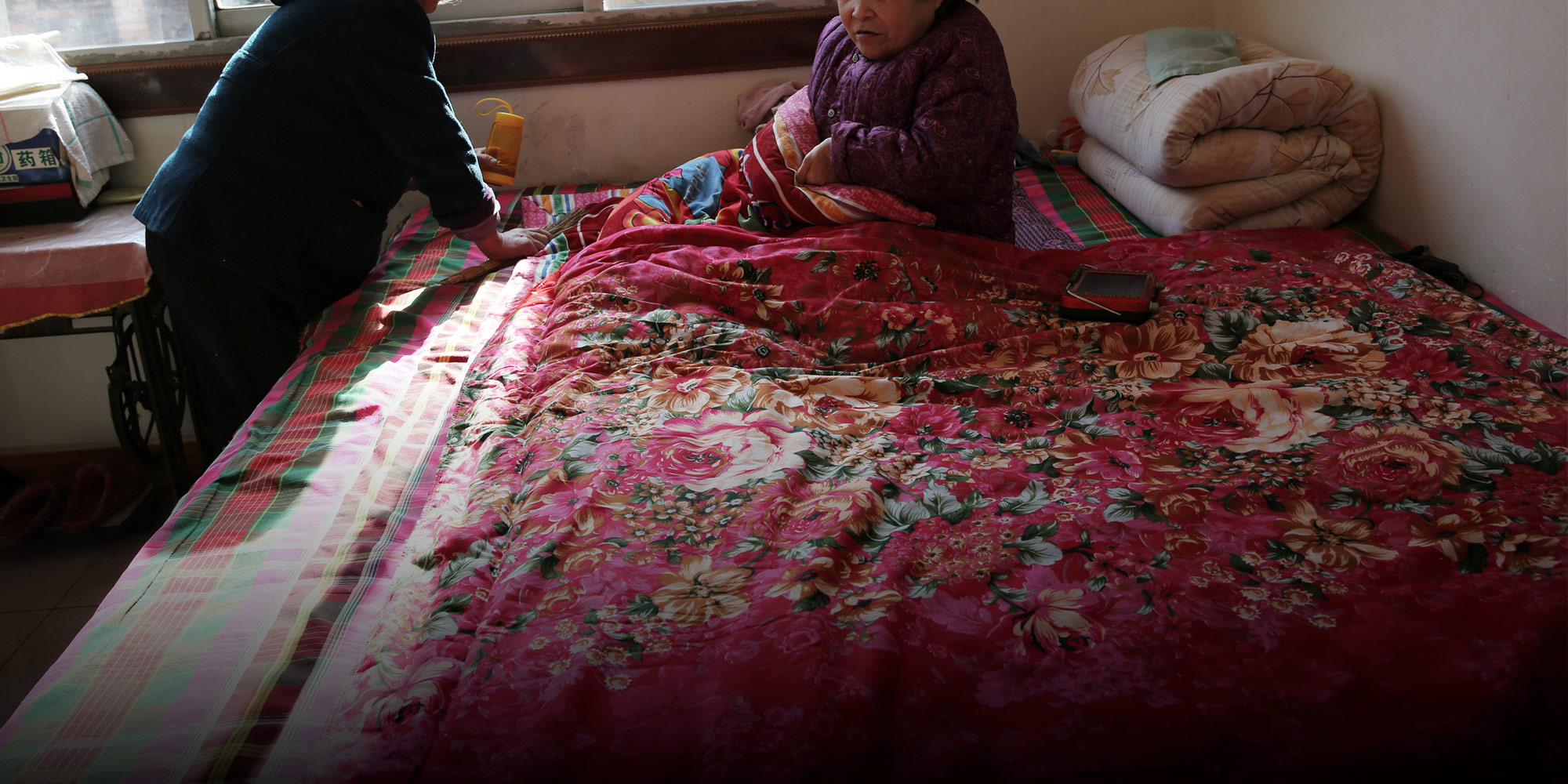 NEWS
China's Clean Energy Switch Sees Snag in Rural Communities
Residents say the transition from coal to gas or electricity may be good for the environment but strains them economically.
It's been a year since coal for heating homes was banned in Xiazhai Village as part of a national campaign to curb air pollution. But local rural communities are now doubting whether the transition to clean forms of energy is actually benefiting them.
Several residents of the village in Wugong County, once an impoverished settlement in the northwestern Shaanxi province, have complained of the financial strain which has stopped them from making a total switch from coal to electricity or gas. This has often resulted in conflicts between locals and authorities.
In one such incident last week, a Xiazhai resident posted a video revealing how traditional bed-stoves known as kang had been obstructed in several households. The now-deleted video posted on Douyin accused local officials of pouring cement over the stove pipes to prevent them from being used.
"The official said all of Shaanxi is defending the blue sky and white clouds," a resident surnamed Yang who shared the video of the incident told Sixth Tone, referring to the government's clean air policy aiming to curb coal usage. "But this method is thoughtless."
Wugong County lies in the Fenwei Plain, which covers parts of Shaanxi in the northwest, Henan province in the center, and Shanxi in the north, and has become a key battleground for curbing rising levels of hazardous PM 2.5 particles and sulfur dioxide since 2018. Levels of PM 2.5 in the region's major cities like Xi'an and Linfen were up by 2.7% and 14.2%, respectively, in 2017, as compared with 2015 before stricter systems were put in place.
But even with those measures — crucially the transition from coal — three of the 11 prefecture-level cities in the Fenwei Plain had some of the worst air pollution in the country last year. Xianyang, which administers Wugong County, was in the bottom 20 out of 168 cities ranked by China's top environmental authority.
The spike in air pollution has largely been attributed to coal burning, which is used to heat homes in the winter. In order to clean up the gray skies, Chinese authorities in 2017 announced an ambitious plan to switch from coal to clean forms of energy targeting 28 cities, including Beijing, Tianjin, and others in the northern Hebei province.
That year, use of household coal had dropped by an estimated 65 million tons in the country. In the Beijing-Tianjin-Hebei region, home-heating switches contributed to 21% of the region's drop in PM 2.5 levels. By the end of 2019, approximately 23 million households in northern China's rural areas had phased out coal for heating homes.
In Shaanxi, where Wugong is located, the province has mainly adopted coal-to-electricity transfers for large swaths of its territory. Since 2018, some 1.7 million households transitioned from coal to electricity, while 335,000 families made the transition to natural gas.
But despite the achieved targets, experts are concerned about the sustainability of the home-heating clean energy initiative, especially once the authorities stop giving subsidies to rural residents. Currently, local governments dole out money — the amount varies from place to place due to different regional financial capacities — to households registered in home-heating transition programs.
"In places without coal-control measures, there is a greater risk of returning to coal compared with places that have them once subsidies decline," said Xie Lunyu, associate professor of energy economics at Renmin University of China.
Affordability is another emerging issue, especially among lower-income groups.
According to Xie's study on household energy costs in the Beijing-Tianjin-Hebei region, home-heating transitions since 2017 have increased Hebei's energy burden by 1,500 yuan ($230) — around one-tenth the average annual income of its rural residents in 2018. One of the consequences of the heavier burden is that the local energy poverty rate, defined as equivalent to double the median share of energy expenditures relative to residents' incomes, has risen by 15% in Hebei.
But it's not just the residents: Local authorities are also feeling the squeeze.
"We are already in a difficult spot, and we have to subsidize so much money for the people every year," a local official was quoted as saying last year in financial outlet Caixin.
According to Xie, a solution to the problem could be to only offer subsidies to economically disadvantaged households. She added local governments usually subsidize residents based on the amount of energy they use, rather than targeting lower-income families, who are more likely to return to coal.
There are also unaddressed issues about fair distribution of the environmental burden, she added.
"Shouldn't we allow policies to tilt toward disadvantaged groups based on income levels?" Xie said. "The benefits of emission reduction are for everyone, but a large part of the cost is falling on farmers living in areas without central heating."
Fu Lu, China director for Clean Air Asia, told Sixth Tone that subsidies greatly affect villagers' willingness to pay for cleaner energy, and the Chinese government should consider pushing for a more refined pricing system to make energy transitions affordable for the country's large number of rural families.
"One of the difficulties of implementing clean heating in rural areas is that the current clean-heating promotion relies heavily on subsidies. For clean heating to be sustainable, it is necessary to establish a mechanism that is 'affordable for users and affordable for the government,'" Fu said.
Complaints over rising energy costs are common among rural communities. In recent weeks, videos poking fun at new heating devices, as well as ones posted by Yang, have sprouted up on video apps like Douyin and Kuaishou.
In Yang's Xiazhai Village, where the coal-to-electricity transition initiative was implemented last year, each household received a heat pump and three electric heaters from the government. While residents paid 1,000 yuan out-of-pocket, the government covered the remaining 4,000 yuan.
Residents were also to receive an additional annual subsidy for their electric bills, depending on the amount of electricity they used every winter, according to the initiative.
But Yang said his family didn't receive the said subsidy due to a mix-up in the system — his mother had registered under his father's name — an as-yet-unresolved issue, despite their efforts.
"The problem is we have not been paid," Yang said. "You ask us to save energy, and the machines were installed, but the electricity subsidies were not in place."
In an interview with domestic media, the director of the local environmental protection office denied there were any problems with the subsidy distribution. The unnamed official said villagers will receive a three-year maximum electricity subsidy of 500 yuan until 2021.
However, Yang said none of the households in his village received the 500 yuan, partly because many also misunderstood the policy. The problem, Yang said, is that residents will receive more subsidies when they use more electricity — something households on an average annual income of 12,000 yuan would not choose.
Meanwhile, those switching back to using their traditional kang — some are even using straws as fodder now instead of coal — could face fines.
Yang stressed that unless local authorities methodically hand out subsidies and get locals on their side, the energy transition initiative may not bring about the desired outcomes. He said it will only fuel more confrontations and conflicts between the community and officials.
One day after Yang shared the video with the cemented stoves, he said officials visited him, asking to delete the post. They also issued a public apology, saying they would reconsider their work methods in the future.
Meanwhile, Yang hopes the situation will improve soon.
Editor: Bibek Bhandari.
(Header image: An elderly woman sits on a kang in Gaozhuang Town, Shaanxi province, 2018. Wei Yongxian/IC)