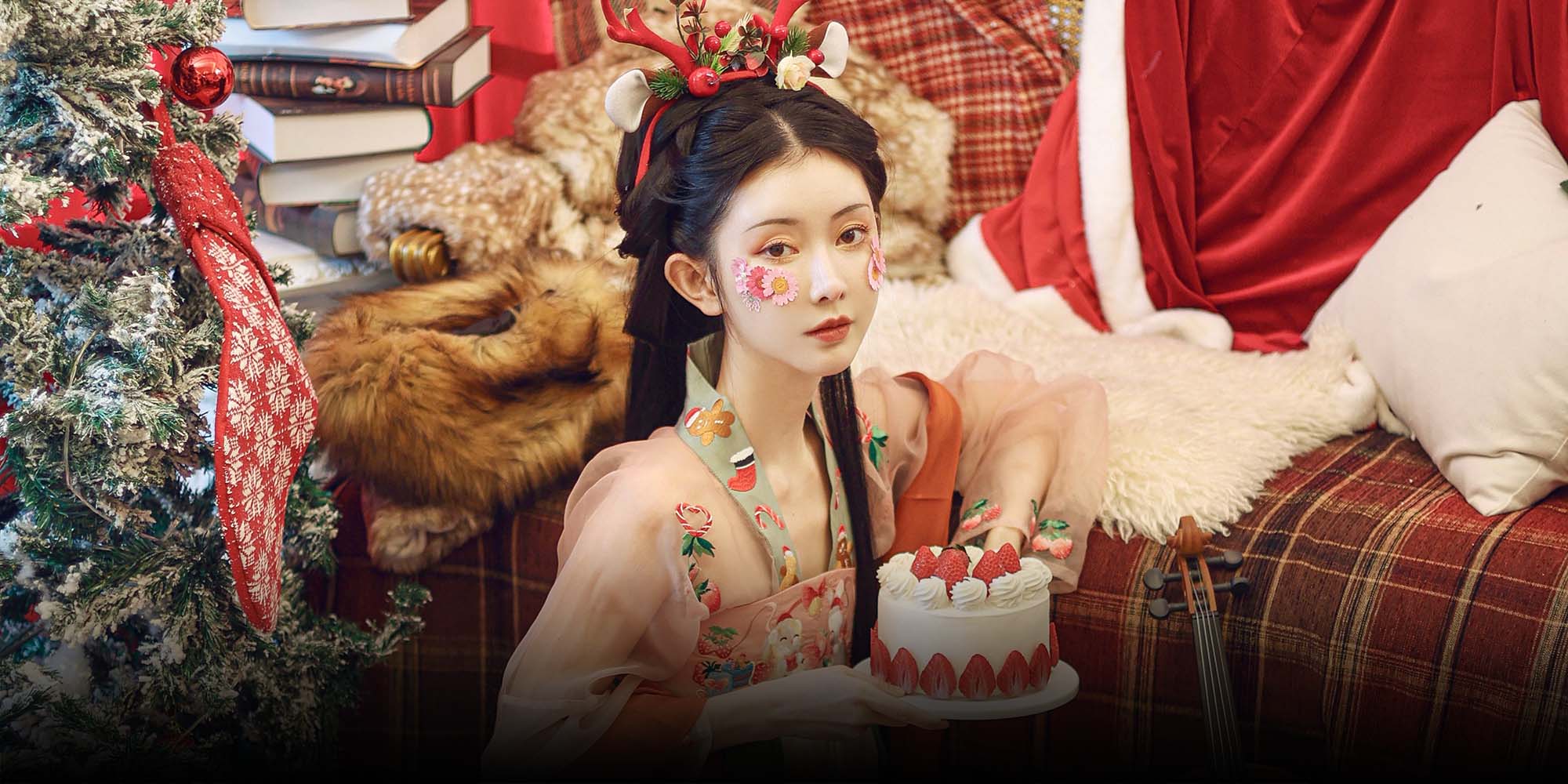 NEWS
Ho-Ho-Ho or No? China's Fashionistas Defend Christmas 'Hanfu'
The ancient outfit has seen a resurgence in recent years, with massive demand prompting some manufacturers to experiment with modern mashups.
Ancient Chinese couture is getting a holiday makeover.
Bringing cheer to the internet are hundreds of young people in traditional Chinese clothing known as hanfu, but with a Christmas twist. Over the past few days, social and video platforms such as Douyin, Bilibili, and Weibo have been flooded with users posing in "Christmas hanfu," with holiday hues of red, white, and green.
"It's Christmas. As a hanfu lover, I naturally thought of Christmas hanfu," Li Feihong, a 25-year-old hanfu enthusiast, told Sixth Tone.
Hanfu are historical styles of clothing worn by Han Chinese. But the popularity of characters wearing such costumes in period dramas, coupled with the country's quest to preserve tradition and promote national identity, has led to a renaissance for the centuries-old outfit, so much so that it even has its own commemorative day of the year: China Huafu Day.
In recent years, some hanfu lovers have taken their costumes a step further, incorporating Christmas themes to sprinkle in the holiday spirit and demonstrate how ancient couture is being adapting to new tastes and trends.
Li, a graduate student, said she first heard of Christmas hanfu in 2019, and thought of tailoring her own style this year. She and her friends bought the same costume ahead of the December holiday and matched it with a red cape for a photoshoot.
Over the past three years, hanfu sales have seen a sixfold increase on Tmall, China's leading e-commerce platform. In 2019, tens of millions of consumers placed their hanfu orders on another Alibaba-owned online marketplace, Taobao, as overall sales for the garments topped 2 billion yuan (then $288 million), according to Tmall's statistics.
Liu Yizhi, a 25-year-old magazine editor and hanfu fanatic, told Sixth Tone crossovers with holiday themes are a welcome interpretation. Previously, he said, people like him would make their own outfits, but with the style catching on, more clothing retailers have been experimenting and innovating.
"It's a common option (to combine hanfu with Western elements) like jeans and a matching jacket," Liu said, adding that the trendiest hanfu now is inspired by the Ming dynasty, combining elements from multiple historical periods, as well as traditional Mongolian gowns.
However, not everyone is feeling jolly about the style, as some hanfu fans opposed incorporating elements from a "foreign holiday" even before the recent fashion trend took off.
In 2016, college students in hanfu gathered at a tourist site in the southwestern Sichuan province, urging people to "boycott Christmas" and "protect traditional Chinese festivals." At the time, a commentary published in the state-run People's Daily called this an "extreme" way to promote traditional culture.
But entrepreneurs like Xiao Fei say business for Christmas hanfu is booming, with one of his company's designs trending as the most sought-after outfit this season.
Based in southern city of Guangzhou, the 29-year-old manager said he first produced such traditional outfits last year, and they were an instant hit. He has since branched out to tailor hanfu to local festivals, even designing cyberpunk-style hanfu, which he admits may be ahead of its time.
"Rather than making traditional hanfu, we are interested in combining hanfu with modern elements," Xiao told Sixth Tone. "In fashion, sticking with tradition is not the trend."
The clothing entrepreneur believes that, in the coming years, hanfu will continue to be appreciated. Bigger brands already have a large market share, he said, but smaller retailers can cash in on local trends to target younger customers.
"The statistics (for the hanfu market) are growing very fast. It's rare to see such a huge surge in the clothing industry," Xiao said. "We believe there's a market opportunity (for hanfu) among the post-'00s generation," he added, using China's term for Generation Z.
Editor: Bibek Bhandari.
(Header image: A promotional photo for Christmas-themed 'hanfu.'  From @芥子记汉服工作室 on Weibo)