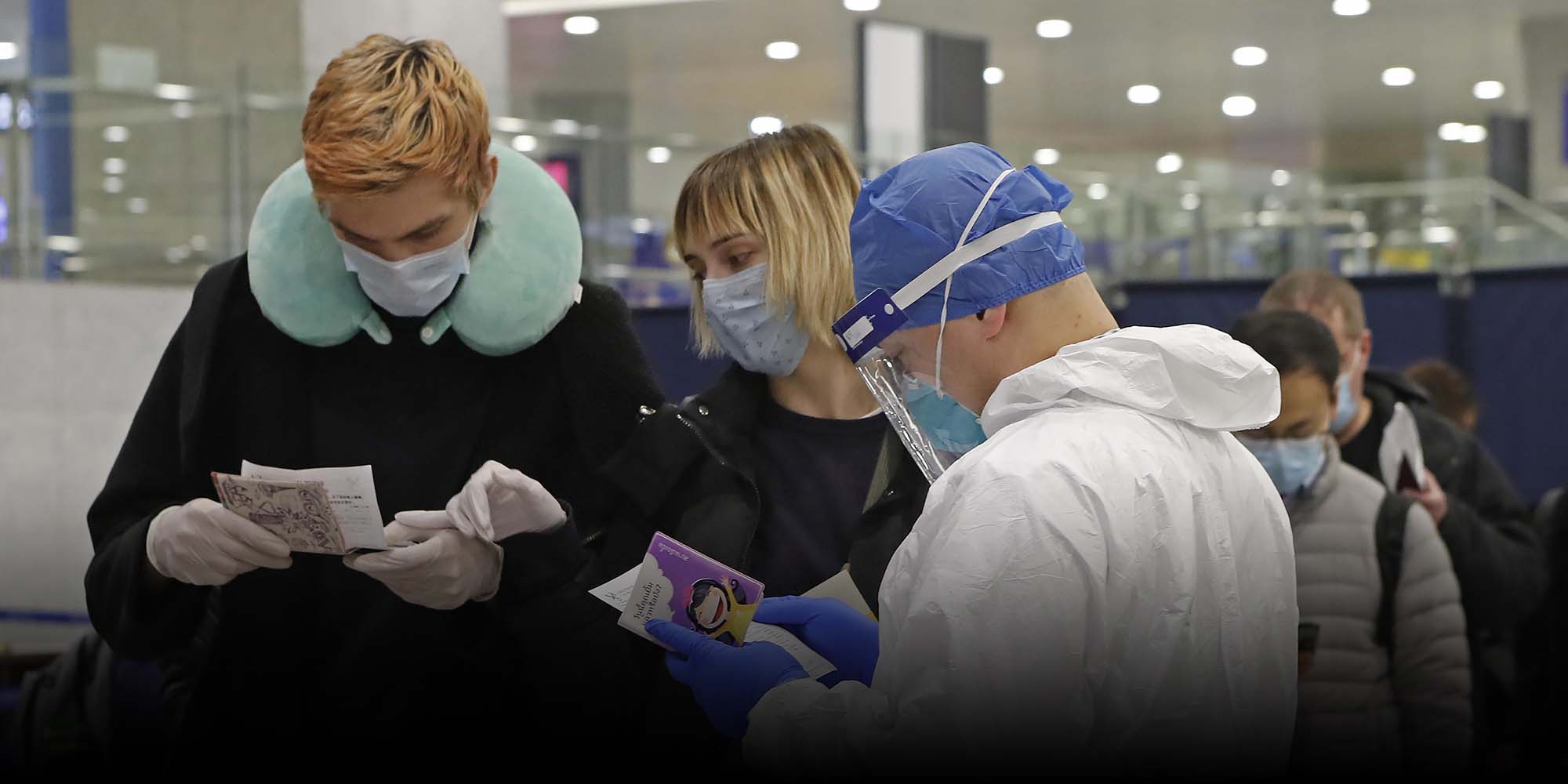 NEWS
China's Foreign Workers Are Celebrating the Holidays by Staying Put
With the coronavirus still raging abroad, the usual family reunions around Christmas will just have to wait.
SHANGHAI — As 2020 draws to a close, many in China are already looking ahead to Spring Festival, the country's weeklong national holiday, when families gather together for long-awaited reunions and sumptuous meals. After a turbulent 2020 full of tears and fears, the new year can't come soon enough.
Yet while the vast majority of Chinese will likely be able to reunite with their family members in two months, today, due to travel restrictions imposed alongside coronavirus outbreaks abroad, China's foreign workers are missing out on seeing their loved ones at a time that to many is synonymous with kinship.
In March, China's Ministry of Foreign Affairs announced that the country would stop admitting foreigners, including those with valid visas or work permits, to reduce the risk of imported infections. In addition to keeping many people out, the policy also effectively barred foreigners working in the country from leaving if they also hoped to return.
Although the suspension was lifted six months later, in September, China continues to require all travelers to quarantine for 14 days upon entry from abroad. While perhaps a necessary precaution, the policy nonetheless acts as a deterrent to those who had otherwise hoped to visit their families over the holidays.
Since early November, China's embassies around the world have further tightened restrictions on travelers from the United States, the United Kingdom, Germany, and other COVID-19 hot spots, adding a negative IgM antibody test as an entry requirement. Along with passengers needing a nucleic acid test administered within 48 hours of boarding, the new regulations have made international travel to the Chinese mainland a challenging affair.
For Miriam Baumgart, a technical project manager at a major automobile company who has lived in China for four years, Christmas has a special significance among the major holidays, and this year's is the first she has ever spent away from her family in Germany.
"The whole family always came together for Christmas, so it is quite weird now not to be there and to see everyone," Baumgart told Sixth Tone. "Before, home was far away without feeling far away."
On top of the pandemic-related travel restrictions and a dearth of affordable flights, Baumgart was also worried about the possibility of exposing her loved ones — especially her parents — to the virus. "If you take everything into consideration, it was just too risky," she said, adding that all of her friends, including some who had initially booked flights home, have ultimately decided to stay in China for the holiday season.
Although Baumgart is grateful to be in a country where the risk of exposure to COVID-19 is relatively low, and where she is able to freely go out with her friends, she finds the chaotic situation in Germany "sad to watch" from so far away.
"It's heartbreaking to read the numbers from your home country, to see how things are devolving there, how the vaccine is still not being approved in Europe, and how up to 1,000 people are dying every day from this virus," she said.
Similarly, Michele Atienza, a 43-year-old waitress at a Western restaurant, told Sixth Tone that she has been apart from her family in the Philippines for a year now. Though Atienza has lived and worked in China for over fifteen years, she doesn't have any relatives in the country, so she typically returns home every year. "I was supposed to go back this past February, but all the flights were canceled," she said with a tinge of regret.
Last month, the Chinese Embassy in the Philippines announced that, due to the local outbreak situation, non-Chinese traveling from the Philippines to China would not be admitted, even with valid visas.
Despite this news, Atienza is trying to stay optimistic about her situation and future outlook. "I'm planning to celebrate Christmas with my family through video calls — it's almost like I'm with them, too," she said, adding that she still hopes to visit the Philippines next year.
Patti McAlpine, an English teacher at a Shanghai international high school, also scrapped her initial travel plans due to safety concerns related to outbreaks abroad. Normally, she spends Christmas with her family in Texas. Though she's sorry there won't be a big family reunion this year, McAlpine told Sixth Tone she feels "exceptionally lucky" to be able to spend Christmas with her cousins, who also live in China.
"Shanghai makes it easy to stay in the Christmas spirit, and that's very welcoming for foreigners," she said. While the pandemic has stymied her plans to return home, McAlpine says she has enjoyed the extra time to explore the city. "Almost all of the foreigners around me are making the best of being here," she said.
For some foreign workers in China, the coronavirus-related travel restrictions were more than an inconvenience. "I was actually supposed to get married this year, and all my family were supposed to come to China," said Mike, a 30-year-old business owner who has lived in the country for a decade.
Now, instead of exchanging vows and jet-setting for an international honeymoon, Mike and his fiancée are planning to do a bit of holiday traveling within China.
With a newly detected variant of COVID-19 that appears to be more contagious now circulating in the U.K., the virus is proving to be erratic and unpredictable, qualities Mike finds troubling. "The most common feeling I've been hearing from those around me is that of uncertainty — of not knowing when they'll be able to go home, and not knowing when they'll be able to see family," he said.
Editor: David Paulk.
(Header image: A medical worker checks air passengers for negative COVID-19 tests at Shanghai Pudong International Airport, March 4, 2020. People Visual)