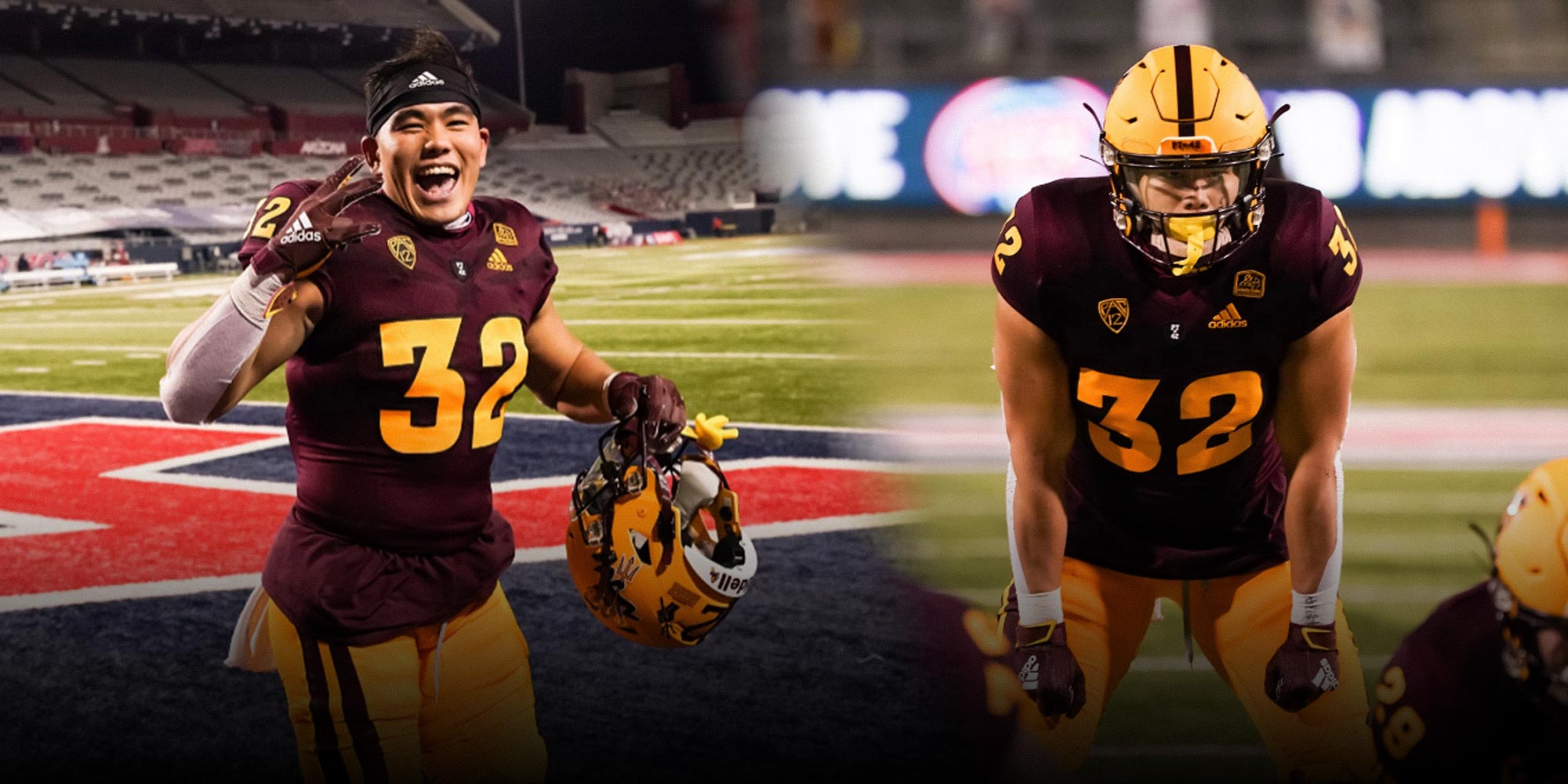 NEWS
After Historic Touchdown, Chinese Tune In to American Football
Tencent broadcasts Arizona State game amid growing interest in Chinese-born Jackson He.
Anyone watching one of China's biggest video-streaming platforms Sunday morning might have noticed an unusual addition to the programming lineup: a U.S. college football game.
In a video posted Friday, Tencent Sports said it would broadcast a game between the Arizona State Sun Devils and Oregon State Beavers to give fans in China a chance to see He Peizhang, also known as Jackson He, take the field. The running back — a speedy but sturdy offensive player — has been a sensation on Chinese social media since scoring on a 1-yard drive in Arizona State's game against its top rival, the Arizona Wildcats, on Dec. 12, becoming the first-ever Chinese-born player to record a touchdown at the highest level of college football.
"I've already received a lot of messages," He told ESPN after the 70-7 road win. "I strongly feel their love for this game and for me. I'm so grateful."
Though He, a reserve, didn't have his number called for this weekend's relatively close contest, which saw the Sun Devils outlast the Beavers 46-33, his story — not having played American football until the age of 17, studying diligently to pick up the game, and eventually talking his way onto the Arizona State team — is still gaining traction in China. On microblogging platform Weibo, two hashtags about his historic touchdown have been viewed a combined 1.8 million times.
"This guy is awesome, he didn't lose one bit to those Americans in terms of physique," read one comment under a related post.
In a September interview with an Arizona radio station, He recounted his improbable journey from southern China to a Power Five conference. Growing up in Shaoguan, a city of around 3 million people in Guangdong province, sports were the last thing on He's mind. With China's grueling college entrance exams approaching and He's grades not where his parents wanted them to be, they made the drastic decision to send him abroad at age 17 to finish high school in Chula Vista, California.
He lived with other Chinese students who had also parachuted into U.S. schools. At first, he was miserable: The other students picked on him because of his limited English. "I knew nothing about America," said He, who didn't speak English well at the time.
A few months into the school year, the head football coach invited He — who was a big kid even then — to come out for practice. The first few weeks were confusing and awkward, but He was a diligent student of the game, and continued playing when he went to college at the University of Jamestown in North Dakota.
But after a coaching change at Jamestown, He was so put off by changes to the football program that he decided to return to China, where he joined a club team, the Foshan Tigers, and became one of the better players in the Chinese National Football League (CNFL), which due to pandemic-related travel restrictions saw its participating teams reduced by more than half from last year, to just 10.
"Peizhang was definitely the leader of the Foshan team. He scored their only touchdown when we played them," Wang Datong, chairman of the CNFL, told Sixth Tone. Wang, who plays quarterback and linebacker for the Shanghai Titans, remembers He as "a very upbeat, very charismatic" person. "You could see how popular he was among his teammates and the coaching staff," he said.
He's dream of playing college football in the U.S. continued to nag at him, however. He applied to a few Division 1 schools, with Arizona State accepting him for the 2019-2020 school year. He left the CNFL after a season and a half, and upon resuming his studies, he met with Arizona State coaching staff until they offered him a walk-on spot.
It is He's perseverance, plus countless hours of work and study, that led to him grabbing the international spotlight for the past few weeks. Li Shuangfu, co-founder of Lanxiong Sports, a Chinese sports media startup, said He's story deserves the public's attention because the way he chased his football dream represents "the true spirit of sports."
"With the emergence of the new middle class in China, young parents are willing to encourage their children to learn lesser-known sports such as American football and hockey, and He's story will speed up that trend," Li told Sixth Tone. It will also present business opportunities for amateur and professional sports leagues, as well as the companies associated with them, he said. Last year, some 7 million viewers in China tuned in to watch the Super Bowl, the championship game of America's professional football league, with Tencent accounting for 60% of all digital traffic.
According to Wang, before this month, He was reasonably well-known among the CNFL players. "But since his latest performance, everybody associated with football in China has heard about him," he said. "For Chinese, football is very new. We're less accustomed to contact sports, so it's nice to see that one of our peers can be successful in football, and that this isn't just a sport for foreigners."
During a Fox Sports broadcast earlier this month, the camera zoomed in on He seated on the bench, waiting for his number to be called as usual. But there was something different this time: Above the number, the team had printed not his Romanized surname, "He," but his name in Chinese characters. Two weeks later, when Arizona State linebackers coach Antonio Piece addressed reporters before Saturday's game, he wore a short with He's name on the back and another string of Chinese characters on the front. When a reporter asked him what it meant, he offered a rough translation: "Chinese can ball, too."
This article has been updated to include an interview with Wang Datong, chairman of the Chinese National Football League.
Additional reporting: Du Xinyu; editor: Kevin Schoenmakers.
(Header image: Arizona State running back Jackson He, the first-ever Chinese-born football player to score a touchdown in a Division 1 game, celebrates after his team's win. From @亚利桑那州立大学ASU on Weibo)