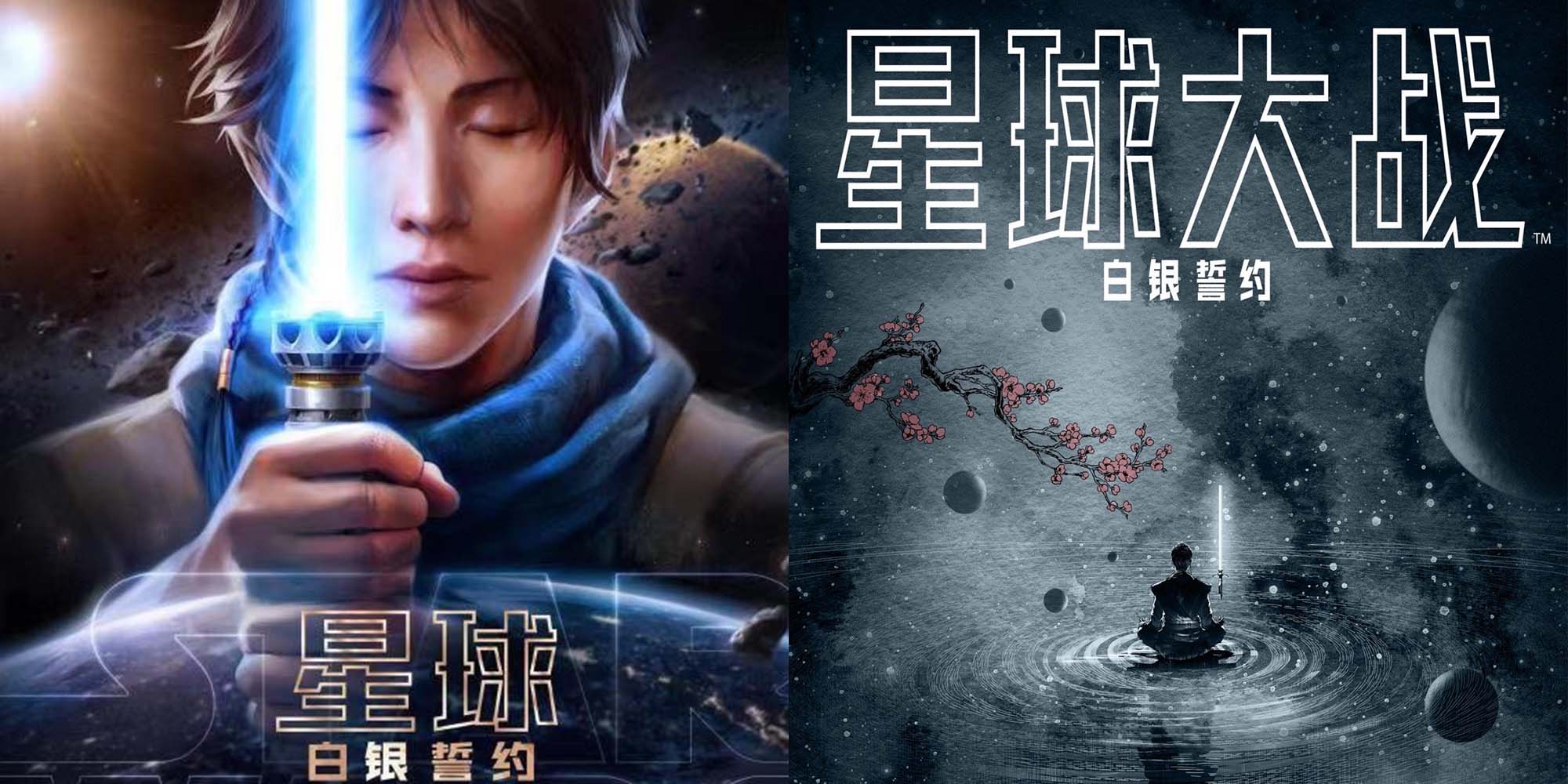 NEWS
In a Market Far, Far Away, 'Star Wars' Launches Chinese Web Novel
With its first original "Star Wars" story in Mandarin, Disney has new hope of finally building a China fan base for the sci-fi franchise.
As the second season of "The Mandalorian" wraps up, "Star Wars" is hoping to rocket local fandom in China to new heights by releasing its first-ever original web story in Chinese.
Existing fans of the franchise, however, have a bad feeling about it.
On Thursday, the opening chapters of "Star Wars: The Vow of Silver Dawn" were announced by the official "Star Wars" Weibo microblog and released to internet literature apps under China Literature, a group owned by tech conglomerate Tencent.
Although numerous "Star Wars" opinion leaders on the Chinese internet have given the project a collective thumbs up, the mere release of the book has already upset many "Star Wars" fans, who consider the chosen format of internet literature as a cheapening slight against the franchise.
Web novels are written and released in daily installments by contracted writers, and are shaped by the readers' feedback as they're released. The social and interactive aspects make the format wildly popular, with more than 450 million readers in China, but it is also widely regarded as low-brow fiction of highly variable quality.
"What we care about more is actually the reader's daily reading experience, and not how the novel will be read in one go once it's finished," the "Star Wars" web novel's author, Wang Shiyuan — known by the online pen name His Majesty the King — told Sixth Tone during a break from writing the novel in Beijing.
"The Vow of Silver Dawn," set 200 years before the events of the original "Star Wars" trilogy, tells the story of a young apprentice — or "Padawan" — called Sean and his Jedi master, who are sent by the galaxy-ruling Republic to investigate the murky murder of a political ruler in a semi-independant star system.
This distant star system, says Wang, is a uniquely Chinese corner of the "Star Wars" universe. Although populated by some recognizable races from the "Star Wars" universe — twi'leks, rodians, wookiees, and the like — it mostly consists of a race of humans with black hair and dark eyes, whose given names, space-food, architecture, values, culture, and habits reflect those of the Chinese.
"Even if it's not Earth-food or Earth-beef, maybe the way it's cooked or the way it's named will instantly make you think of Chinese food," says Wang. "Like braising in water or stewing in soy sauce."
Wang, who has written close to 10 million Chinese characters' worth of online stories over the past 10 years, says this decision was taken to help Chinese readers feel a connection to the "Star Wars" universe, while the use of Chinese names helps readers remember the story's many minor characters.
"For Chinese readers, Zhang San is easier for readers to remember than John," says Wang, adding that Disney is currently hoping to expand the "Star Wars" franchise's audience with his novel, since many younger Chinese don't understand or appreciate it.
"Star Wars" lacks fans in China because the original movies were not released in Chinese cinemas in the 1970s, and viewers find the films hard to relate to. Despite considerable marketing efforts, the sequel trilogy films released after Disney acquired Lucasfilm in 2012 have been commercial flops. "The Rise of Skywalker" made a paltry $18 million last December. By comparison, "Avengers: Endgame," another series finale of a Disney franchise, earned $612 million in China.
In recent years, however, Disney has been expanding "Star Wars"' storytelling beyond its original hero Luke Skywalker's family and into new formats, says Wang. This is seen in the critically successful series "The Mandalorian" — toys of its cute Yoda-like character are popular items on the e-commerce site Taobao — and now this web novel.
But this latest attempt seems off to a slow start among fans. "Could you please not ruin your own brand?" commented a Weibo user under an official announcement from "Star Wars" about the book, just one among a flood of negative comments. "Are you trying to stop "Star Wars" from becoming too popular?"
Under related Weibo posts, users also leveled abuse at the book's publisher, China Literature, which was at the center of a writers' rights controversy in May and has been blamed as benefitting from the blockage of a popular fan-fiction site in March.
Wang is unperturbed by the criticism, however. When he was approached with the opportunity to write the web novel around August last year, he jumped for the rare opportunity. Responding to criticism that he's unfit to write about "Star Wars," he says he's been a fan since watching the prequels around the age of 12, and that he has especially enjoyed the franchise's many video games.
The project was announced two months later, in October. Over the following year, Wang immersed himself in "Star Wars" lore, including novels and comics, ironed out the details of his contract with Chinese Literature, and formulated a detailed plot with Disney China. This plot was then sent over to Lucasarts, where it underwent several rounds of revision before being approved. The story's course is now set and cannot be altered, but its flow and details will still be up to Wang, who will be listening to readers' feedback.
The experimental release marks the first time the official "Star Wars" canon will receive a made-in-Chinese addition, and it's the first original work to come out of a content-creating partnership announced between Disney and China Literature last year.
Editor: Kevin Schoenmakers.
(Header image: Promotional posters for the first official ""Star Wars"" novel written in Mandarin. From @起点中文网 on Weibo)