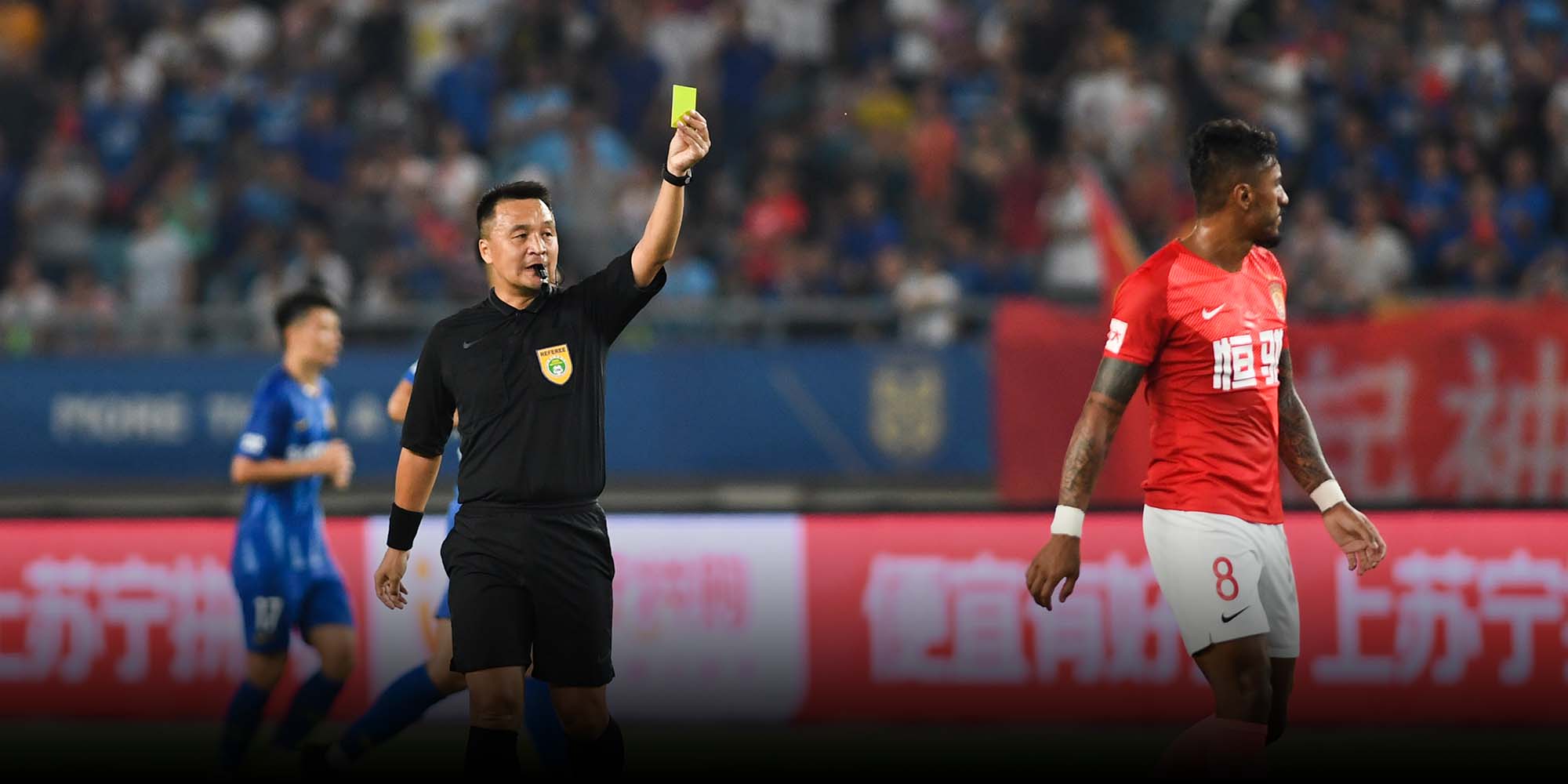 NEWS
China's Soccer Teams Are in for a Rebrand, Minus the Brands
Player salary caps will be dramatically reduced and teams will have to remove corporate sponsors from their names, the Chinese Football Association said Monday.
Die-hard fans of Chinese soccer clubs may want to hold off on getting team tattoos.
According to an official notice, teams with sponsor companies incorporated into their names will soon be forced to abandon them in favor of more neutral alternatives. The Chinese Football Association, or CFA, announced a raft of new rules — which also cut sky-high spending on domestic players in a bid to make the sport more fiscally sustainable — at a meeting Monday in Shanghai.
Top Chinese players will now be eligible to earn up to 5 million yuan ($764,000) a year before tax, halving the previous cap of 10 million yuan set in late 2019, and the average salary a team pays its local players may not exceed 3 million yuan. In addition, clubs will have their total yearly spending capped at 600 million yuan a year, and foreign players will be able to make up to 3 million euros annually — effectively ending the era of superstars coming to China to make 10 million or even 20 million euros a year.
"The investment by Chinese clubs is three times higher than in Japan's soccer league and 10 times that of the South Korean league," the CFA's chairman, Chen Xuyuan, said at the meeting. "'Money soccer' is eating away at the health of our sport, but some people still aren't tuned in to this fact."
A shortage of elite homegrown talent, combined with strict spending limits on foreign players, has resulted in China's top players being highly overpaid.
Beyond curbing club spending, the new salary limits for domestic players are expected to encourage some to pursue opportunities abroad, where salaries might be lower but the standard of play is higher — the idea being that, if enough players break into international leagues, it will fortify China's chances of chasing a World Cup.
Teams caught breaking the new rules — by signing under-the-table contracts granting them more money than they're allowed, for example — will have points deducted from their league standings, and, in severe cases, could be demoted to a lower league. The infringing players, meanwhile, could be slapped with playing bans of up to two years.
Monday's guidelines also say that Chinese clubs must "neutralize" by removing corporate sponsors from their official names. Teams' new names must be "healthy and civilized," comprise no more than four characters, and should reflect an aspect of local culture or team spirit.
Given that many of China's clubs have included sponsors' names from as early as the 1990s, the new-name requirement has been highly controversial, facing resistance from clubs and sponsors alike. On Dec. 6, the official fan groups of five top teams issued a joint statement opposing the move, though it was unable to sway the CFA.
According to sports journalist Teng Fei, the new salary limits are necessary for the healthy development of soccer in China, as well as for preventing overspending by investors. However, the name change stipulation is unreasonable, he says, especially for teams that have had the same name for decades, such as Beijing Guoan.
Instead, Teng suggests that a dividing line be set — such as 2004, when the sport's top division was rebranded the "Chinese Super League" — allowing all teams named before then to keep their names.
"These team names have a lot of history, and have already been absorbed in the fans' hearts," Teng told Sixth Tone. "A lot of these old teams — Beijing Guoan, Shanghai Shenhua, Henan Jianye, Shandong Luneng — were around even before the Super League. They have over 20 years of history, so they shouldn't change."
Yu Zongyang, an interpreter and soccer fan, tells Sixth Tone it would be gut-wrenching if his team, Beijing Guoan — which he has fervently chanted since primary school — had to change its name.
"It might feel like a big chunk of my childhood has been gouged out," Yu said. "It might feel like a slap in the face when I have to explain, in 10 or 20 years' time, what Guoan is and how it relates to the Beijing soccer team."
Despite the prevailing protestations, Teng feels that most fears of the damage the change will cause to teams' brands are overblown, because the sponsors' names will still appear on jerseys and team promotions.
"This issue has been discussed for a very long time, and in fact some teams have already taken steps to neutralize their names," Teng said. "So, in time, I think it will come to be accepted."
Editor: David Paulk.
(Header image: A foreign soccer player is given a yellow card during a Chinese Super League match in Nanjing, Jiangsu province, Sept. 13, 2019. People Visual)