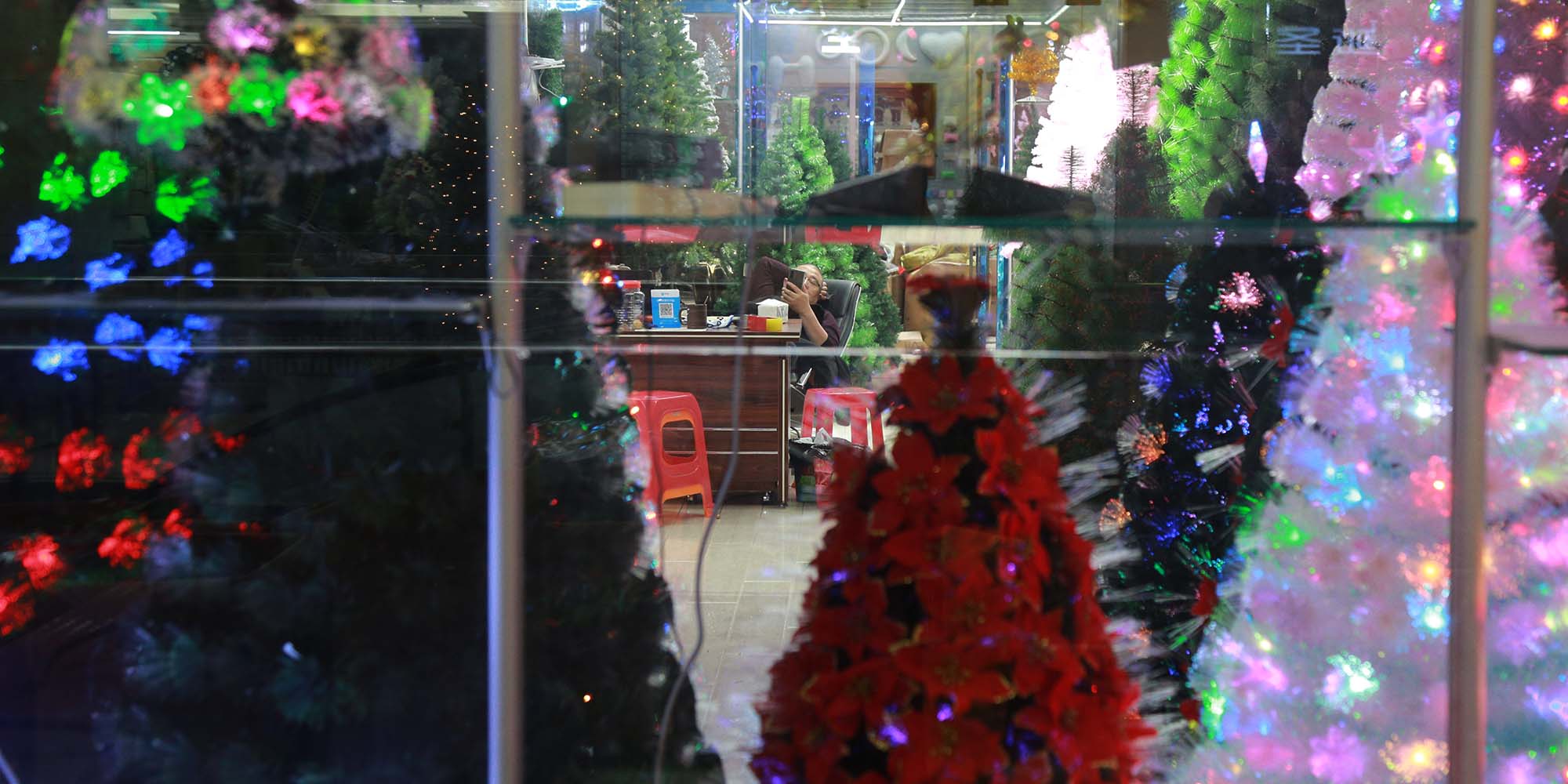 NEWS
Yiwu Christmas Sellers Not Having Most Wonderful Time of the Year
Last Christmas, Yiwu gave you everything. But the very next year, you stayed away.
ZHEJIANG, East China — Despite rows of glittering artificial Christmas trees and piles of colorful ornaments, the mood in Zone A of Yiwu International Trade City isn't particularly festive.
Many of the hundreds of Christmas decoration vendors in this part of China's largest wholesale market are wrapping up a frustrating year as they tally disappointing sales and pack up unsold stock. Many showrooms have been sublet to suppliers of adornments for the upcoming Lunar New Year.
According to state news agency Xinhua, four-fifths of the world's Christmas decorations are exported from Yiwu. Sales last year were worth some 1.92 billion yuan (then $277 million), up nearly 24% compared with the previous year, city customs statistics show.
Though most manufacturers haven't finished this year's sales reports, vendors tell Sixth Tone very few have reached even half of the previous year's numbers.
"Everything went wrong since the (COVID-19) outbreak," Wang Guofang, the owner of Yiwu Ruinan Christmas, tells Sixth Tone, adding that she lost around 70% of her annual orders. "In the beginning, it was recruiting workers, then receiving orders, and then shipping goods abroad."
According to Wang, whose factory manufactures artificial Christmas trees and hanging ornaments and baubles, the annual cycle for her export business usually starts toward the end of the winter. At that time, not only do workers return to their factories after visiting their hometowns over the Lunar New Year holiday, but foreign buyers also begin traveling to Yiwu to inspect goods and negotiate prices.
This year, however, a series of measures imposed by the government to contain coronavirus infections slowed the return of migrant workers to industrial hubs on China's eastern coast. Many Christmas decoration suppliers in the market tell Sixth Tone they experienced difficulties recruiting enough workers in March. When Wang eventually managed to restart production, she had to make do with just half the workforce of previous years.
Then, in late March, China imposed a sweeping travel ban, blocking overseas buyers from entering the country. Although some loyal customers managed to place orders online, quantities decreased as they worried the spreading virus would end up affecting sales.
The four months starting from June should have been the most hectic part of the year for Yiwu's Christmas decoration manufacturers, yet most factories easily completed all their orders on time despite truncated staff numbers.
However, when many manufacturers were busy packing up the last batch of goods to ship before October — a deadline of sorts to ensure that orders arrive on time — a shortage of shipping containers at Yiwu Port dealt them a final blow. Some buyers were forced to cancel orders or postpone them to the following year, leaving factories with little income and lots of excess stock.
"Affected by the pandemic, the operation of ports in America and Europe is very unpredictable," Yiwu-based shipping agent Deng Yong tells Sixth Tone. "Many ships sailing out from China in the first half of this year are now unable to return." According to Deng, one large shipping container normally costs $2,000. However, from September to December, the price continued to climb to over $7,000.
"Since November, most buyers of year-round products have started to accept the high freight costs," says Deng. "They would rather lose money to refill their stock than have their competitors take away their regular customers." But the seasonal nature of Christmas products means that by now, there's little point in sending off a container, especially to buyers in faraway countries like the U.S.
Meanwhile, domestic sales are also weak. "There is no point in waiting until Christmas Day," Sun Xuling, a supplier of faux Christmas trees, tells Sixth Tone by phone. "I closed the factory and sent workers back a month earlier than usual."
According to Sun, artificial trees between 150 and 180 centimeters tall are produced mainly for export. For the domestic market, an important part of the revenue comes from giant trees up to 10 meters tall that she manufactures for hotels and shopping malls. But while Sun managed to sell nine giant trees last year, she received just one order this year.
"The festive atmosphere fades with the years, as more and more people call for a boycott of Christmas," says Sun, referring to some voices in the country who argue that Chinese people shouldn't commemorate what they see as a foreign festival. "I guess the economic gloom caused by the pandemic this year also puts people in even less of a celebratory mood."
Many manufacturers of Christmas products aren't optimistic about the future, either. Although they believe orders will rebound in the coming year, life won't be easier, as profit margins have been shrinking steadily in recent years.
For Wang, who has been manufacturing faux Christmas trees for 20 years, 2014 to 2015 was the heyday of her business. Now, more competition and higher labor costs have cut into her profits. She says, however, that she has no plans to drop out of the industry.
He Jie, a supplier of Christmas tinsel, foil curtains, and confetti, is having a more joyous holiday season. She tells Sixth Tone her company hit 125 million yuan in sales this year, almost the same as last year. She assumes clients were still willing to buy because her products can be used year-round for other festivities. And more importantly, she managed to ship most of her goods before September.
To Wang, this just proves there's always someone in Yiwu who has something to celebrate. "No matter how bad the market is," she says, "there are always some good players."
Editor: Kevin Schoenmakers.
(Header image: Christmas decorations on sale at a wholesale market in Yiwu, Zhejiang province, Dec. 13, 2020. Wu Peiyue for Sixth Tone)