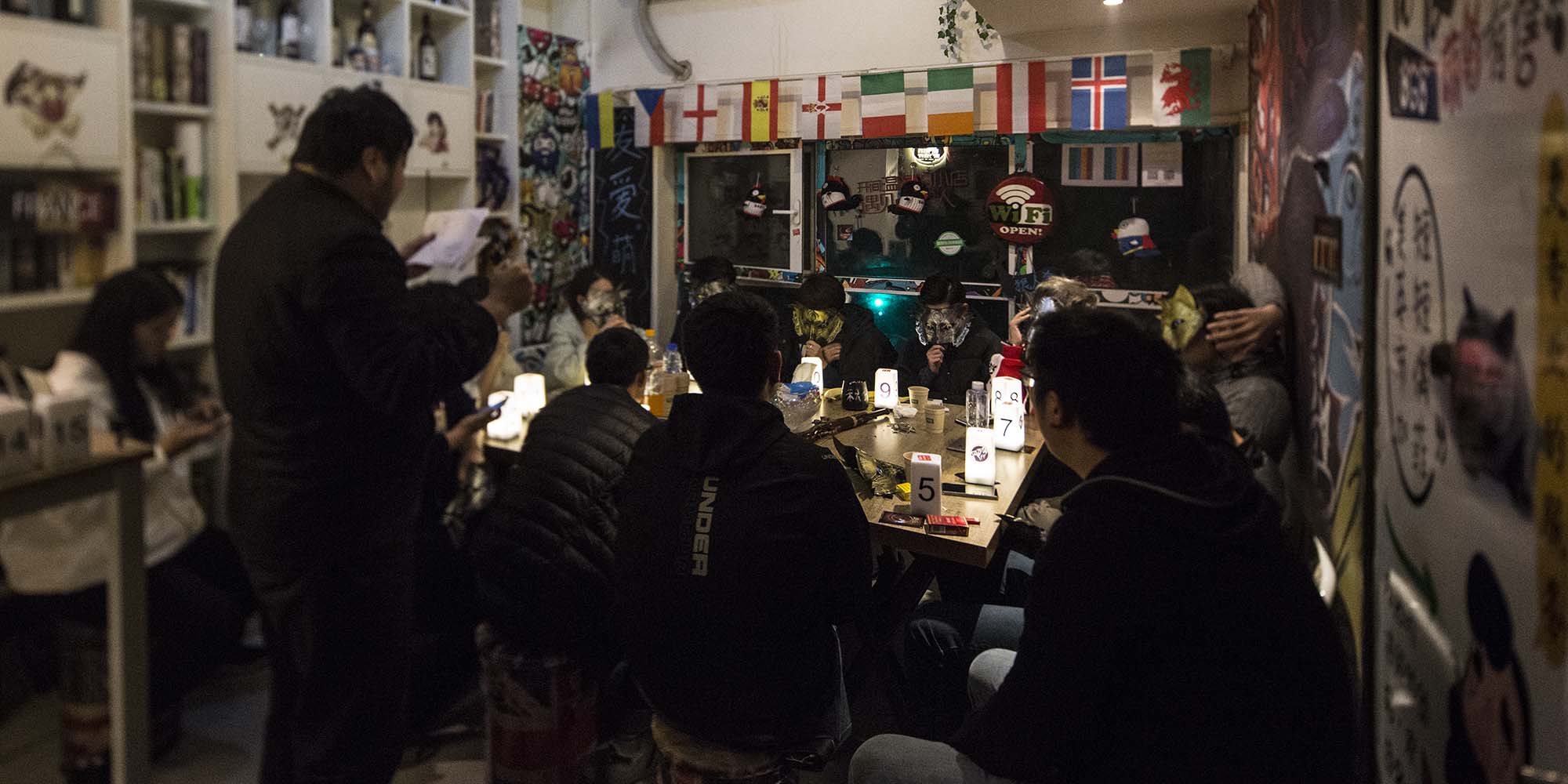 VOICES & OPINION
All Work, More Play: Why Young Chinese Are Embracing Tabletop Games
If games like Werewolf are this generation's mahjong, it's only fitting that they also symbolize the blurring lines between work and leisure.
The southern city of Guangzhou's Gangding business district is something of a board gaming mecca, with more than 20 board game stores crammed into an area of about 4.3 square kilometers. On weekends, these spaces are jam-packed with players, who often form groups and arrange games on messaging app WeChat in advance. Games usually begin around 7 or 8 in the evening, and it is not uncommon for them to continue until 2 or 3 in the morning. I've seen players game until they drop, then mutter things in their sleep like: "I am a prophet and I checked the person next to me. They're a werewolf!"
They're not delirious — just dreaming of their next move in Werewolf, a popular Mafia-style game pitting a village against hidden monsters in their midst. Werewolf is just one of the most prominent board games young white-collar workers around the country have taken up in recent years, including murder-mystery role-plays and card games like Splendor. Even many not particularly avid gamers can point to at least one board gaming invitation or outing, and the games themselves have spawned online adaptations, live broadcasts, and national tournaments.
Reflecting on the popularity of their hobby, some of my gaming buddies have joked that "Werewolf is the mahjong of our generation." Indeed, in the four years that I've been playing and researching Werewolf, I've noticed how it and other board games retain certain functions of traditional Chinese games, including mahjong. But I've also come to believe that Chinese yuppies' newfound infatuation for board gaming is inseparable from their possibly hopeless desire to escape their tedious and oppressive professional lives.
In China's collective imagination, mahjong is most often associated with idleness and gambling. A common form of entertainment at Chinese family gatherings, most Chinese people might play a few rounds during the Lunar New Year holiday, though in the courtyards of China's older residential areas, you can still see gaggles of elderly people idly smoking, eating melon seeds, and turning over tiles almost every day.
In contrast, the young Chinese obsessed with new board games like Werewolf are rarely the sort you'd associate with the word "idle." Usually overworked urbanites between the ages of 20 and 40, they refer to themselves as "company cattle," a self-deprecating term that first appeared in Japan in the 1990s and has since caught on in China as people groan under the pressure of longer shifts, greater workloads, and rising house prices.
All the players I interviewed said they routinely work overtime. More than a few said they work at least 10 hours a day, six or seven days a week. For them, it's not uncommon to rush to the board game store the moment they get off and to arrive at work the next morning bleary-eyed after a whole night of gaming. They're not looking for the idle leisure of mahjong, but so-called revenge entertainment.
Terms like "revenge bedtime procrastination" and "revenge entertainment" describe the way young professionals make up for their grueling jobs and reassert control over their lives by staying up until the early hours of the morning and squeezing as much excitement into their schedules as possible. It's a bit like the English saying "work hard, play hard," but without the sense of accomplishment: Revenge entertainment might lead to a new lease on life, but it comes at the expense of your health.
One of my interviewees, a 24-year-old female journalist surnamed Jin, told me she had been working for 10 days straight — including through the country's Qingming Festival holiday. So she decided to get her "revenge" by playing Werewolf three nights in a row.
"I know I will have to get up at 6 o'clock the next day and squeeze myself onto the crowded subway to work," she said. "When I get home after 9 p.m., I am so tired. I know I should go to bed early, but I still choose to play Werewolf until 2 in the morning."
"If you don't, you'll realize your life is empty," she added.
The emptiness Jin mentioned is not just about the long hours she spends at work, but also the banality of her professional life. My interviewees often talked about the repetitiveness of their jobs, how little room they're given for creativity, and the utter lack of respect their bosses show them. It's only when playing board games that they feel truly relaxed and in control.
In addition to the psychological factor, company cattle also appreciate these games for their highly social nature. During the week, gamers' lives are usually split between their home and place of employment, and they have little time to go out with, let alone make friends. Aware of this, many Chinese board game store owners have chosen to open shop in central business districts so office workers can visit straight after work.
Take Werewolf, for example. Whereas mahjong is a four-player game, its new-generation equivalent usually requires 12 players and a judge. Many of the people who play together in the board game store are strangers, but after a few rounds of arguments and accusations, everyone quickly gets acquainted. I know couples who got their start at the table.
Not everyone is just there to make friends, however. Some players use it to develop business partnerships among similarly positioned and like-minded urban professionals. An interviewee who works as a real estate agent told me that last year he sold three properties to people he met through Werewolf campaigns.
Indeed, over the years I've noticed players' professional lives and identities start to seep into their gaming spaces — and vice-versa. I've even interviewed employers who use Werewolf to test their employees. One IT company executive I spoke with told me she plays Werewolf with new hires as a way of seeing who is dynamic, reliable, and has a flair for teamwork. She later selected those who performed the best for an overseas initiative in Africa.
"Although some people are not exceptionally good players, they are able to clearly communicate their opinions, convince others they are right, and patiently teach the rules to newbies," she said. "Even when they lose, they are capable of identifying what went wrong — either on their own or through a discussion with their teammates. Players like this are precisely the kind of people our company wants to train."
At a time when young people feel like so much livestock, board games are no longer a simple form of leisure completely detached from the workplace. As gaming rooms become spaces where real estate deals are done and informal interviews conducted, the lines between professional and personal time blur further. Gone are the days when you could enjoy a game of mahjong in your free time: The wolves are loose in the cattle pen.
Translator: Lewis Wright; editors: Cai Yiwen and Kilian O'Donnell; portrait artist: Wang Zhenhao.
(Header image: Young people gather together to play Werewolf at an apartment in Beijing, Nov. 3, 2017. Zhao Heting/Guyulab/People Visual)