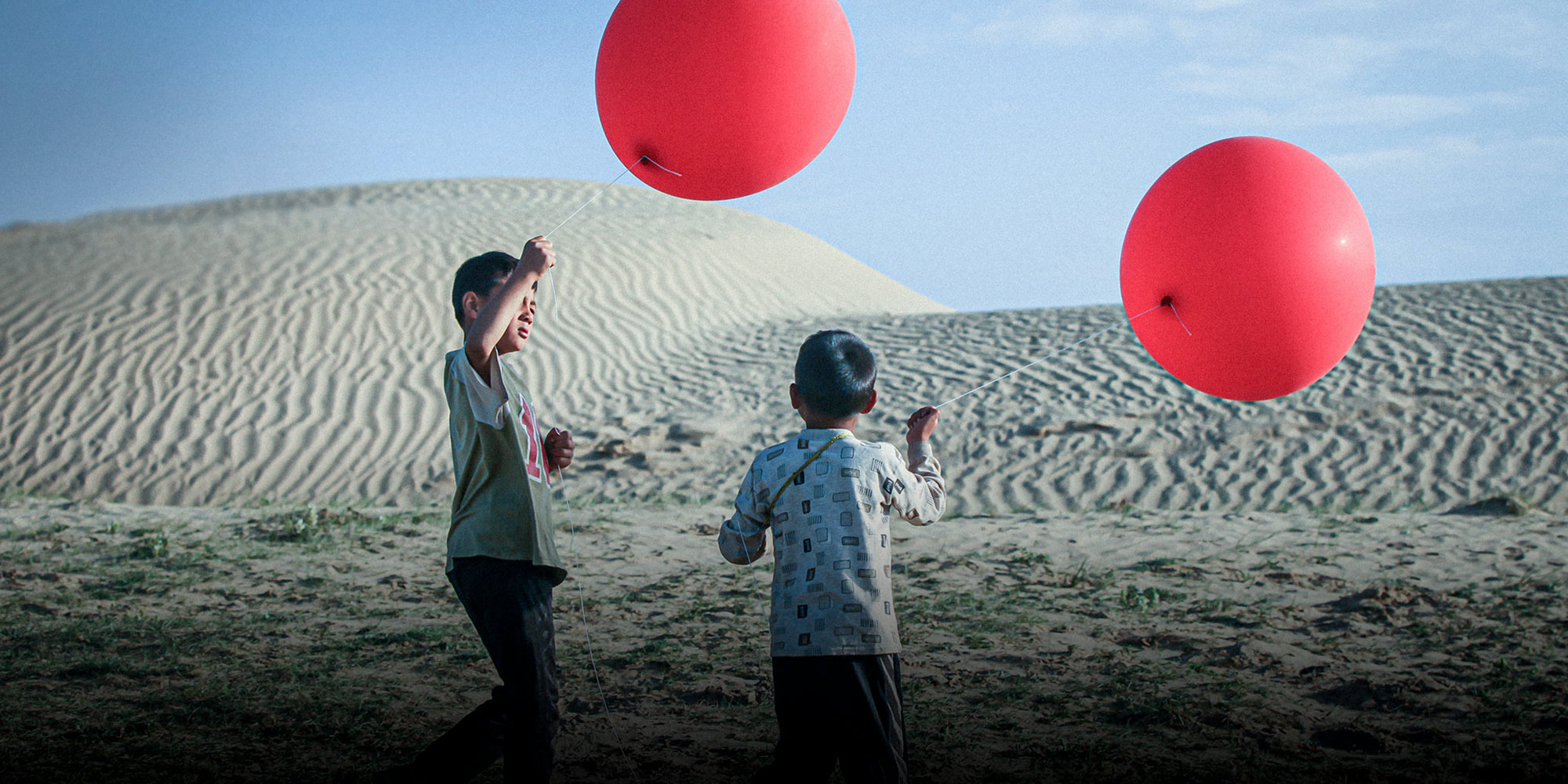 FEATURES
The Tibetan Filmmaker Fighting to Put Minority Stories on Screen
Director Pema Tseden discusses his award-winning new movie "Balloon" and the struggle to promote diversity in China's film industry.
Pema Tseden is known for producing gritty movies about the lives of Tibetans in China. His latest project, "Balloon," is no exception.
Set in a remote pastoral community in the '90s, the film follows the story of Drolkar — a woman from a shepherding family whose life is thrown into crisis by an unwanted pregnancy.
Already a mother of three, Drolkar knows that having another child will lead to her family receiving a crippling fine for breaking China's family-planning rules. Yet her Buddhist relatives are desperate for her to keep the baby, believing the child may be the reincarnation of the woman's beloved, recently deceased father-in-law.
As Drolkar grapples with her impossible choice, a pair of red balloons emerges, symbolizing the reproductive freedom floating out of her reach.
For Pema Tseden, finding the space to tell such nuanced Tibetan tales has been a careerlong struggle. After a childhood spent in the remote pasturelands of the northwestern Qinghai province, he became the first ethnic Tibetan to ever study at the renowned Beijing Film Academy in the early '00s. 
In recent years, the 51-year-old has helped foster a new generation of Tibetan-language filmmakers known as the "Tibetan New Wave," and his work has attracted growing critical acclaim — his 2018 drama "Jinpa" winning Best Screenplay in the 75th Venice Film Festival's Horizons section. "Balloon" has also been widely praised, appearing at 60 film festivals and winning 11 awards including Best Screenplay at the 55th Chicago International Film Festival. 
Yet Pema Tseden still struggles to convince Chinese cinemas to screen his work, as companies often perceive features by ethnic-minority directors to be a tough sell.
When "Balloon" was released on the Chinese mainland in late November, the movie only accounted for 2.4% of total screenings in domestic theaters. Within days, this figure dropped to 1%. To date, "Balloon" has generated a total box office revenue of just 6.4 million yuan ($980,000), according to ticket platform Maoyan.
Such a deflating debut for "Balloon" has sparked heated discussion in China, with media, film critics, and cinephiles arguing that the movie deserves more screen time. Pema Tseden has even waded into the debate himself, calling for China's film industry to work harder to support minority voices.
Speaking with Sixth Tone by phone, Pema Tseden discusses the making of "Balloon" and the situation facing ethnic-minority filmmakers in China. The interview has been edited for brevity and clarity.
Sixth Tone: What inspired you to create "Balloon?" 
Pema Tseden: When I was studying at the Beijing Film Academy, I saw a red balloon floating in the wind one day. I was captivated, feeling it could be a good image to build a movie around. 
I wanted to make a connection between the red balloon and Tibetan communities, so I slowly came up with the main image of the film — a white balloon, which is actually an inflated condom.
I set the story in the early '90s, when Chinese people were living without many choices (regarding reproductive rights). Set against the elements of Tibetan culture and beliefs, the story is able to hang together.
Sixth Tone: The movie centers on problems faced by the female characters, such as their lack of reproductive rights and autonomy within the family. How prominent are these issues in Tibetan society?
Pema Tseden: They're certainly real issues, but they're not the ones people are most concerned about. I didn't choose this subject matter because of it being particularly serious in Tibetan communities.
The film essentially sprang from the inspiration sparked by the balloon I saw and the image of the white condom. So when I was developing the story, it naturally centered on a female character. And as the story unfolds, things like fertility and choice naturally come into play.
Many Tibetans face the dilemma between religious faith and how to make practical decisions. Such difficulties aren't unique to women. People who are involved in religion also have to face similar choices and dilemmas.
Sixth Tone: The protagonist, Drolkar, faces conflicting pressures from her family's religious beliefs and China's family-planning rules. How do you see the movie reflecting on this conflict?
Pema Tseden: It offers different perspectives. For example, the female doctor at the health center partly causes Drolkar's resistance. This female doctor represents a group of Tibetan women who may be more awakened. In a conversation with Drolkar, she says: "Women aren't born to give birth."
The movie is also themed around the idea of reincarnation. But as the writer, I play around with this concept. The film is mostly realist, but there are also some surrealist parts interspersed. 
There's a subplot about a mole on the eldest son's back — a symbol of reincarnation, as it's believed to be the same as his grandmother's — that's removed by his brothers, who then run into the desert laughing. This scene is like a dream or hallucination. It prepares the audience for the further development of the story, and also works as a reflection on the idea of reincarnation.
Sixth Tone: The movie uses a lot of hand-held, full-length shots. Why did you decide to use this style of camerawork?
Pema Tseden: The choice relates to the characters' situation throughout the story. For example, you can see that Drolkar and the people around her — her husband, sister, and eldest son — are in a constant state of anxiety. They feel trapped and unsettled.
The photographer and I eventually decided to shoot the movie with hand-held long shots. You can actually follow the characters and see their minds working. 
For example, when Drolkar goes to see the female doctor to get sterilized, the composition reflects how sexual issues are still considered very private in Tibetan communities. When the scene begins, you can see the characters' facial expressions have changed and their voices have lowered. The camera, meanwhile, is peeking through a screen, as if we're eavesdropping on the conversation.
Sixth Tone: After "Balloon" was released, you publicly called for the movie to receive more cinema screenings. What do you think about the situation facing arthouse movies in the domestic market right now?
Pema Tseden: Art film is indeed in a difficult situation, in terms of filming, investment, and also production. Some recent arthouse movies have been screened through different channels, but they received few screenings and poor box office revenues. I've made the call for wider releases for my own movie, as well as art films more generally.
We hope an effective mechanism for supporting arthouse movies can be established to truly solve this longstanding problem. There are many fans of art films who wish to see these movies, but there's a lack of platforms for them to do so.
I think funding or supportive policies at the national level are also important. For example, in France the government issues subsidies for distributors and cinemas, so they don't feel pressure when they screen art films or do long-term screenings.
Art film enriches film culture and creativity. If we don't support it, we'll only see movies of the same type. A vicious circle will form, wherein audiences think this is what movies are like and cinemas think audiences only accept a certain kind of movie. Ultimately, that will harm the whole industry — creators won't persist if the market is always like this.
Sixth Tone: How difficult is it as a director to tell Tibetan stories in China? What are the biggest challenges you have to overcome?
Pema Tseden: Tibetan-language films or movies that tell stories of minority ethnic groups are a niche market. The domestic film market is dominated by movies about Han Chinese.
There's also longstanding prejudice among cinemas and audiences against movies themed around ethnic minorities. As with "Balloon," cinema managers consider Tibetan movies to be niche. And once it's labeled an "art film," people have a biased view of the piece.
"Balloon" is a film with Tibetan themes, so most viewers don't feel it's so relatable. On the other hand, artistic films are usually tagged as "a difficult watch." In my opinion, people who make those kinds of comments don't regard you as a creator or discuss your work. Instead, they view you through a certain lens and then make biased judgements.
The situation nowadays is changing, but it will take a long time to really change if we rely solely on the efforts of individuals. Over the past 15 years, some Tibetan movies by Tibetan directors and local creators have appeared. It has helped improve things, but it's not enough.
Sixth Tone: What are your future plans? What kind of projects would you like to pursue?
Pema Tseden: I haven't decided yet. Usually, I will prepare two or three scripts and see which one is best to pursue at the moment. My film projects — from "Tharlo" to "Balloon" — have always been produced with an element of uncertainty. 
Some say I've suddenly been focusing on feminine topics these days, but the story of "Balloon" has been with me a long time. The time was ripe, so I filmed it now.
Of course, I want to deal with a wider range of themes, such as Tibetans living in urban areas. I think it'd be intriguing to capture their life experiences and emotions. At present, most of my movies are about Tibetans. But I might expand my scope and try shooting films about people of Han ethnicity.
Editor: Dominic Morgan.
(Header image: A still from Pema Tseden's film "Balloon." From Douban)