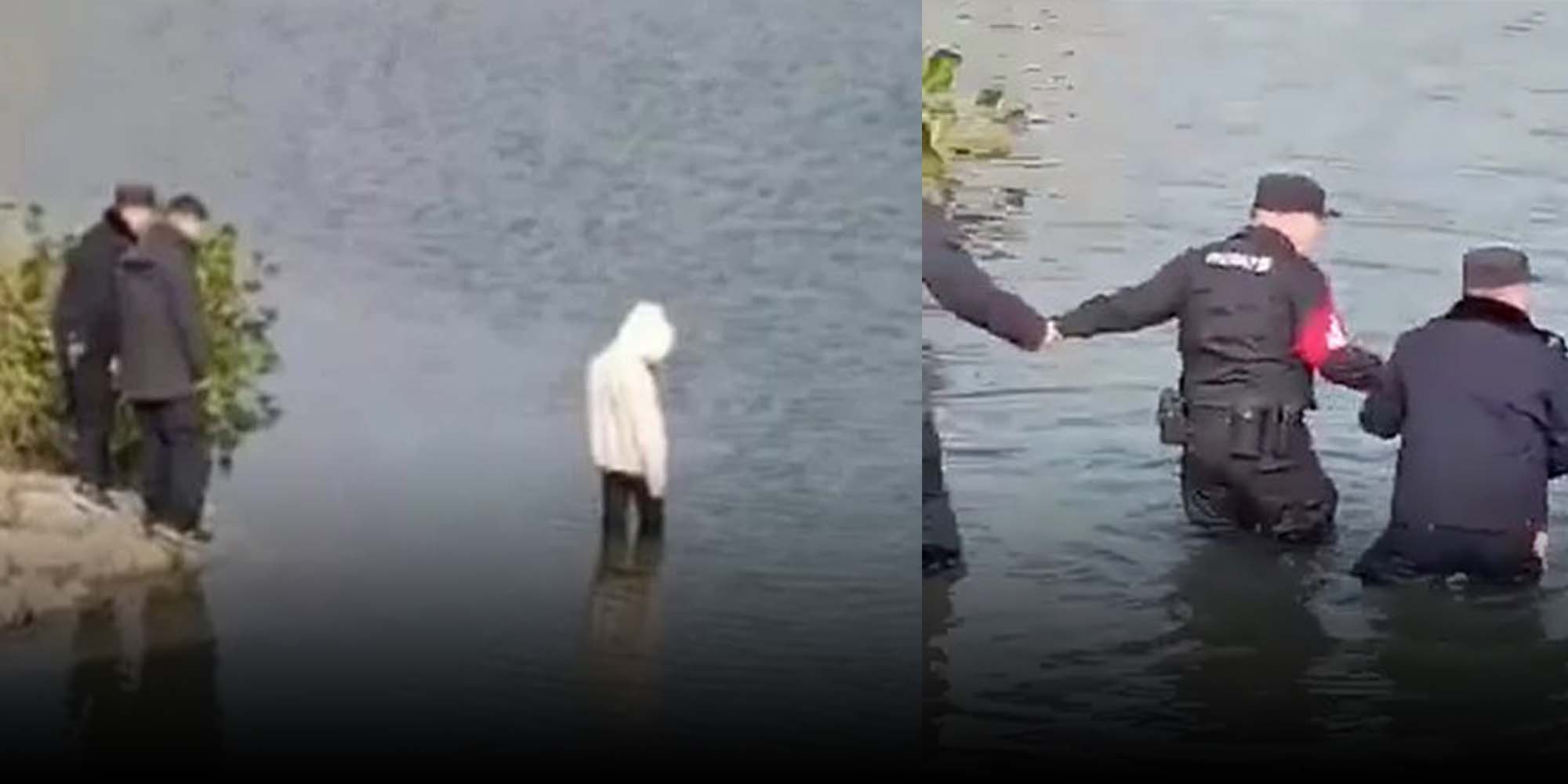 NEWS
After Anhui Girl's Drowning, Calls for Police to Try Harder
Police in China are required by law to receive emergency response training, though this wasn't evident as officers stood nearly within arm's length of the victim before her death.
Police officers' suitability as first responders and the limits of their professional duties were hotly discussed in China over the weekend after a high school student in the eastern Anhui province jumped into a body of water and drowned mere meters from a pair of officers who had been trying to coax her back to shore.
After the girl plunges into deeper water from her perch in the shallows, the officers stand there watching her drown because they cannot swim.
According to cellphone footage of the incident Friday in Anhui's Wangjiang County, several more officers join the pair at the shore and try to form a human chain to rescue the 17-year-old victim, though they come up far short. The girl's body was later recovered by divers.
A local police report released Friday night said the girl's motive for killing herself was unknown, and the officers who responded at the scene had been suspended pending an investigation.
In the days since, the moral and legal implications of the drowning, as well as the fairness of the officers' suspensions, have been widely debated online.
On microblogging platform Weibo, many users have argued that diving into the water was the girl's choice, and the police could have died themselves had they jumped in to try and save her. Others were critical of the officers' apparent inaction just after the girl dove forward, and questioned why two non-swimmers with no equipment and no evidence of rescue training had been dispatched in the first place.
Very little of the online discussion seemed to focus on insisting that police officers be able to swim, however.
Domestic newspaper Xiaoxiang Morning Herald, which spoke to several lawyers about the case, quoted Zhu Xiaoding of Beijing Cailiang Law Firm as saying that rescuing people who are drowning, at risk of falling, or otherwise jeopardizing their lives falls within the scope of police duties, according to China's Emergency Response Law. Officers are also required by law to be trained for basic rescue operations, the lawyer added.
"Local police departments have an unshakable responsibility for the ultimate death of this girl," Zhu told Xiaoxiang Morning Herald. "There should be a thorough investigation into the whole process, from handling 110 calls (China's emergency number) to police work, rather than just investigating the responsibility (of the officers involved)."
Other lawyers, meanwhile, said people should not examine the case — or whether it constitutes police negligence — through a strictly moral lens. In China, police officers are not legally required to be able to swim, they said.
Some online commentators drew comparisons between Friday's incident and a recent, similar story with a happier outcome. In mid-November, 61-year-old Stephen Ellison, the U.K.'s consul general in the southwestern city of Chongqing, jumped into a river and rescued a drowning student as a crowd looked on.
Due to a lack of access to pools, among other cultural and economic factors, China has a massive population of non-swimmers. Every year, some 57,000 Chinese die from drowning, including hundreds traveling abroad.
To reduce the number of non-swimmers, or "dry ducks," as they're colloquially known in Mandarin, some academic institutions, including Beijing's elite Tsinghua University, have taken steps to make swimming a compulsory requirement for graduating students. And in at least one Chinese city, facial-recognition cameras have been installed along a river to deter drowning deaths — especially among children — by warning people when they get too close to the water.
In China, the Beijing Suicide Research and Prevention Center can be reached for free at 800-810-1117 or 010-82951332. In the United States, the National Suicide Prevention Lifeline can be reached for free at 1-800-273-8255. A fuller list of prevention services by country can be found here.
Editor: David Paulk.

(Header image: Screenshots show police officers first trying to persuade the girl to return to shore (left) and then, after she jumps into the water, forming a human chain to try and rescue her. From @侠客岛 on Weibo)