Every night for the past two weeks, Scott Tilley has been saying "good morning" to the moon as it rises above the horizon.
The 50-year-old astronomy hobbyist's well-wishes are intended not for Earth's shiny satellite, but for the Chinese space probe Chang'e 5, which left Earth on Nov. 24 to collect soil samples from the moon.
Every evening since, Tilley has set up his self-built 60-centimeter radio dish — a miniature version of China's enormous FAST telescope — in his backyard on Canada's west coast to eavesdrop on the signals the probe sends back to ground control.
While most space fans have been pinned to the occasional livestreams provided by China's state broadcaster, China Central Television, Tilley and his fellow astronomy enthusiasts around the world are tuning in to their radio telescope setups. On Twitter, they have been taking turns monitoring Chang'e 5 and sharing the signals they've picked up.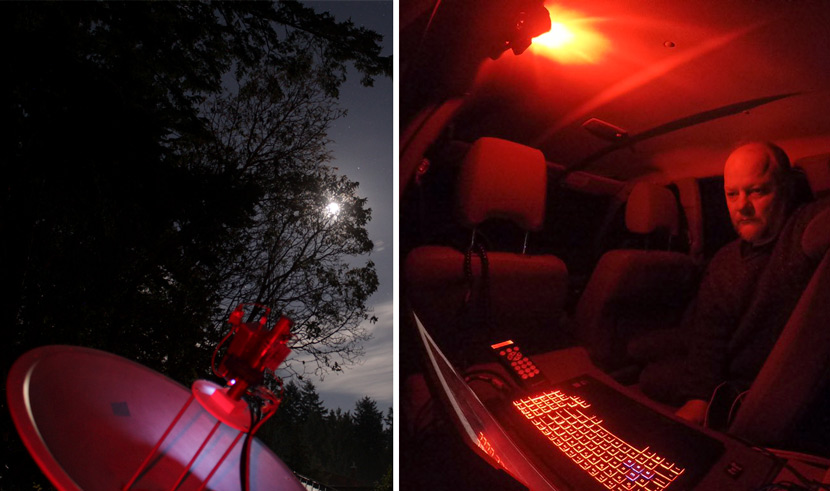 Amateur astronomer Scott Tilley tracks the Chang'e 5 mission from his van in British Columbia, Canada, Dec. 3, 2020. Courtesy of Scott Tilley
On launch day, amateur astronomers managed to pick up part of the video feed that Chang'e 5 sent back to ground control. First, a British amateur radio operator tweeted a chunk of binary code from the probe that he had captured by aiming his dish at coordinates Tilley had calculated. Then, a hobbyist from the Czech Republic managed to decode that piece of data into a nine-second video that they described in a tweet as a solar panel of Chang'e 5 "glistening in the sun and dust floating around."
"This is the first time a deep-space mission has been decoded by amateurs, as far as I'm aware," Tilley tells Sixth Tone, adding that many things have to line up to capture and decode a video signal, such as the timing, gear, and skill sets.
"It's quite rare that we get a mission like Chang'e 5 where there's so much going on," Tilley says. Within two weeks, Chang'e 5 launched from southern China, landed on the moon, dug up lunar soil, and relaunched from the moon — a relative plethora of tasks.
He has tracked many other spacecraft, from NASA satellites to China's earlier lunar probes, and few are as busy as Chang'e 5. Most spacecraft spend the bulk of their missions cruising, he says.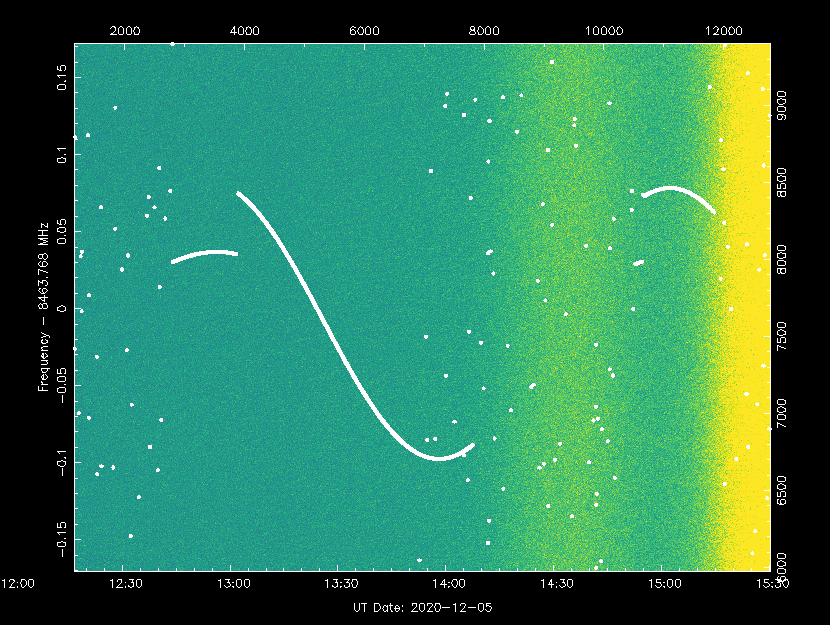 A GIF shows signals from the Chang'e 5 ascender and orbiter, observed and recorded by Scott Tilley. Courtesy of Scott Tilley
Astronomy radio hobbyists are relatively rare in China. But at the Harbin Institute of Technology in the country's northeast — where one of China's few amateur radio clubs is located — students have also been tuning in to the lunar mission with a radio telescope installed on campus that's about 5.4 meters in diameter.
Within minutes of Chang'e 5 touching down on the moon, the club posted a diagram on microblogging platform Weibo of the radio signals sent from the spacecraft. "Congratulations on the landing! Good luck digging up the soil," they wrote. The club declined to be interviewed when contacted by Sixth Tone, saying they don't wish to draw attention.
"Some of the international amateurs are pretty outstanding," Liu Qinghui, an astronomer at Shanghai Astronomical Observatory, tells Sixth Tone. "They're familiar with the entire process, from receiving to decoding."
It helps that ordinary data from space missions, including Chang'e 5, usually isn't encrypted, Liu says. "Most of the time, it's just sending a picture. If you want to encrypt the message, you're wasting resources." Because encrypted files are bigger, transmitting them takes longer, and during critical times such as moon landings, minimal communication delays are preferred.
However, signals going from ground control to the spacecraft are encrypted — otherwise people could easily control and disrupt the mission, he says. To avoid communication interference, space missions must also make the frequencies they will use public.
Liu himself has taken part in spacecraft tracking, too. He participated in a collaboration between the Shanghai Astronomical Observatory and the European Space Agency, a project for which they tracked ESA's Mars mission as training for China's Tianwen-1 mission to the red planet.
But Liu admires the global community of amateurs who manage to do the same from their own backyards just for the fun of it. "In a research climate like China's, when it comes to individuals pursuing topics that might not seem particularly useful, I have to admit that sometimes these ideals are somewhat lacking," Liu says. "We are still cultivating people's interests in less tangible subjects like astronomy. But I think it will change in the future."
Editor: Kevin Schoenmakers.
(Header image: A diagrammatic illustration of the Chang'e 5 ascender preparing to dock with the orbiter, published Dec. 6, 2020. Jin Liwang/Xinhua)