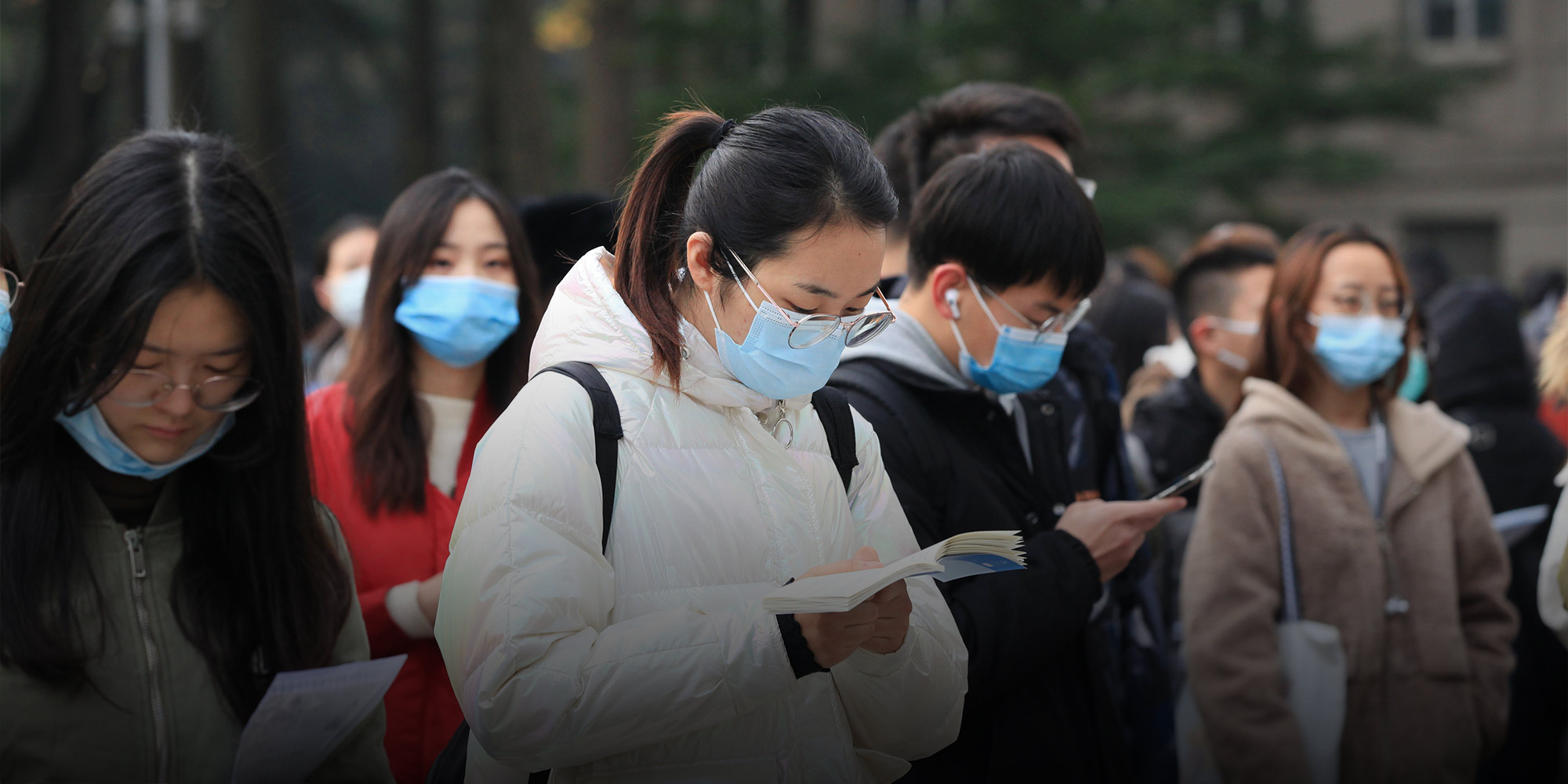 NEWS
In Pandemic-Hit Job Market, China's Grads Flock to Civil Service
Applications for this year's exam were up by 140,000 compared with 2019.
More than 1 million candidates sat for China's national civil service exam Sunday, hoping to secure a position at a government office at a time when the domestic job market has been stymied by the COVID-19 pandemic.
Over 1.5 million people were approved to take the highly competitive exam this year, but only 1 out of 61 applicants will end up with a job, according to the State Administration of Civil Service. This year saw 140,000 more applicants compared with 2019.
Chinese civil service jobs are seen as prized positions and are sometimes referred to as "iron rice bowls" because of the job security and benefits they provide. As many private enterprises downsized and the domestic employment rate hit a historic low due to the pandemic, government jobs have become even more appealing to fresh graduates.
According to China Institute for Employment Research, fresh graduates have been most affected by the pandemic. There was a 17% decrease in jobs available for new graduates in the first quarter of the year, while the number of applicants increased by nearly 70%.
Research by recruitment platform Liepin showed that nearly 40% of graduates had planned to apply for careers in the civil service, with 75% believing the pandemic has made it more difficult to find a job.
Nora Li, a graduate from the eastern city of Qingdao, told Sixth Tone she opted to pursue civil service because of the job security and good benefits, including a comfortable retirement package. But she acknowledged that it's going to be far more competitive to secure a position this year.
"If I am able to get the interview, I will need to compete with other candidates who already have work experience," she said.
The competition is tough, with a whopping 3,334 candidates vying for the most competitive position. Last year, there were around 60 applicants for each available post.
"The exam is so hard. If I can get ashore, I'll be content in this life," wrote one user on microblogging platform Weibo, referring to a Chinese saying that compares private-sector jobs with swimming in the sea and government jobs with being safe on land.
Additional reporting: Chen Qi'an; editor: Bibek Bhandari.
(Header image: Candidates prepare to take the national civil service exam in Nanjing, Jiangsu province, Nov. 29, 2020. People Visual)