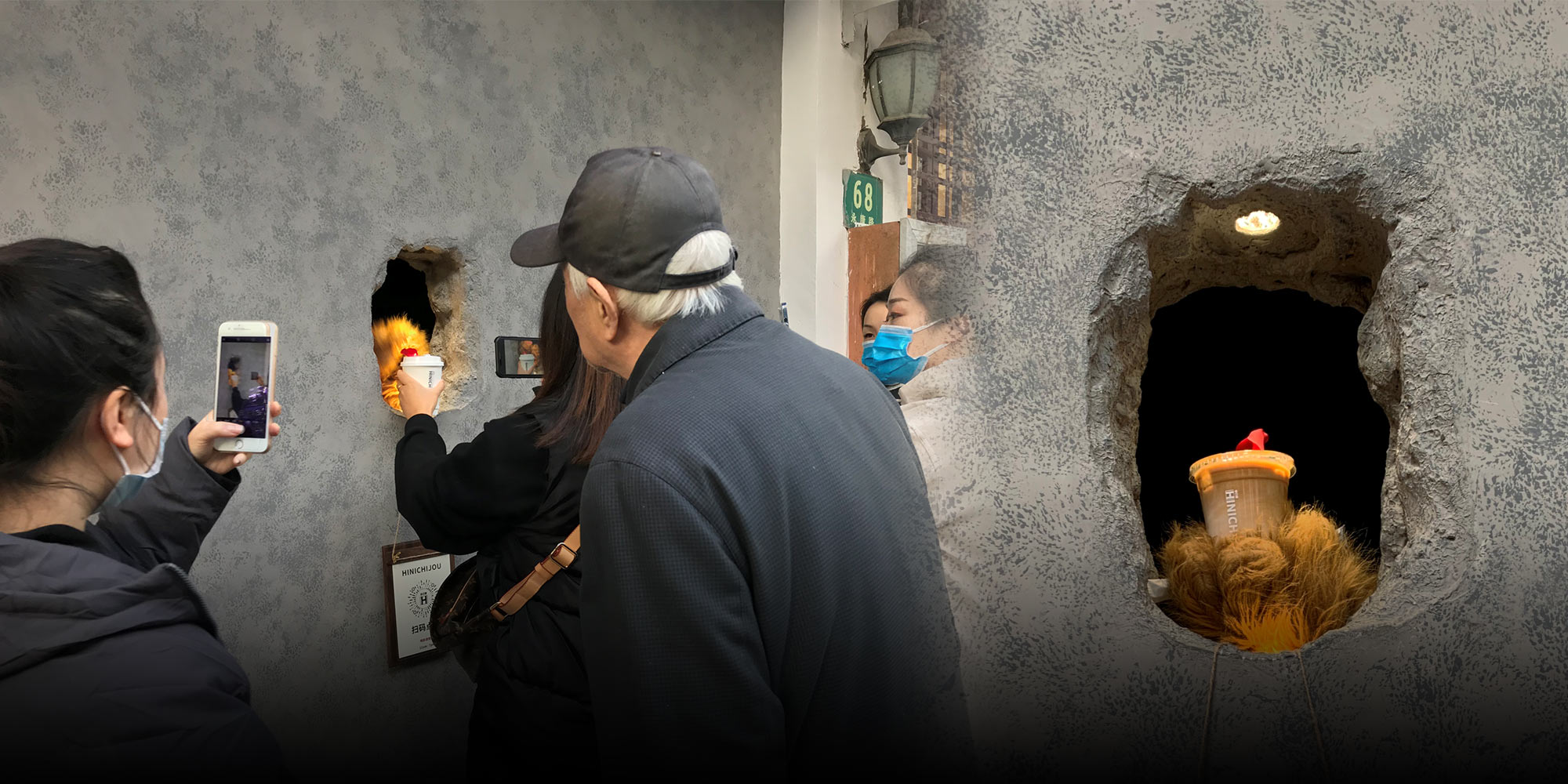 NEWS
Shanghai Has a Hole-in-the-Wall Café Run by Disabled, Bear-Clawed Baristas
The owners of the "bear-claw café," as it's popularly known, say they wanted to help people with disabilities and limited job prospects.
SHANGHAI — Only in 2020 could an artificial bear claw serving you coffee be a sign of goodwill.
"Your coffee is ready," a soft female voice says as a furry brown paw emerges from a literal hole-in-the-wall café holding a latte.
"That's so cute!" a customer responds, shaking hands with the claw and posing for photos.
Hinichijou on Yongkang Road in Shanghai's downtown Xuhui District has become all the rage among the city's café connoisseurs and social media-savvy residents, not just because of its novelty, but also because of the people wearing the claws. The café provides a rare employment opportunity for its two hearing-impaired baristas, underscoring how people with disabilities can join the workforce, too.
Hinichijou opened its doors Thursday to coincide with the annual International Day of People With Disabilities on Dec. 3, which advocates for the rights of those with disabilities, spreading awareness and understanding worldwide.
Wang Haiqing, one of the café's three founders, told Sixth Tone's sister publication The Paper that they hired the baristas through the China Disabled Persons' Federation after learning about hearing-impaired people who had received barista training, thus qualifying them for the job.
"We hope to help solve some employment problems faced by people with disabilities," she said.
According to the China Disabled Persons' Federation, there are more than 85 million people living with disabilities in China, including more than 20 million with hearing impairments and 1.3 million with speech impairments. Despite the government's anti-discrimination policies, such individuals still face limited job prospects and remain largely invisible due to a lack of public facilities.
On Thursday afternoon, customers lined up in front of the shop, snapping photos while waiting for their drinks. The bear claw waved, pointed to a card with a scannable QR code, and encouraged people to place their orders.
A 30-year-old customer surnamed Yang told Sixth Tone that she decided to visit the café after it started trending on social media following its soft opening.
"This street is already full of cafés. I think it's right for them to open here, as it's also different from the other cafés," she said. "I've tried their latte before. It tasted quite good."
Another customer surnamed Pan said he came to the coffee shop after reading a local media report and would recommend it to his friends.
"I heard there are people with disabilities working here, so I wanted to come and support them," said the 23-year-old. "The design of the café is creative, and the bear claw service is really adorable."
Hinichijou is not the first café in Shanghai to employ people with disabilities. In October, a coffee shop at one of the city's mental health centers — the aptly named Healing Coffee — brought in some of their recovered patients to train as cashiers and baristas so they could learn new skills and gain work experience.
Editor: Bibek Bhandari.
(Header image: Customers crowd around the order and pickup "window" at Hinichijou café in Shanghai, Dec. 3, 2020. Cai Xuejiao and Chen Qi'an/Sixth Tone)