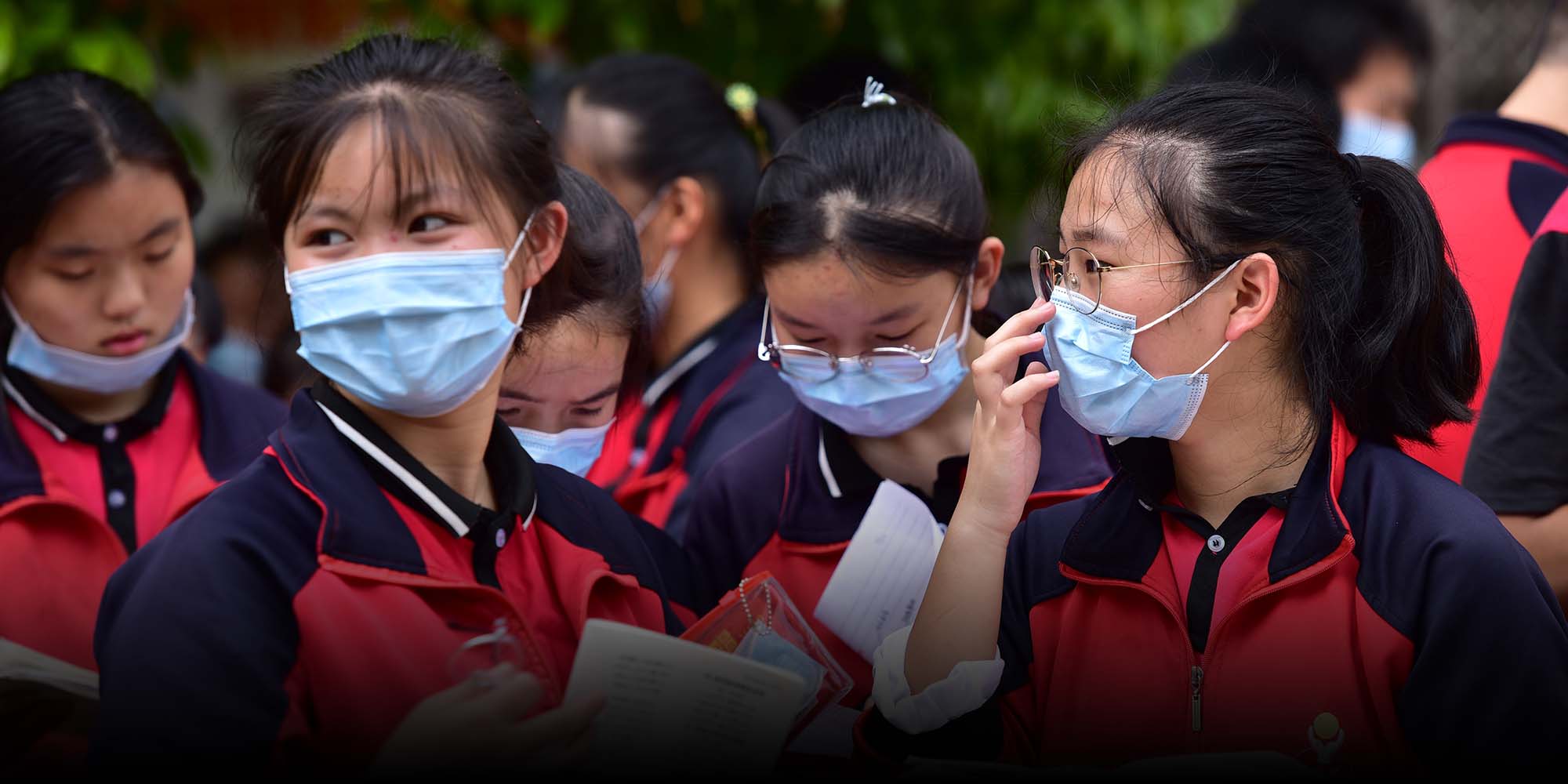 NEWS
Policy Against Sharing Students' Grades on WeChat Sparks Debate
Would withholding students' grades and class rankings from parents relieve pressure or demotivate? That's the question at the center of discussion over a largely misinterpreted local rule.
A policy prohibiting schools in the eastern Chinese city of Hangzhou from sharing students' grades and class rankings within parent-teacher groups on social app WeChat has sparked wide discussion on striking the right balance between motivating children and stressing them out.
According to a report Tuesday from the 21st Century Business Herald, a domestic media outlet, the education department of Binjiang District has outlined a series of measures for improving school-related communication and etiquette on WeChat. In the section on "acceptable information release," the document said teachers must be encouraged to safeguard students' personal privacy, and should therefore not release grades or rankings in classroom chat groups with their students' parents.
While the policy only pertains to sharing students' academic records within these chat groups, it has sparked heated discussion on whether the disclosure of such information to parents should be permitted at all. Since the policy's release last week, a social media hashtag translating to "Should students' grades be made public?" has been viewed over 360 million times.
The vaguely worded policy document, titled "Binjiang District School Classroom WeChat Group Convention (Trial Draft)," was jointly formulated by local teachers, parents, and education authorities. For the parents, it included suggestions such as "make reasonable requests," "be understanding of teachers' busy schedules," and "don't message teachers between 9:30 p.m. and 7 a.m." Notable rules for the teachers, meanwhile, included "releasing acceptable information," "providing thorough feedback," and "upholding internet purity."
Yet with China's education system heavily dependent on numeric standards for the zhongkao and gaokao, the country's rigorous high school and university admissions tests, respectively, many online are concerned that potentially over-protecting students by not making grades and rankings public may prove detrimental.
"Someone who doesn't encounter competition or setbacks during childhood grows up like a delicate flower: pretty, but unable to withstand wind or rain," read one comment on microblogging platform Weibo that received more than 68,000 likes.
"What's the point of testing if the results aren't made public?" read another top-rated comment under a related post from 21st Century Business Herald. "Without comparaisons, how will there be any motivation?!"
With the stress of a cutthroat job market that has only been exacerbated by the COVID-19 pandemic, many Chinese parents believe a competitive school environment will benefit their children in the long run, helping them secure spots at top-tier universities, earn higher salaries, and better cope with hardships.
The tradeoff between full disclosure and heightened motivation on the one hand, and privacy and mental well-being on the other, has been discussed in China for years. As far back as 2009, education regulations in Zhejiang recommended that schools not publicize student rankings on standardized tests. And in 2018, a nationwide policy — an extension of the government's "happy education" push to relieve stress on primary and secondary school students — also discouraged "the disclosure of grades in any way, shape, or form."
Parent-teacher WeChat groups are often a source of controversy in China. As a direct line of communication between the two parties, they can be rife with brown-nosing parents seeking to give their kids a competitive edge through dubious or ill-gotten means, usually gifts or virtual red envelopes stuffed with cash. Such small-scale corruption has become so big a problem that several cities including Beijing and Shanghai have taken measures to outlaw it.
Last month, a hashtag translating to "Are parent-teacher WeChat groups necessary?" trended on Weibo following a father's viral video slamming teachers who expect parents to take on educators' responsibilities while still lavishing them with flattery.
Editor: David Paulk.
(Header image: Students wait to enter an exam room in Longli County, Guizhou province, June 20, 2020. People Visual)