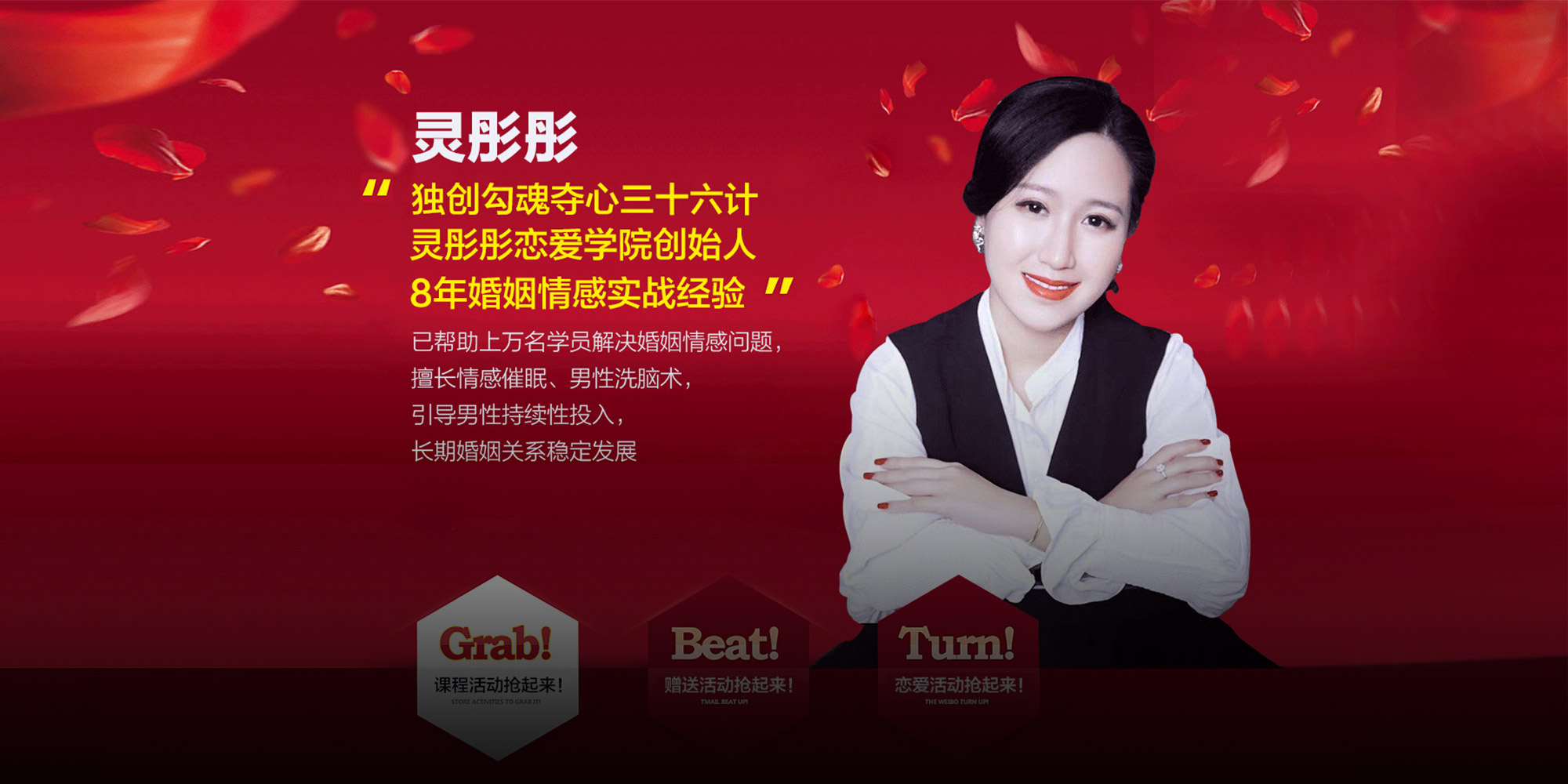 NEWS
Get-Picked-Up Artist for Women Shut Down Over 'Immoral' Teachings
Ling Tongtong prides herself on instructing women how to use their feminine wiles to win expensive gifts from male suitors, but her agency has been dogged by allegations of fraud and complaints from unsatisfied customers.
A China-registered relationship consultancy has had its business license revoked for promoting an "immoral" curriculum to its customers, in what is believed to be one of the first instances of a women-run pick-up artist-style company facing repercussions from Chinese authorities over its controversial teachings.
Market supervision authorities in the eastern Chinese city of Xuzhou told Sixth Tone's sister publication The Paper that the company, named after Ling Tongtong — the self-described lücha biao jiaomu, or "godmother of green tea bitches," a slang term for women whose outward innocence belies their true cunning — had been ordered to rectify its untoward practices several times. As of last week, the company's social media accounts on microblogging platform Weibo and messaging app WeChat had been removed.
Ling Tongtong — likely not the owner's real name — and her agency claim to be experts in helping women get whatever they desire out of their romantic relationships. Through brainwashing and other forms of mental manipulation, the love gurus teach their acolytes how to trick men into lavishing them with expensive gifts and ostentatious displays of affection.
In fact, the agency might be characterized as a feminine foil to similar "schools" run by men — avowed pick-up artists (PUAs) who teach their male clientele how to manipulate women into sleeping with them. Such businesses often find themselves in legal trouble for endorsing underhanded tactics, such as psychological manipulation and verbal — or even physical — abuse. Consequently, the term "PUA" has evolved in China to take on the broader meaning of any misogynist or otherwise inappropriate treatment of women.
"First there was PUA, now here comes Ling Tongtong," quipped one user on Weibo.
Ling Tongtong's advertised services include a 12-class package for "winning your ex back," priced at 3,999 yuan ($600) per student. But the agency is selective about who it accepts, or at least claims to be. A sales associate told Sixth Tone's sister publication The Paper that Ling Tongtong requires prospective clients to provide detailed chat histories with the man they want to woo, so the company can recommend the right course.
According to The Paper, though Ling Tongtong's relationship consultancy is registered in Xuzhou, it mostly operates online. The agency has been suspected of fraud — "illegal transactions," specifically — and was sued over a sales contract in October. A former customer also reported the company to the authorities after she found the curriculum to be "unscrupulous," demanded a refund for her remaining classes, and initially failed to secure one.
As of last week, the agency was unable to enroll new students due to its business license being revoked, but a sales manager told Sixth Tone the "relationship coaches" were still available for one-on-one classes.
"Just wait until we adapt our curriculum to be more palatable to Chinese culture," the manager said. "Most of our clients are based in the United States anyway."
A Ling Tongtong employee identified in promotional materials as Bobo, the co-founder of the company's "U.S. campus," claimed she had been able to persuade her admirers to give her presents worth over 500,000 yuan while she was a university student. And in a recent promotional video, Ling Tongtong herself shared a rhyming mantra that might best be translated as, "Old men are chill, old men foot the bill."
On the official consumer service platform of Sina, Weibo's parent company, over 300 complaints have been filed against relationship counseling companies, mostly in big cities like Shanghai and Guangzhou. Among the complaints, customers who said they paid fees ranging from 2,800 yuan to 26,600 yuan were demanding refunds for what they felt were inadequate or disingenuous services.
Sixth Tone's attempts to contact several such companies were unsuccessful. Some who responded said it was "inconvenient" to speak to reporters due to the current situation involving Ling Tongtong.
Advice on love, sex, and relationships is big business in China, though companies providing such services have also been criticized for advocating money-worship and emotional abuse. Online, Weibo users have condemned Ling Tongtong's love academy for "deliberately sowing discord between men and women."
The agency, for its part, is prepared to resume business as usual after resolving its bureaucratic setbacks. "The demand for our classes (on relationships) still exists," the sales manager said, adding: "It's not like we're doing anything illegal."
However, Ding Jinkun, a Shanghai-based lawyer, said the agency's relationship classes may constitute unlawful business operations. "Such classes and the ideology (they espouse) are essentially encouraging illegal activities including fraud, blackmail, and complicity in suicide," Ding said, referring to an online PUA organization that advocated self-harm and attempted suicide as proof of loyalty. "Business operations should not violate public order and basic morals," the lawyer said.
To Angela Xiao Wu, an assistant professor of media, culture, and communication at New York University, the popularity of relationship consultancies like Ling Tongtong's is both highly problematic and also indicative of "the transactional nature of heterosexual relationships in contemporary China," which she sees as a threat to the country's gender order.
"(Ling Tongtong) and many others like her make it clear that it is all a calculated performance women can stage for economic gain," Wu told Sixth Tone. "This in turn reflects increasingly hostile career prospects for women and the broader social pressure for women to concentrate on marriage and family."
Editor: David Paulk.
(Header image: A screenshot from the website of Ling Tongtong's love and relationship advice agency.)