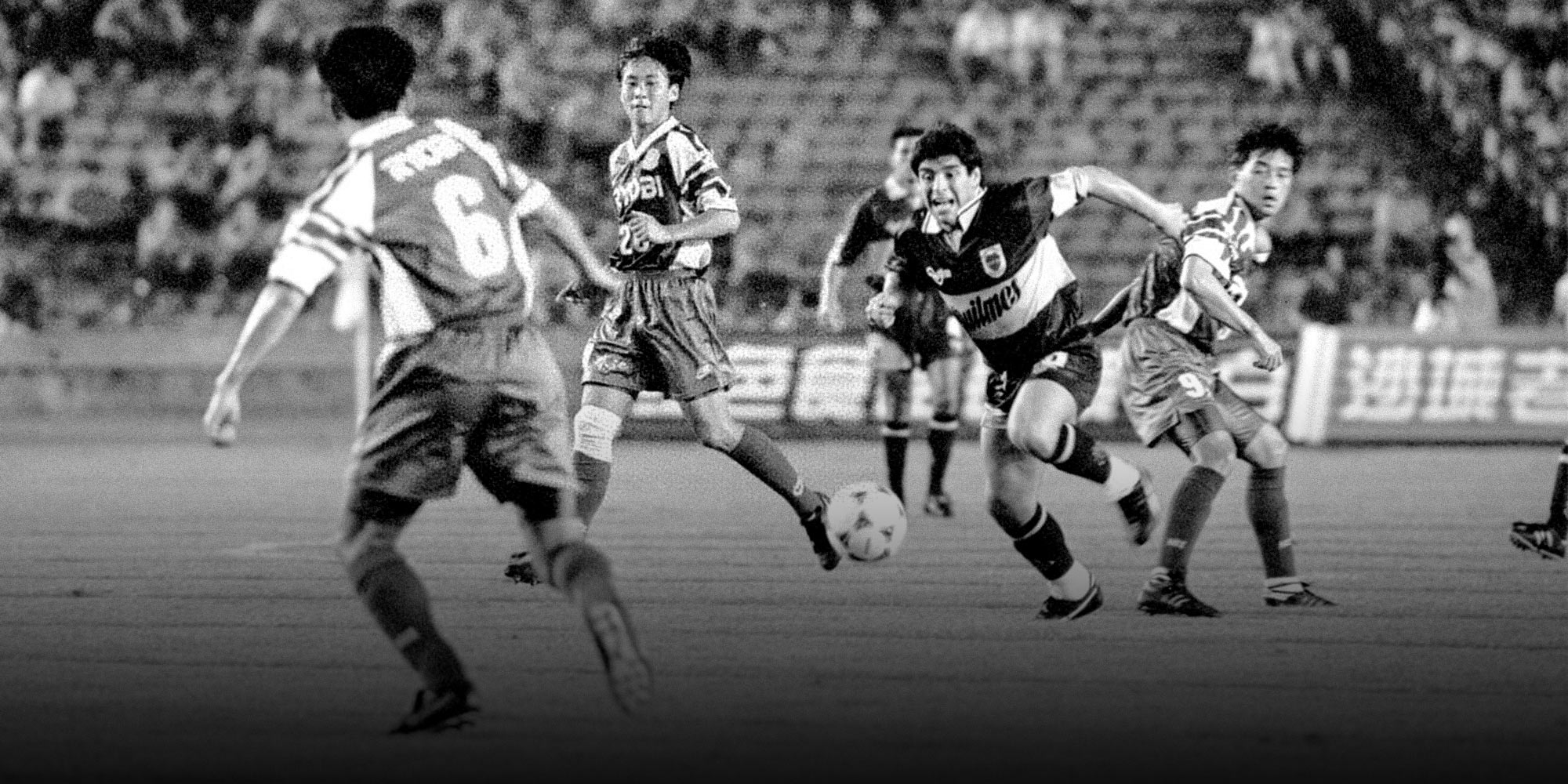 NEWS
Chinese Football Fans Join World in Mourning Maradona
WeChat feeds and Weibo microblogs have been flooded with tributes to the Argentine soccer legend, who died Wednesday at age 60.
Social media feeds across China are being inundated with the news that a generation's qiuwang — or "soccer king" — has passed away. The Argentine soccer legend Diego Maradona died of heart failure at his home Wednesday, just weeks after celebrating his 60th birthday.
A winner of the 1986 World Cup, Maradona is considered one of the greatest soccer players of all time, a magician with the ball. But his life was also marred by controversy and tragedy, including a long-running struggle with drug addiction that once got him expelled from a World Cup in disgrace.
Maradona reached the height of his fame and on-field prowess as China was opening up to the world after its chaotic, decade-long Cultural Revolution. To many young Chinese who were developing an interest in the sport in the 1980s, he was a hero and a source of inspiration.
"Maradona played soccer in a way we didn't think was possible," Chen Jianxiang, a former sports journalist, told Sixth Tone. "For (Chinese) people born in the '70s and '80s who watched soccer early on, he was a symbol, a spiritual idol."
After retiring, Maradona visited China numerous times, first for commercial work and later philanthropy. The inaugural trip in 2003 didn't go as planned, though this did little to dampen China's enthusiasm for the international star. British newspaper The Telegraph described how Maradona "passed on the Great Wall, skipped meetings to play golf, and turned down interviews so he could eat chicken and watch football in his hotel suite."
News of Maradona's death erupted in China late Wednesday night. By Thursday morning, it had made headlines in all of the country's major media outlets and was topping trending topic lists. An outpouring of personal tributes to the star spread on WeChat users' social feeds and Weibo microblogs.
The official fan club for Argentina's national team shared the news of Maradona's death to its 6 million Weibo followers early Thursday morning. A few hours later, the Chinese Football Association — the country's state-run governing body for soccer — followed suit.
"The best player of the 20th century … Maradona made a huge contribution to soccer globally," read the association's post. "He gave Chinese soccer fans wonderful memories that will never fade."
Most Weibo users today are too young to remember the mercurial megastar, but many recounted their fathers hearing that their childhood hero was gone forever. One blogger remarked that, following the death of all-time NBA great Kobe Bryant in January, two generations of Chinese sports fans were robbed of their heroes in the same year.
Chen, who remembers watching Maradona play in the 1990 and 1994 World Cups as a primary school student, said he was shocked by the barrage of posts from friends when he checked his WeChat Moments social feed at 5 a.m. Thursday.
"I felt my hair stand up when I saw the news, I just couldn't believe it," Chen said. "I guess I have an emotional attachment to Maradona and his country. To this day, I'm still an Argentina fan."
During the 1990 World Cup, white and light blue T-shirts with a big "10" on the back — cheap knockoffs of Maradona's game jersey — became a popular fashion item, and could even be spotted on people who had no idea of their sports significance.
Li Yuan, a Shanghai-based singer-songwriter who gave himself the "English" name Diego after his idol, has earlier memories of the soccer star. He recalls reading about Maradona in the magazine "World Soccer" and watching him play on his grandma's television set in early 1980s Shanghai, when most of the country didn't yet have TVs. Li's uncles knew very little about anything outside of China, he said, but they nonetheless proudly shared what they'd heard: that Maradona was the best player in the world.
During the 1986 World Cup, Li remembers everyone in his traditional brick alleyway neighborhood talking about the England-Argentina game, when Maradona famously scored a goal by dribbling past five English players. And then there was his other goal, the infamous "hand of God" — or shangdi zhi shou in Chinese — where he punched the ball into the back of the net in full view of everyone except the referees.
Although a spectacularly talented player, it was Maradona's "rock and roll" spirit, his brashness, and his passion that left such a big impression on more introverted soccer fans like Li.
"His personality was really something everyone could appreciate — or at least, something everyone could learn from," Li said.
Editor: David Paulk.
(Header image: Diego Maradona plays during a soccer match in Beijing, July 25, 1996. Li Jundong/Xinhua)