Update: The restaurant has been temporarily closed for rectification, according to a media post Monday evening.
A hot pot restaurant in southwestern China's Sichuan province is facing backlash after refusing to serve two male guests because they were not accompanied by a woman, in violation of the restaurant's policy aimed at creating a space for a predominantly female clientele.
According to domestic outlet Toutiao News, a man surnamed Liu and his friend waited in line for an hour Saturday to eat at Goddess Dating, a newly opened hot pot restaurant in the provincial capital Chengdu, only to be refused service after their number was called. According to Liu, staff did not inform them that having a woman with them was a requirement for entry when they took a number to wait.
When the two men protested being turned away, restaurant staff called the police. The officers who arrived on the scene negotiated a creative compromise: The restaurant would proffer the services of a female employee to sit with the two men for the duration of their meal, so that they would be in compliance with the "no woman, no service" policy.
Viral footage of a man and his friend being turned away from a hot pot restaurant in Sichuan province because they didn't have a woman with them, in violation of the restaurant's female-focused policy.
The story soon sparked heated discussion on Chinese social media, with many debating whether the restaurant was within its rights to enforce such a bizarre rule, and whether the policy discriminated against male customers. By Monday evening, a related hashtag on microblogging platform Weibo had been viewed over 11 million times.
"I went Saturday during lunchtime but didn't see any similar issues. I feel that this kind of policy has the right to exist, but the store has a responsibility to make it clear to clients," one customer told Sixth Tone, adding that he hadn't been aware of the restaurant's gendered policy when he ate there.
Online, however, many saw the matter differently. "This is obvious sexual discrimination," one Weibo user commented under Toutiao's post. "Restaurants are different from public spaces such as restrooms. You can't segregate by gender or forbid entry to a specific gender."
Sixth Tone's attempts to contact the restaurant Monday were unsuccessful. However, in a media interview Sunday, the manager of Goddess Dating argued that, in order to survive in China's intensely competitive food and beverage industry, every restaurant must find its own niche, and theirs just happens to be women.
"The gender rule isn't in place to discriminate against men," the manager said. "We have signage explaining the policy outside our store. Customers who wish to eat here must respect our rules."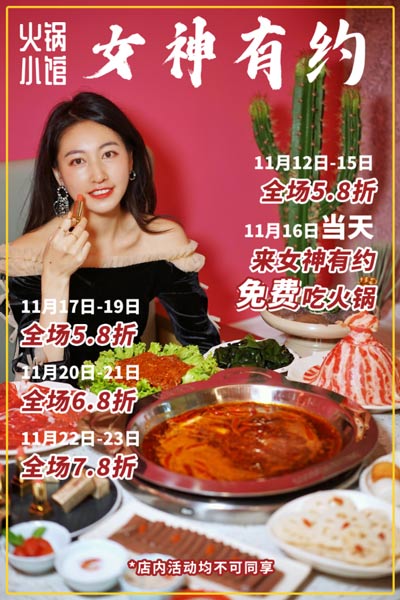 An advertisement for the newly opened hot pot restaurant Goddess Dating in Chengdu, Sichuan province. From @miniko美食探店 on Weibo
With its almost exclusively pink décor and walls covered with female empowerment slogans, Goddess Dating has gone all-in on claiming its market niche. But while some netizens see good intentions behind the restaurant's positive message, most of the online comments appear to be critical of the rigid policy, with a Chengdu-based lawyer even suggesting that it may violate local laws against consumer rights.
However, Shanghai-based lawyer Ding Jinkun told Sixth Tone that the restaurant's policy is no more than a "repulsive marketing technique," and probably not enough to constitute a consumer rights violation.
"Restricting consumption usually means bundling sales or imposing certain services (which don't apply in this case)," Ding said. "But this marketing strategy will certainly hurt some customers, and will not be effective."
Additional reporting: Du Xinyu; editor: David Paulk.

(Header image: People Visual)