A British diplomat in the southwestern city of Chongqing received praise at home and abroad, grabbing media headlines for saving a drowning woman last week.
The 61-year-old consul general, Stephen Ellison, has now received a special velvet banner usually given to people as a sign of gratitude and appreciation. The banner — replete with gold fringe and tassels, as well as Chinese characters proclaiming "Righteous and Courageous, Saving People From Water" — was presented by the woman the diplomat rescued and her tour group.
"This is the first banner I have received in my life. It means a lot to me," Ellison was quoted as saying in the British Consulate General Chongqing's post Friday on microblogging platform Weibo. The post included a photo of the consul general smiling with the banner.
Known as jinqi in Chinese, the tradition of gifting a red velvet banner is a ceremonial means of showing gratitude and bestowing honor. The tradition derives from ancient China, when armies rewarded their soldiers with flags.
Nowadays, citizens mostly carry on the practice by presenting such banners to public officials or frontline workers — including police officers, doctors, and judges — or anyone who has helped them without ulterior motives.
"You should put that in your office! It will give off a vibe you might get from China's subdistrict offices," one Weibo user commented under the post, referring to China's grassroots-level authorities, who often deal with mundane local quandaries and are famous for receiving such banners.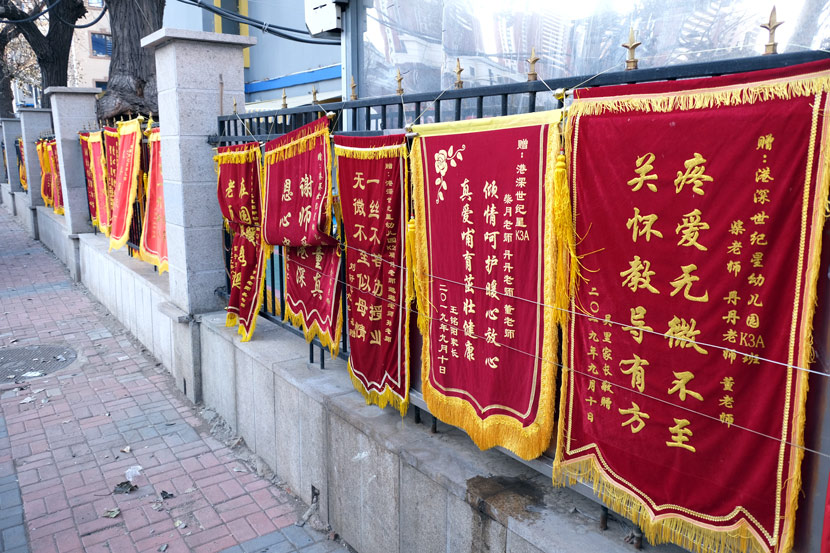 Ceremonial red banners on display outside a kindergarten in Shenyang, Liaoning province, 2019. Huang Jinkun/People Visual
In recent years, China's younger generation has taken a playful approach to the banners, sometimes exchanging them with humorous messages emblazoned at the top.
On Chinese e-commerce platforms like Taobao, several shops can be found selling them. Some of the messages include "Successfully Single for 19 Years" and "Eat Well, Drink Well, Live Long, and Never Get Old."
Jokes aside, the banners also have a history of being used to sarcastically complain about an official, or about authorities' wrongdoings or negligence.
Last month, a resident in the eastern city of Ningbo sent a banner to Vanke, one of China's leading real estate companies, after being allegedly overcharged for a parking fee. The message read: "Doesn't Show Up Until It's Time to Collect Money."
In 2011, a resident of the southwestern city of Chengdu made a personalized banner to express his discontent toward the local police's "dereliction of duty" for ignoring his complaint about a corruption case. And four years later, a migrant worker was detained for "disturbing order" after sending a similar banner to a local official who had neglected his pleas to help recover his unpaid salary.
Editor: Bibek Bhandari.
(Header image: British Consul General Stephen Ellison poses for a photo after receiving a ceremonial red banner from the woman he rescued from drowning, November 2020. From @英国驻重庆总领事馆 on Weibo)