Update: Authorities said early Tuesday morning the flammable taps were due to "a small amount" of natural gas leaking into the groundwater.
A source of highly flammable tap water in northeastern China was shut down by local authorities on Sunday, hours after a video showing how easily it burned was shared online.
The clip shows a bathroom in Panjin, a port city in Liaoning province with a sizable natural gas industry, turning into a minor inferno once someone in the video held a lighter next to the spurting faucet.
In the clip, shared on microblogging site Weibo by a video-based media outlet, a local resident surnamed Wen said the gas had poured out of her home's faucet periodically over the past three to four years.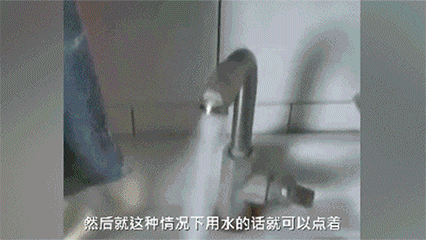 A GIF shows a resident setting fire to tap water in Panjin, Liaoning province. From Weibo
When her father complained to their local water supplier in the summer, staff said it was likely because they had recently upgraded their water quality, and there was nothing they could do beyond offering a 100 yuan ($15) discount to the family's water bill.
"I'm really not clear on whether there's anything harmful in the water," Wen added.
The video quickly attracted attention online and has since been shared by many major Chinese media outlets, including state-run newspaper People's Daily.
On Sunday evening, Panjin municipal authorities issued a statement saying they had shut off the water supply to the impacted neighborhood, temporary supplied it with a redirected water source, and set up a team to investigate the problem.
"At present, related departments are carrying out tasks such as water quality tests and analyzing the source of the problem," read the statement. "The test report and investigation results will be announced as soon as possible."
Panjin is well-known as a reservoir for natural gas and oil. Major natural gas pipelines pass through the city, which began construction on an $8.5 billion underground gas storage center — the biggest in northeastern China — last November.
Many similar stories of burning tap water have emerged in the U.S., with methane gas often found to be the source of flammability. Fracking and oil drilling activities have been blamed for contaminating drinking water sources, though industry groups have disputed such claims.
Editor: Kevin Schoenmakers.

(Header image: People Visual)