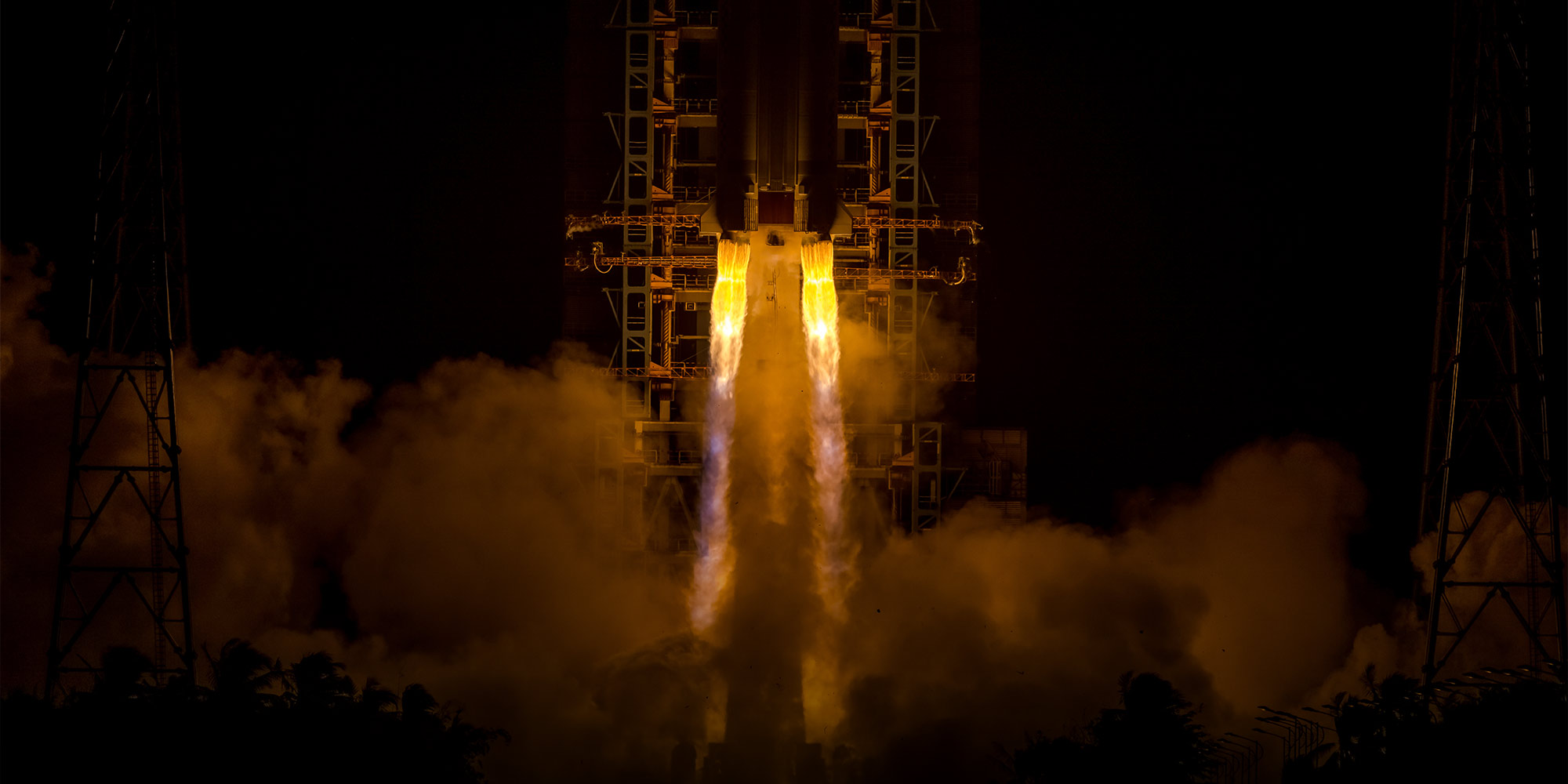 NEWS
China Launches World's First Lunar Return Mission in 40 Years
The Chang'E 5 mission aims to collect lunar soil from a formerly volcanic region and return it to Earth, potentially shedding light on the moon's "living history" billions of years ago.
China's latest and most ambitious moon mission to date blasted off Tuesday morning, a promising start to a space journey that's hoping to bring back samples of lunar soil for the first time in more than 40 years.
Only a year after a Chinese lunar rover's unprecedented landing on the far side of the moon, the country's National Space Administration launched the Chang'E 5 on a Long March 5 carrier rocket from the Wenchang Space Launch Center on the southern island province of Hainan.
Yu Dengyun, deputy chief designer of the lunar exploration project, told state broadcaster China Central Television that blasting off from the lunar surface is much more difficult than launching from Earth. "Problems like how to dissipate the heat, how to divert the flow (of exhaust), and how to control the lifting-off process are things we've never dealt with before," he said.
The rocket is heading to Mons Rümker, a mountainous region on the near side of the moon. Once the rover lands, it will use a robotic drill and scoop to collect about 2 kilograms of lunar soil and dust — the most ever by any robotic mission. The samples will be sealed and returned to Earth in a capsule slated to land in northern Inner Mongolia's Siziwang Banner region around Dec. 15, according to an official from the China Academy of Space Technology.
Xiao Long, a planetary geologist at China University of Geosciences in the central city of Wuhan, who participated in selecting the lunar landing site, told Sixth Tone that scientists wanted Chang'E 5 to go somewhere previous sample return missions hadn't already been. Moreover, satellite data suggests there was volcanic activity in the Rümker Mons region until around 1 billion years ago, meaning the moon might have been "alive" as recently as then. Previous studies of lunar samples inferred that the last lunar eruption happened some 3 billion years ago, before the moon ran out of power and became "a dead rock," Xiao said.
"If we prove that there was volcanic activity on the moon more recently, we will rewrite its entire thermal history," Xiao said. But even if laboratory testing found the soil to be older than expected, the data could still help revise and improve the current dating models scientists use, he added.
In 1969, NASA's Apollo 11 program brought the first-ever lunar soil samples to Earth. In the years that followed, eight more return missions — five crewed by the U.S. plus three robotic by the Soviet Union — succeeded. The last one was in 1976, when the Soviet Union's Luna 24 probe came back to Earth with 170 grams of surface material from the moon.
"This is China's first lunar return mission, and I'm very much looking forward to it," Zhang Aicheng, a planetary geologist at Nanjing University, told Sixth Tone. Zhang worked on lunar samples obtained by the Apollo missions until 2011, when the U.S. Congress barred NASA from engaging in bilateral collaboration with the Chinese government or its state-affiliated organizations.
Since then, Zhang has been studying lunar meteorites that fell to Earth. "But we can't tell where exactly (on the moon) these meteorites came from, which would be important for reconstructing the moon's history," he said. While the 2-kilogram lunar sample is a miniscule amount, "it could still tell us lots of things we don't already know about the moon," Zhang added.
The Chang'E 5 mission has been anticipated for years. China's National Space Administration initially scheduled the launch for 2017, but an engineering failure with the Long March 5 rocket led to a three-year delay.
China's space agency has yet to announce how the lunar soil sample will be distributed once the capsule returns to Earth. According to Xiao, the authority is likely to release a relevant guideline based on one similar to NASA's.
"Other than research, maybe some of it (the lunar sample) will be used for science education exhibitions and some used to swap samples with other countries," Xiao said. "Of course I hope to get some too, if possible."
Correction: An earlier version of this piece incorrectly quoted Zhang Aicheng as saying it's difficult to make accurate inferences about the moon's history from the age of lunar meteorites. Making such inferences is difficult because of the meteorites' unclear origin.
Editor: David Paulk.
(Header image: A rocket carrying the Chang'E 5 blasts off at the Wenchang Space Launch Center in Hainan province, Nov 24, 2020. Chen Xiao/Aerospace Knowledge/People Visual)