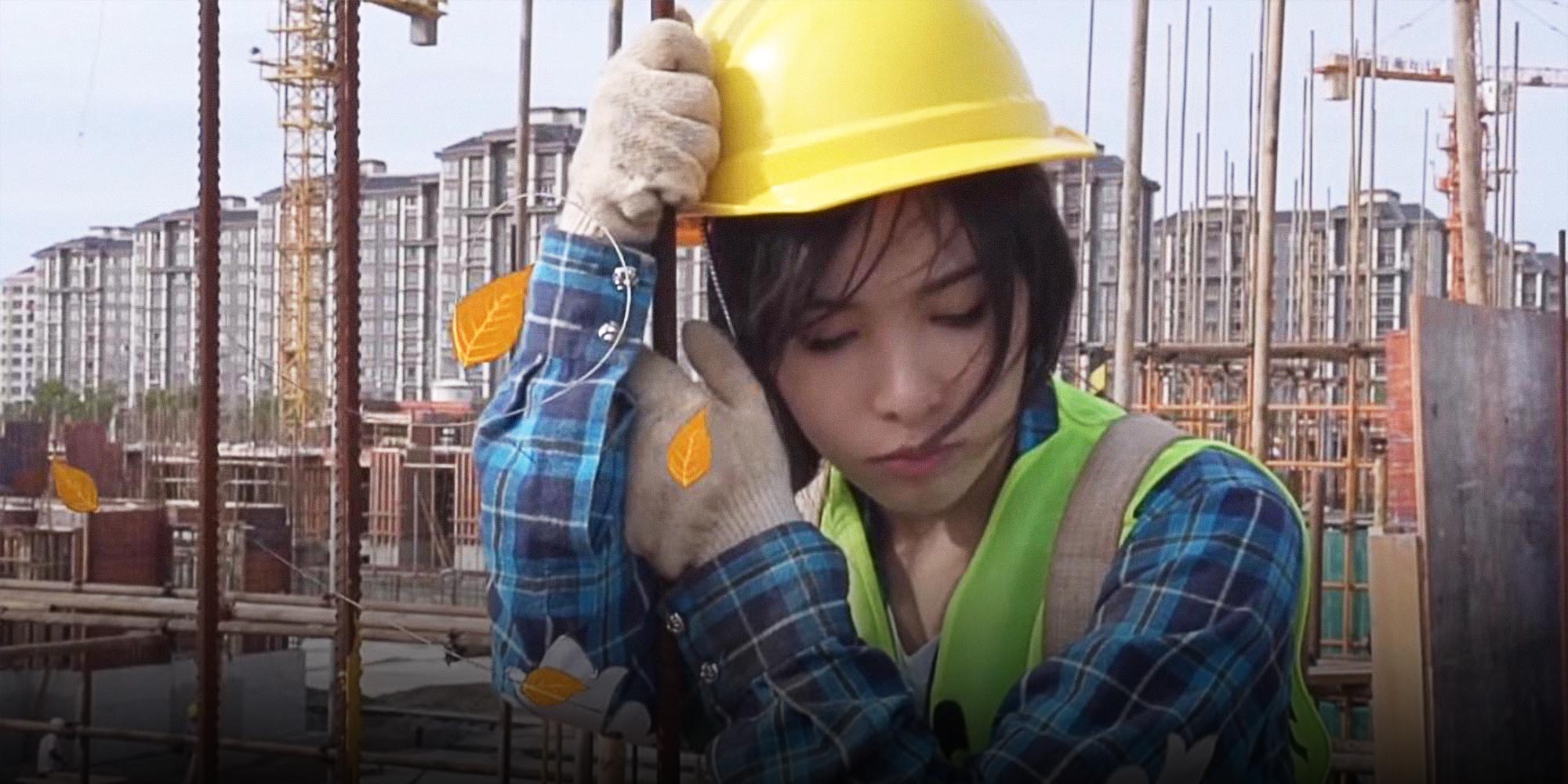 NEWS
High-Horse Vlogger Bashed for Talking Down to Construction Workers
A wealthy online celebrity who spent a day doing manual labor is being accused of mocking the working class.
A popular vlogger known for her extravagant lifestyle has drawn ire over a video of her working at a construction site for a day, with many viewers criticizing her "ignorant and condescending attitude" toward the actual workers.
In the now-deleted video from Wednesday, Cao Yiwen forgoes her usual expensive clothes to don a hard hat and safety vest, before attempting to complete several construction-related tasks on a site owned by her father's company. Her elaborate makeup and big personality stick out like a sore thumb among the workers, whom she meets upon arriving in a luxury car.
In a seemingly staged scene, Cao receives her day's wages of 200 yuan ($30) — and does not hide the push notification showing her 15 million yuan bank account balance from the worker standing next to her. Cao also said she would ask her father to "buy the apartment she'd helped nail" and mocked the worker who told her she needed to wear a hard hat.
"After so many years of equestrian training, my body is pretty flexible and muscular," she says in the video. "Construction work is therefore pretty easy for me."
The contested video is the latest tone-deaf attempt by a Chinese influencer to show solidarity with working-class people, only to fail miserably. Cao initially posted the video with the title "Laborers, Take Heart!" — a nod to the Chinese phrase dagong ren, or "laborers," the subject of sensational and self-deprecating memes now popular among blue- and white-collar workers alike.
"It's only natural to feel tired," Cao wrote in the video's description, repeating a well-worn joke. "Comfort is a luxury that belongs to the rich."
But many online found such attempts to appropriate dagong ren culture "hurtful and insulting."
"I believe that anyone who works at these construction sites cannot just laugh it off when watching such a vlog," read a critical post on microblogging platform Weibo. "Nobody would think that mixing cement or hauling bricks is fun, but such arduous work becomes a spectacle for wealthy people leading boring lives. It's so humiliating for people in the construction industry."
"Why do wealthy people now pretend to be dagong ren as well?" read another post. "How does that make real laborers feel?"
Many online were also outraged after discovering that Cao's father has been on a government blacklist of "dishonest people" since October for violating workers' contracts. A related hashtag on Weibo had garnered nearly 80 million views by Thursday evening.
Cao is best-known for videos in which she boasts about her luxurious lifestyle to her more than 500,000 followers on streaming site Bilibili. Her most popular videos include meeting with Dior designers to make a 100,000 euro haute couture dress, attending international fashion shows, and advising people on British high tea etiquette.
Editor: Bibek Bhandari.

(Header image: A screenshot from Cao Yiwen's vlog, 2020. From @曹译文iris on Weibo)