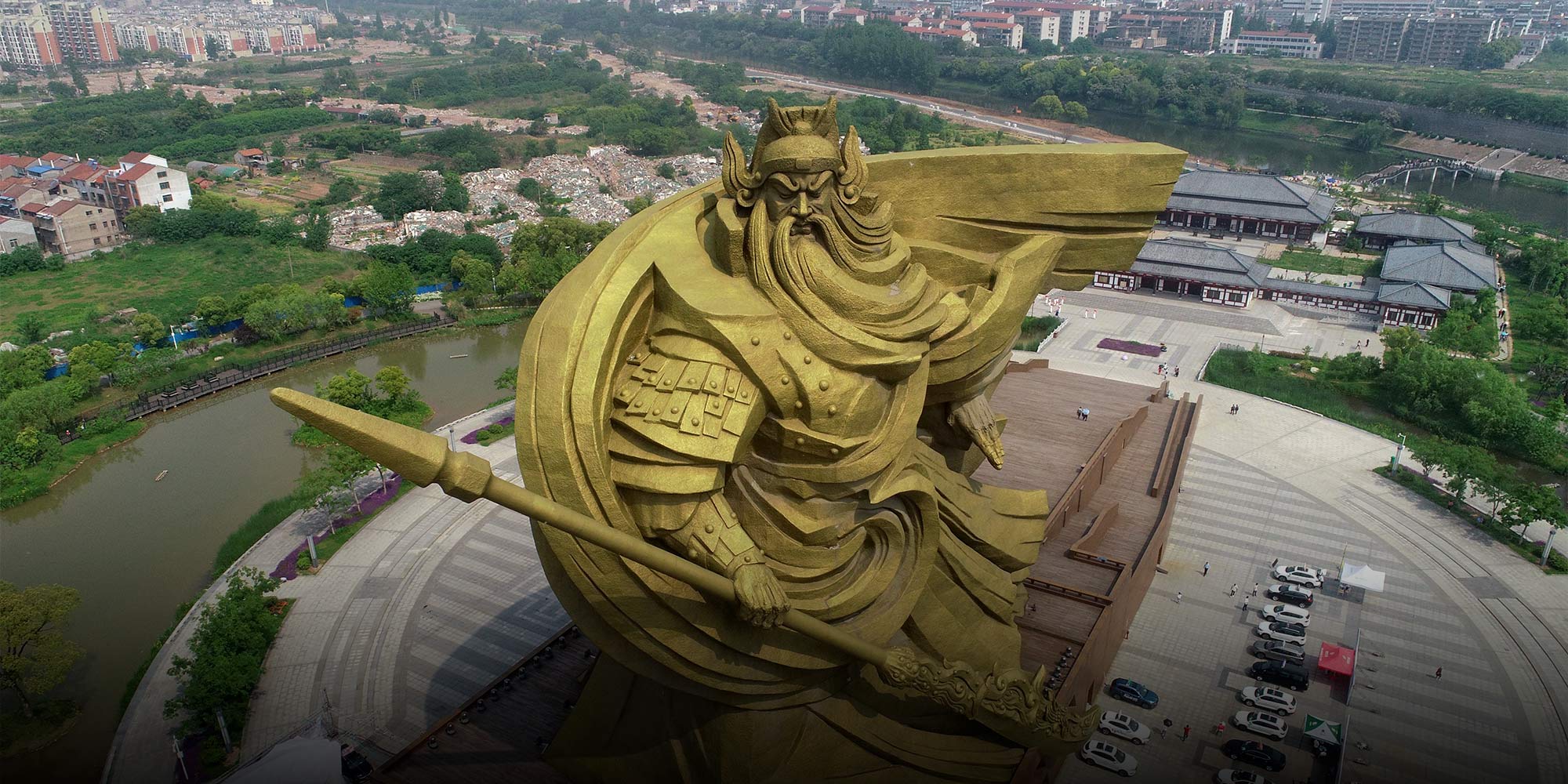 NEWS
God of War Statue Has to Go, Jingzhou Officials Say
The notorious 58-meter-tall statue was marked for "rectification" by the central government in September. Now local officials are trying to figure out how to move it.
A colossal 1,200-ton bronze statue of Chinese warrior-god Guan Yu that enjoyed a brief bout of global notoriety in 2016 will be moved from its current location in a park in the ancient central city of Jingzhou, according to local officials.
The announcement comes a little over a month after China's Ministry of Housing and Urban-Rural Development ordered the "rectification" of the statue, saying it "ruined Jingzhou's historical character and culture."
The 58-meter-tall monument to China's best-known war god — touted by developers as the largest bronze statue in the world — was built as part of a boom in mammoth statuary in China over the past decade. When it was first unveiled in 2016, it went viral both in China and abroad for its massive scale. With characteristic melodrama, British tabloid The Sun labeled it a "monument of war," while science magazine Popular Mechanics said it "might be the most epic statue of all time."
But epic or not, Jingzhou officials plan to give the Guan Yu statue its marching orders. A media outlet run by Jingzhou's information office posted a vague announcement yesterday saying the Guan Yu statue would be relocated as a "rectification" measure, and that experts had been invited to help figure out how and where to move it.
In an explainer untangling the kerfuffle, state broadcaster CCTV wrote Saturday that when the local developers behind the statue applied for permission to build it in 2014, they only asked for permission to build its base: the boat-shaped museum the statue strides across like a surfboard.
The developers say they considered the statue to be a work of art — and that local officials never told them large statues require their own planning process, or that its location broke rules limiting the maximum height of structures in Jingzhou's ancient city to 15 meters.
"We misrecognized, and had a flawed understanding of, the issues at the time," Qin Jun, a director in Jingzhou's planning bureau, admitted in an interview with CCTV. "We didn't know enough about the approval procedures related to large-scale sculptures."
Mega-statues have been all the rage in China over the past decade — mostly Buddhas, but also historical figures, goddesses, full-sized Sphinxes, and even a giant Marylin Monroe.
Often, as is the case with the giant Guan Yu, they were built to promote tourism and justified by links — however tenuous — between the location and the statue's subject.
More recently, however, many of these projects have been criticized for falling foul of state planning guidelines or campaigns against wastefulness. Earlier this year, netizens complained about a 12 million yuan ($1.8 million) statue of a local deity built in an impoverished county in the southwestern Guizhou province.
Still, some officials are willing to gamble on the potential of a signature statue to raise their jurisdiction's profile. In September, officials in the northern potato production center of Ulanqab were roundly mocked after they unveiled designs for a titanic tuber sculpture.
Editor: Kilian O'Donnell.
(Header image: The statue of Guan Yu in Jingzhou, Hubei province, May 3, 2019. Li Fuhua/People Visual)