ZHEJIANG, East China — Olivier Mugabo cuts a lonely figure as he wanders through the gleaming, neon-lit corridors of Yiwu International Trade City.
The gargantuan market is the world's largest hub for wholesale goods — an Aladdin's cave filled with cheap, made-in-China products. During normal times, traders throng its halls, sourcing everything from lingerie to Christmas lights for retailers across the world.
Today, however, Mugabo is the only buyer to be seen.
Yiwu used to be a magnet for African businesspeople who earn their livelihoods connecting companies in their home countries with Chinese manufacturers. But the city has changed dramatically in 2020.
Around 80% of Yiwu's African residents left China during the Lunar New Year holiday in late January, just as China's coronavirus outbreak was starting to take hold. Few have returned, with China imposing sweeping travel bans in late March.
The roughly 1,500 Africans that stayed here, meanwhile, have had a tough year. While they avoided the problems encountered by Black residents in southern China, they endured weeks of lockdown and months of flatlining sales.
Now, business is finally picking up again at the International Trade City. Yet Mugabo — a middleman who mainly serves clothing firms in his native Rwanda — says he's more worried about the future than ever.
It isn't the losses he's sustained that concern him, though they hardly help. Rather, it's the way the pandemic has helped nurture a formidable new business rival that's now directly competing with him for orders: the e-commerce giant Alibaba.
"Before, I saw Alibaba mainly as the owner of Taobao," says Mugabo, referring to a platform serving Chinese consumers. "Now, it's become part of the African trade network."
The Chinese tech company is aggressively expanding into Africa, where it's battling for control of an emerging e-commerce market predicted to be worth nearly $35 billion by 2024. And COVID-19 has given these efforts a major boost.
Trade in Yiwu used to be a face-to-face affair, with over 500,000 foreign buyers flocking to the International Trade City each year. But after the mass exodus of traders from the city, buyers and sellers were forced to find alternative ways to complete deals. This led thousands to sign up to Alibaba.com — Alibaba's cross-border business-to-business e-commerce site, which allows companies to directly negotiate orders.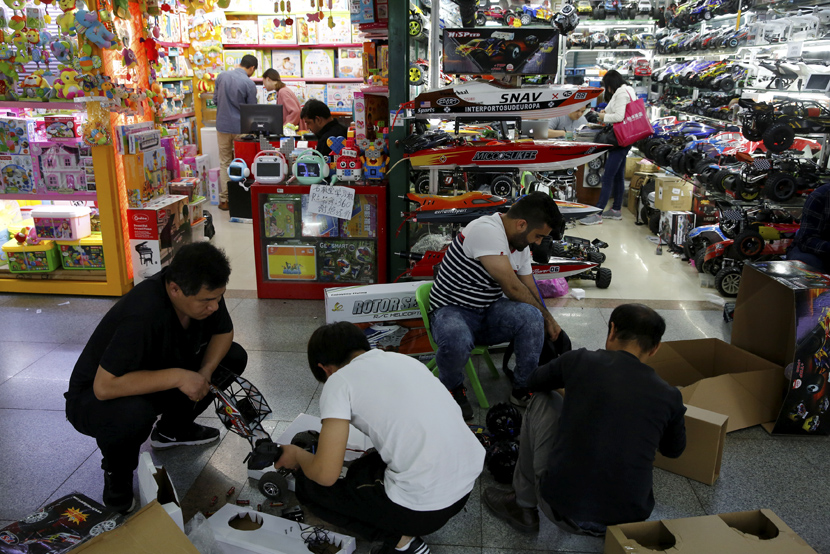 Buyers and vendors examine remote controlled toy cars at the wholesale market in Yiwu, Zhejiang province, April 28, 2017. Thomas Peter/Reuters via People Visual
By the end of May, the number of active users on Alibaba.com from South Africa was up over 130% year-over-year, while those from Egypt had increased 100%, according to Alibaba. Traders estimate the number of Chinese manufacturers on the site has also doubled over the past few months.
Mugabo only realized what was happening when he started losing orders. In July, a Rwandan client told him he'd ordered 100 pairs of sneakers from a Chinese factory through Alibaba.com. Mugabo, the middleman, had been bypassed.
"It puts me at a disadvantage," he says.
Until then, Mugabo hadn't seen Alibaba as a real threat, assuming his experience and expertise would give him an edge. The son of a trader from Rwanda, he moved to Yiwu in 2018 after completing his international business degree in Guangzhou.
"I'm in China; I can speak Chinese," he says. "I thought my clients back in Africa would always rely on me to order goods from factories."
The scale of Alibaba's African ambitions, however, has been clear for a while. 
In 2018, Alibaba Group confirmed a deal with the Rwandan government to partner on the electronic world trade platform (eWTP) — a cross-border e-commerce initiative that Alibaba has promoted as a World Trade Organization for the digital age. The company settled a similar deal with Ethiopia the following year.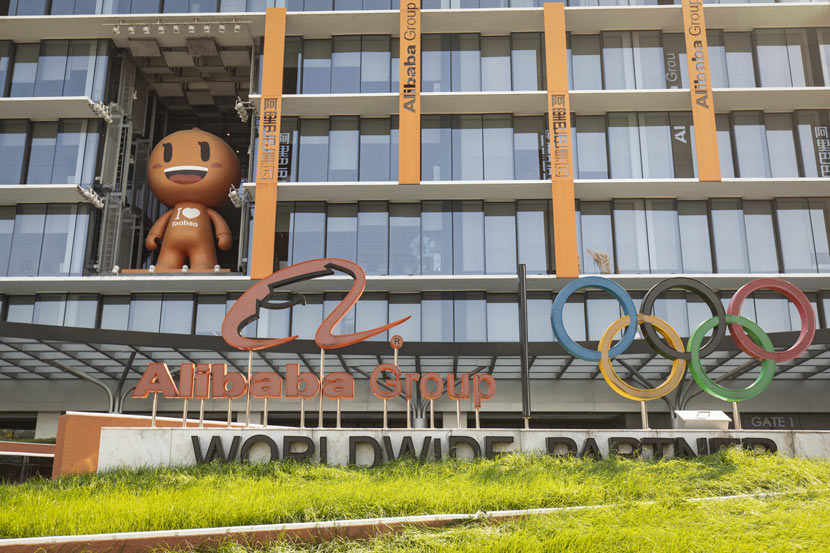 An exterior view of the Alibaba Group headquarters in Hangzhou, Zhejiang province, Nov. 11, 2020. Qilai Shen/Bloomberg via People Visual
Last year, Mugabo received several warnings from partners in Rwanda about how strongly Alibaba was making its presence felt in the country. 
One Rwandan contact — who helped receive goods Mugabo shipped from China — told him Alibaba had been pressing him to rent warehouse space at the firm's massive new dry port in Kigali, the Rwandan capital. Another, a Kigali-based logistics business owner, said a state-owned shipping company had purchased dozens of new trucks with Alibaba's support, putting his company under pressure.
Now, Mugabo says it's becoming increasingly difficult to secure orders. "Almost all my African clients start to mention what they saw on Alibaba.com when negotiating prices with me," he tells Sixth Tone.
Other agents expressed similar concerns about the rise of Alibaba.com and other B2B platforms like Chinagoods and e-Cantonfair. Some have adopted an "if you can't beat them, join them" mentality and set up accounts on the sites themselves. But few have found success using this approach.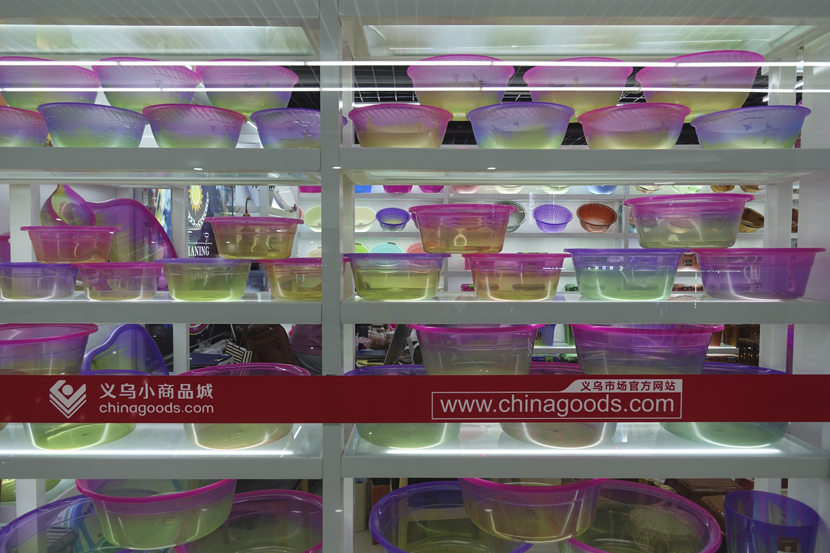 Signs posted in the wholesale market promote Chinagoods, a business-to-business e-commerce platform, in Yiwu, Zhejiang province, Oct. 17, 2020. Wu Peiyue for Sixth Tone
Keon, a Sudanese hardware trader who has operated in Yiwu for seven years, says he hasn't secured any orders through Alibaba.com since opening an online store earlier this year. He suspects most buyers on the platform prefer to order directly from the manufacturers.
"Factories and trading companies collaborate very well when the economy is good," says Keon, who requested to use a pseudonym due to privacy concerns. "But now, we compete for orders."
Yet the platforms' influence is only likely to grow. Alibaba is not only becoming an increasingly visible presence in Africa, but also in the traders' adopted home in China. In June of last year, Yiwu became the second Chinese city — after Alibaba's home base of Hangzhou, also in Zhejiang province — to join the eWTP.
Sami Ssenkindu, an agent from Uganda who trades electronic components, says his suspicions toward Alibaba first arose when he attended an event organized by the Yiwu government for the city's foreign business community last year. At the meeting, officials introduced several e-commerce platforms including Alibaba.com.
"This meeting only made sense to the organizers, but not to most agents," says Ssenkindu. "It was a meeting showing us how we're going to lose our jobs in the future." 
After the presentation, Ssenkindu opened a store on Alibaba.com to test the market. But he only puts basic product information on the site. As soon as a potential client expresses interest, he continues the discussion on WhatsApp, he says.
"I don't show who I sell to or where I get goods from," says Ssenkindu. "If the internet makes all that information transparent, we won't have a business in five or 10 years."
The 32-year-old is doing his best to prepare for the e-commerce era. He has started hosting livestreams on the platforms, introducing various electronic parts to potential buyers. These shows have yet to attract any sales, but he still sees them as useful.
"I'm an internet celebrity," he jokes. "Livestreaming attracts traffic (on the apps), and a professional presentation increases customers' trust in the company."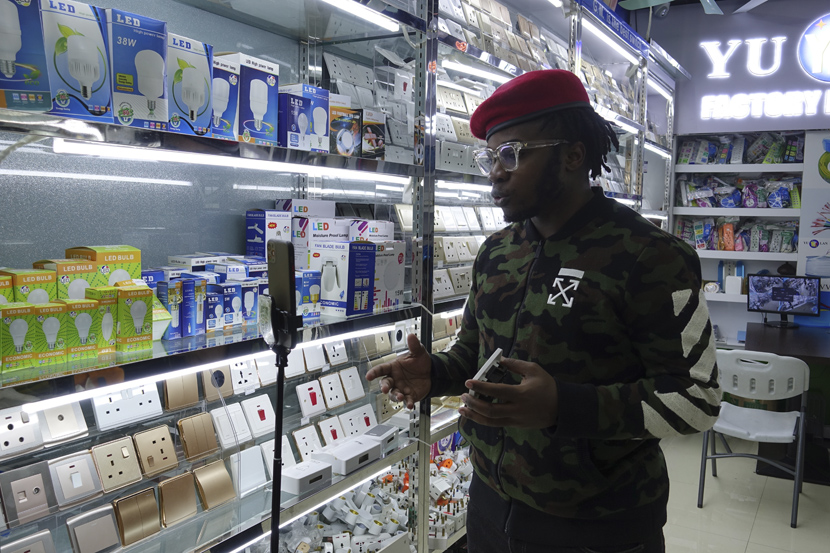 Sami Ssenkindu hosts a livestream promoting his business on the e-commerce platform e-Cantonfair, in Yiwu, Zhejiang province, Oct. 17, 2020. Wu Peiyue for Sixth Tone
In the long term, however, Yiwu's African residents are uncertain whether they have a future in the city.
Mouhamadou Bassirou Pouye, an agent from Senegal, predicts that fewer overseas businesspeople will want to set up shop in the International Trade City, as Alibaba.com's rise is making it harder for trading companies to make good profits. 
"People are getting skeptical about coming to Yiwu and starting a business," he says. 
Most traders say they'd prefer to stay in Yiwu if they can. Unlike other regions in China, the eastern city actively styles itself as a multicultural metropolis and goes out of its way to support its foreign residents.
The local government holds regular meetings with overseas business groups and has introduced a number of measures — including special long-stay visas and multinational courts to mediate disputes — to make expats' lives easier. 
During the pandemic, the city even offered traders direct financial support. When Keon flew back to China in March, the government paid 15% of his fare. He also received a tax waiver and a 50% discount on insurance to help his company ride out the economic downturn.
The atmosphere in Yiwu is also noticeably more inclusive than other cities. Street signs often contain not only English, but also Arabic translations. Local officials organize annual celebrations for religious festivals including Diwali and Eid.
 "I feel more free here," says Mugabo. "And the living expenses are lower than in Guangzhou."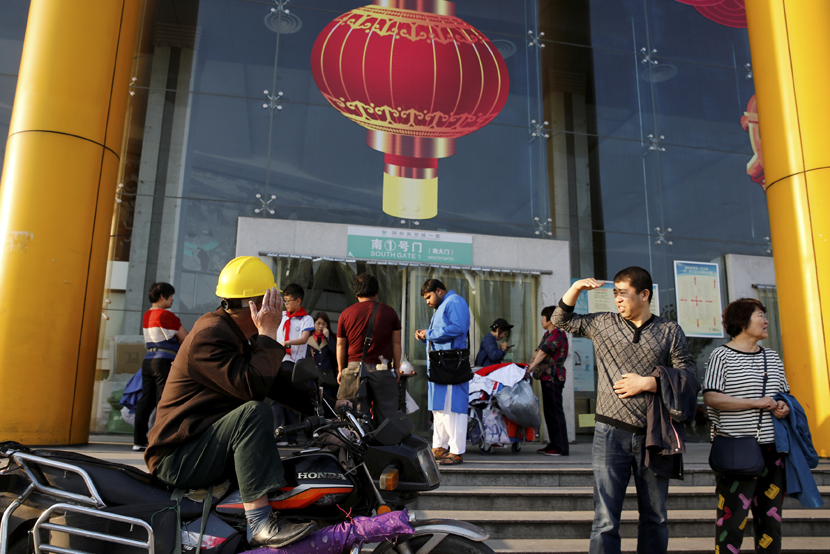 People stand outside the wholesale market in Yiwu, Zhejiang province, April 28, 2017. Thomas Peter/Reuters via People Visual
Some agents are trying to carve out new roles for themselves in the city, so they can work with the e-commerce sites, rather than compete against them. Pouye, for example, now offers consulting services to companies that encounter problems ordering through Alibaba.com.
"What we can do in the process is make African buyers feel secure using the platform," says Pouye.
Around 30% of Pouye's business now comes from clients who have already placed an order with a factory, but want to reduce their shipping costs. He also helps buyers who have been scammed or received shoddy goods from suppliers.
Despite Alibaba's efforts to crack down on fraud over recent years, users still regularly complain about being swindled by sellers. Pouye says he was recently hired by an African client to track down a Chinese supplier. The factory had fulfilled several small orders with no problems, but when the client placed a much larger order worth $50,000, it sent poor-quality products. Its listed address on Alibaba.com, meanwhile, turned out to be fake.
Many Yiwu-based traders believe their experience with quality control, as well as their familiarity with shipping and customs clearance procedures, will allow them to continue making money for a couple more years. They're also keen to collaborate with Alibaba to integrate their services into its platform.
"Of course, we'll earn less than before, but it's better than earning nothing," says Pouye. "As long as we can still grab something from it, it's OK."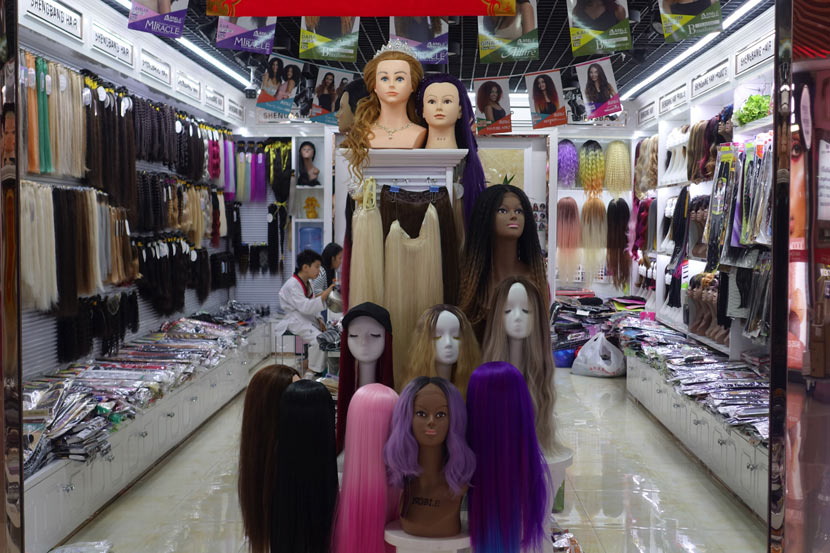 Wigs are displayed at a store in Yiwu, Zhejiang province, Oct. 17, 2020. Wu Peiyue for Sixth Tone
Alibaba, however, has yet to engage with the African community in Yiwu, according to Ssenkindu, despite the fact that the company set up a joint venture with the owners of the International Trade City in June.
"We've not been involved," says Ssenkindu. "The way Alibaba is pushing its platform is like, I have the money, I can do whatever I want."
In the meantime, the traders are focusing on recruiting allies to help them survive. They're especially targeting the roughly 80,000 African students enrolled at Chinese universities, as they believe a new batch of young, tech-savvy workers might help them reinvent their companies as online businesses.
In October, Ssenkindu co-hosted a seminar for around 200 Africans living in China — most of them foreign students — to introduce Yiwu and encourage the attendees to start their own businesses in the city. Just a year ago, such an event would have been unthinkable, but now it seems like a necessity, he says.
"I used to regard other African traders in Yiwu more like competitors," says Ssenkindu. "But my mentality has shifted. I'm starting to see a sense of community that wasn't there before."
The reality, however, is that Yiwu's African community may never return to its pre-coronavirus heights. With travel to China still heavily restricted, the changes wrought by the pandemic appear to be solidifying.
The Africans who left China at the start of the outbreak have now been stuck outside the country for over half a year. Many have since started businesses in their home countries, often as wholesalers importing products from China, says Ssenkindu. Few have plans to return to Yiwu anytime soon, if at all.
"Before, the mentality was that you're better off in another country," says Ssenkindu. "But now after some time, people have begun to assimilate. They're thinking of ways to make it work in their own countries."
Editor: Dominic Morgan.
(Header image: Sami Ssenkindu negotiates with vendors at a wholesale market in Yiwu, Zhejiang province, Oct. 17, 2020. Wu Peiyue for Sixth Tone)