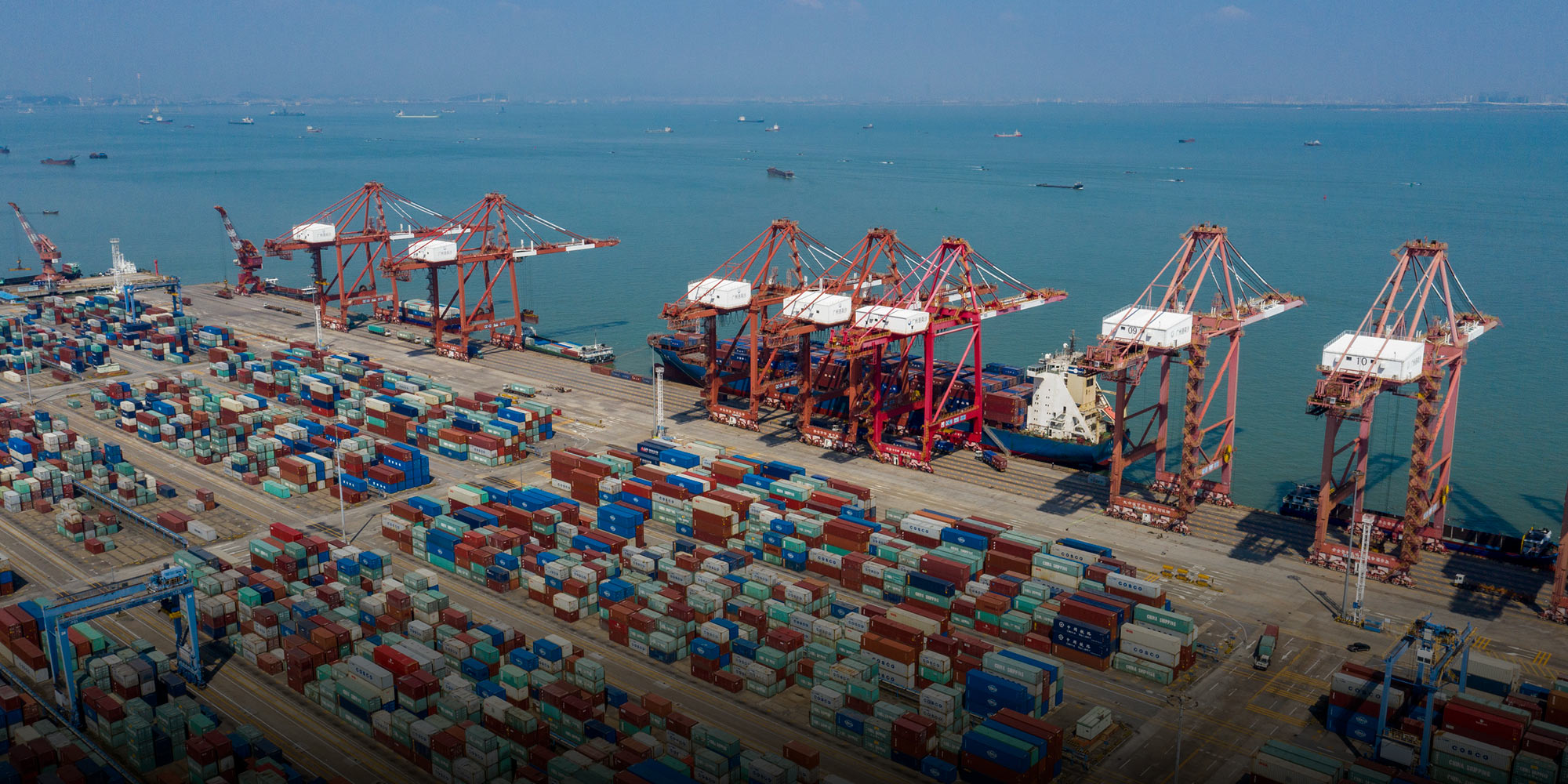 VOICES & OPINION
Can Chinese Companies Make It in Southeast Asia?
Huang Yan, who's spent years studying the experiences of Chinese companies in the region, says too many aren't prepared for the conditions — and competition — they find abroad.
This Sunday, after almost a decade of negotiations, the Regional Comprehensive Economic Partnership (RCEP) became a reality. In the days since, much of the coverage of this mammoth 15-nation trade deal has centered on how it might foster closer economic ties between two of its biggest economies: China and the Association of Southeast Asian Nations (ASEAN).
Moving past the hype, RCEP merely formalizes shifts that have long been in motion. Between January and August 2020, the total trade volume between China and ASEAN surpassed $416 billion, making the bloc China's largest trading partner. It's not just goods crossing the border, either: Chinese companies and investors have been avid participants in the flood of capital to Southeast Asia in recent years. As is usual in China, much of this investment has been state-led, with state-owned enterprises inking massive infrastructure deals across the region. But privately owned manufacturers are also moving into ASEAN, in part because of rising labor costs along the South China coast.
All this has caused some observers to wonder if Southeast Asia is on the verge of supplanting China as the next "world's factory." For their part, however, Chinese firms tend to view Southeast Asia as both an easy source of customers and a potential manufacturing base for overseas expansion.
They should be careful. Huang Yan, a professor of public administration at South China University of Technology, has been researching the experiences of Chinese companies in Southeast Asia since 2017. He's found that the motivations for relocation go beyond cheap labor — and he warns that Chinese companies expecting a quick conquest of the Southeast Asian market are not always prepared for the competition they meet from other firms, both international and local. The following interview has been edited for brevity and clarity.
Li Ni: When it comes to Chinese investment abroad, we're used to talking about large-scale infrastructure projects headed up by state-owned enterprises (SOEs). In recent years, however, a number of private Chinese firms have also made headlines for investing and expanding abroad. Why did you choose to focus your research on overseas investment by private capital?
Huang Yan: Investment from SOEs traditionally represented the bulk of China's overseas investments, but private capital is an emerging force. Non-SOEs accounted for approximately 19% of all Chinese foreign investment in 2006. As of last year, that figure had risen to 49.9%.
Broken down by industry, we can see that state-owned enterprises mainly invest in infrastructure, energy, and mining projects; private enterprises are primarily concentrated in manufacturing and services.
Prior to this shift, Chinese manufacturers were already relocating from factory hubs like the Pearl River Delta (in South China) to cities farther inland. But around 2010, some labor-intensive industries began to move abroad and set up factories in Southeast and South Asia. Today, Chinese manufacturers can be seen all over Vietnam: in Haiphong, Hanoi, and Ho Chi Minh City.
Li Ni: Much of the discussion about the future of Southeast Asia's manufacturing industry — specifically whether or not it has the chance to replace China as the next "world's factory" — has centered on its so-called demographic dividend, meaning its relatively young surplus working-age population. But you've argued that low labor costs are not the only factor attracting foreign capital to Southeast Asia.
Huang Yan: People usually think of Southeast Asia as offering a lot of cheap labor and that this is what's attracting foreign capital, including Chinese capital. This is a common misunderstanding. Take Vietnam for example: The minimum wage in Hanoi and Ho Chi Minh City, where the nation's manufacturing industry is concentrated, is 4.42 million dong ($190). That's only slightly lower than the 1,410 yuan ($215) minimum wage in less developed cities like Shaoguan or Qingyuan in China's southern Guangdong province. And Vietnam's labor inspection department is extremely strict when it comes to supervising foreign-funded enterprises, so these companies' labor costs are about 20% higher than their local competitors.
The outlook for Vietnam's labor supply isn't all that optimistic, either. Hanoi, Ho Chi Minh City, and Haiphong have all experienced labor shortages. But the Vietnam-based Chinese factories my team and I researched had a number of other motivations for relocating. For example, some hosiery contract manufacturers value Vietnam's low export tax, while other firms are after the Southeast Asian consumer market. A few solar panel manufacturers have relocated production to Vietnam in response to European and American opposition to the Chinese photovoltaic industry.
Li Ni: How competitive are Chinese-manufactured products on the Southeast Asian market?
Huang Yan: Many Chinese entrepreneurs and consumers assume that, because Southeast Asia's per capita income is low and local consumption power is limited, low-priced Chinese products will be highly competitive. This is another misunderstanding.
For example, look at the ups and downs of Chinese-made motorcycles in Vietnam. Vietnam is the fourth-largest market for motorcycles in the world. Initially, Japanese companies such as Honda and Yamaha virtually monopolized sales, but in the 1990s, Chinese motorcycle companies tried to muscle in. Not only did they boast cheap labor and raw materials, but their relative proximity to Vietnam also made importing finished products significantly cheaper, and they were quickly able to gain a foothold in the local market.
But soon, these companies got tangled in a vicious price war, one which resulted in the severe deterioration of both product quality and after-sales services. Some Chinese motorcycle brands now only have a lifespan of a few years, and after-sales services are extremely limited. As consumer attitudes toward Chinese motorcycles turned, their share of the market also shrank — and Japanese brands have enjoyed a resurgence. Ironically, many of these Japanese bikes are actually produced in Chinese factories.
Underlying this destructive competition is short-sightedness. In their pursuit of short-term profits, Chinese companies overlooked the value of their brands.
Li Ni: The coronavirus pandemic has exacerbated xenophobia in some countries: For example, Singapore's opposition recently pointed fingers at privileged foreigners for "snatching" local jobs. Could xenophobia be of concern to Chinese companies as they expand in the wake of RCEP?
Huang Yan: Not only in Singapore, but in many countries, nationalist sentiments have been whipped up by attacks on foreign investors and employees.
At the heart of the issue is the classic criticism that China's overseas investments are not sufficiently localized. But in our study of 11 Vietnam-based Chinese companies, we found that 90% of employees had been recruited locally, though the few Chinese staff members were mostly engaged in technical and managerial work. Some companies are also focusing on training local Vietnamese technicians as a means of further cutting costs. Huawei, for example, is taking the idea of localization — recruiting and training local talent — as far as possible.
Of course, foreign investment does generate changes in the industrial structure of a given region. For example, when Chinese shoe factories enter a market, they may cause smaller local factories to shut down. This phenomenon is probably most pronounced in Africa, where the arrival of Chinese convenience stores has dealt a serious blow to traditional mom and pop stores as well as local small businesses as a whole.
Moving forward, the resentments created by these and similar changes will be one of the major challenges faced by Chinese capital in Southeast Asia. Vietnam already experienced a wave of anti-China protests in 2014. Companies need to pay attention to their social obligations in the areas where they operate, especially environmental protection and good labor practices. In Myanmar, there was a dam project that saw a Chinese company investing hundreds of millions of yuan, only for the local government to halt construction on environmental grounds.
As for labor rights, when it comes to strictly adhering to local labor laws, or setting an example for local firms as a foreign investor, I think Chinese companies still aren't doing enough. Chinese labor unions work somewhat differently from their Southeast Asian counterparts, but some Chinese bosses behave arrogantly toward their workers or are dismissive of the local culture. So that's an issue.
Finally, there's the long-standing belief in some quarters that Southeast Asia is "backward." The past few years have seen debates in China over how to deal with the country's excess production capacity, and there are those who just assumed Southeast Asia could be a dumping ground for excess goods. That mindset needs to change.
As Chinese capital goes out into the world, it needs to be wary of turning in on itself. That's true of private enterprise and state-owned firms alike: Too many companies wind up engaged in turf or price wars. The end result is a reputation for cheapness and low quality; some even go so far as to break the law.
This interview was conducted by Li Ni and Cai Yiwen. A version of this article was first published on the website of Sixth Tone's sister publication, The Paper. 
Translator: Lewis Wright; editors: Cai Yiwen and Kilian O'Donnell; portrait artist: Wang Zhenhao.
(Header image: A view of the Nansha Port in Guangzhou, Guangdong province, 2020. IC)