SHANGHAI — It's that time of the year again. Leaves on the trees are changing colors and carpeting the ground, and it's all yellow. But one city wants to keep it that way — at least as long as it lasts.
Authorities in Shanghai have designated 41 streets across 13 of the city's 16 districts where sanitation workers will not sweep away the iconic splash of fall colors, according to an announcement Wednesday. The leaves falling from the area's soapberry, gingko, and willow trees will provide a picturesque setting before a wet and dreary winter envelops the city.
"The view is very enchanting," a resident in a nearby neighborhood, surnamed Liu, told Sixth Tone, while walking through a street in downtown Xuhui District lined with golden ginkgo trees. "I don't see much nature as I work all day in the office, so the leaves can really lighten my mood."
City officials say that Shanghai's policy to flex its fallen leaves is not just a cinematic treat for its selfie-obsessed residents, but a calculated decision. A neighborhood's tree types, fallen leaf volumes, as well as historical heritage and traffic congestion were all taken into account while planning the move, according to the director of the sanitation bureau in Jing'an District, surnamed Cao.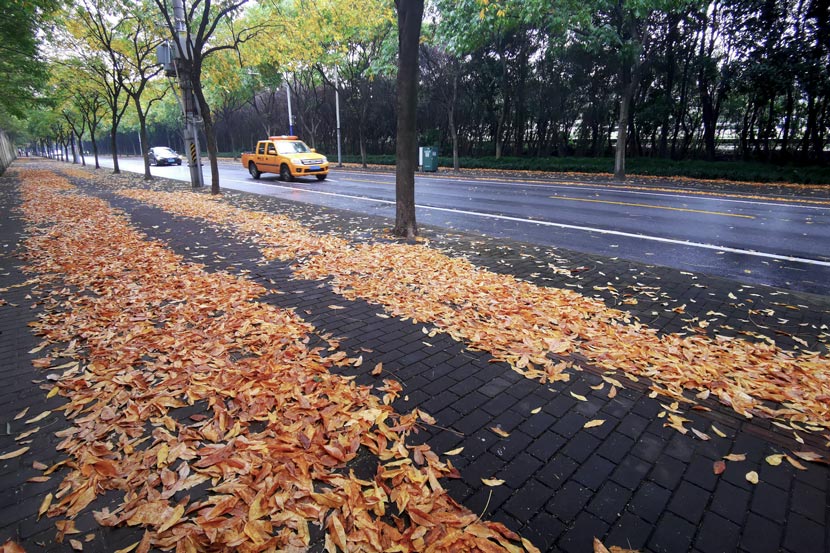 A view of a road covered in leaves in Minhang District, Shanghai, October 2020. IC
The trees neatly lining the city streets — first introduced in Shanghai during 1865, when they were planted by the British and Americans in their former concessions — provide much-needed greenery and shade during humid summer days and make for a visual feast in the autumn. The initiative to keep leaves on the ground was first spearheaded by Xuhui District in 2013, with others later following suit.
While the city's mission may have delighted its residents, however, not everyone seems pleased by the decision — especially sanitation workers, who say the unswept leaves have been a headache.
"Not sweeping the leaves doesn't mean that we don't need to do our work," a sanitary worker, surnamed Liu, said, adding they still need to be on the lookout for fallen branches, twigs, and cigarette butts — potential fire hazards. "On the contrary, we are now spending more time sprucing up the fallen leaves."
Liu said their cleaning schedules have also been adjusted to help keep the streets "golden and vibrant." They're only allowed to sweep in the rain or during the area's public events to ensure pedestrian safety.
Another sanitation worker, surnamed Zhu, told Sixth Tone she hasn't received the new orders for her duty station in the city's Changning District. However, she remembers the directive from 2018 when they were ordered to follow a similar initiative.
"Personally I think these seasonal fall leaves beautify the view along this street, and I've met pedestrians who've asked me not to sweep the autumn leaves," she said.
Editor: Bibek Bhandari.
(Header image: A woman takes photos at a street in Shanghai, Nov. 29, 2018. People Visual)