Joe Biden's victory in the U.S. presidential election has ushered in a new hope for students thousands of miles away in China, who feel they have borne the brunt of the Trump administration's stringent visa regulations as well as found themselves in unexpected predicaments due to the coronavirus pandemic.
Since major U.S. media outlets called the election last weekend, some Chinese agencies providing study abroad consulting services have forecast that a Biden presidency could lead to a potential increase in Chinese young people studying in the U.S. One Shanghai-based study abroad company noted that Biden's seemingly lenient attitude toward immigration and visa restrictions, as well as the incoming first lady's role as an educator, could be seen as positive signs for the future of international students in the country.
"This is definitely good news for study abroad agencies," Max Li, a senior agent at a Beijing-based education consultancy, told Sixth Tone. "Trump's moves have been very unpredictable and destabilizing for the past four years, and Biden has promised to be more open and immigration-friendly."
Yue, an employee at Beijing-based study abroad agency PalmDrive, told Sixth Tone the industry has been "celebrating the New Year ahead of schedule" after Biden's apparent victory. She said her agency has seen an uptick in inquiries from previously hesitant students who are now considering the U.S. as their higher education destination.
"We cannot accurately speculate on the future policies of the Democratic Party, but what's certain is that, while Biden might not necessarily be good for international students, Trump won't even give you the chance to become one," she said.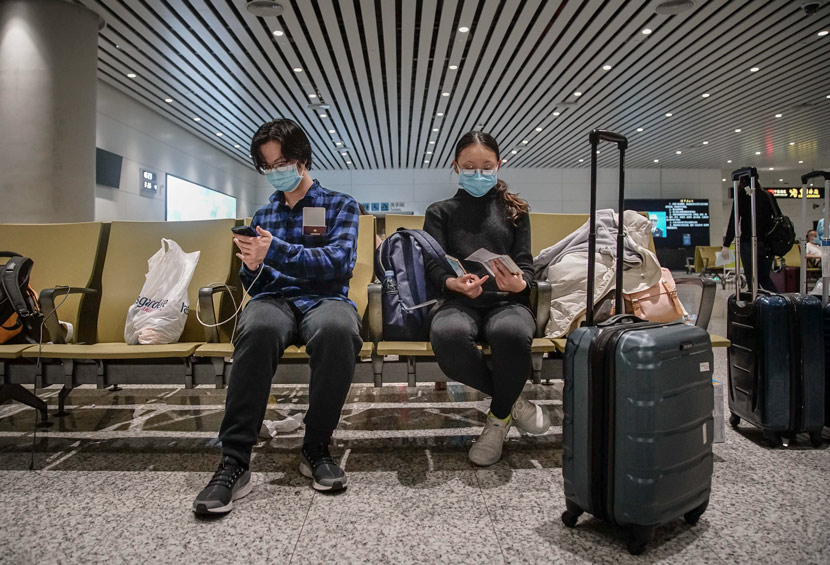 Chinese international students at U.S. universities return to their home country at an airport in Guangzhou, Guangdong province, March 2020. Zheng Yijian/People Visual
The U.S. has remained a top study abroad destination for Chinese students, with an estimated 369,548 enrolled at domestic schools during the 2018-2019 academic year. But that number is likely to decline, as U.S. visas issued to Chinese students had plummeted by 99% as of September compared with the same period last year, according to Japanese financial outlet Nikkei Asian Review.
For the first time, the U.K. has emerged as the most popular destination for postgraduate studies instead of the U.S., according to an annual report by New Oriental Education & Technology Group, China's largest private education provider. The report suggests this change may be due to the U.K.'s relaxed work visa policy, with graduates now eligible for two-year post-study work visas.
The Trump administration's policies on foreign students have also contributed to the U.K.'s appeal as a study abroad destination.
In July, American authorities announced a policy — which they later backtracked on — stating that all foreign students must attend classes in person or have their visas stripped, despite many colleges introducing virtual lessons in the wake of the coronavirus pandemic.
Two months later, the U.S. canceled the visas of more than 1,000 Chinese students and researchers, claiming they had undisclosed ties with the Chinese military. The move followed President Trump's proclamation in May to "block certain graduate level and above Chinese nationals associated with entities in China that implement or support China's Military-Civil Fusion (MCF) strategy."
Though American politics and the country's relationship with China could be influencing factors for many prospective international students, some believe the pandemic will now play a more decisive role.
"I don't think a change in president will affect the number of Chinese students applying for schools (or studying) in the United States," a study abroad agent surnamed Wu in the central city of Wuhan told Sixth Tone. "Whether to study in the U.S. will depend on control of the pandemic."
Li from the Beijing education consultancy agreed. Although the election result has been a positive sign for both agencies and students, she said, it may take at least three months for people to resume their study abroad plans.
"Though the pandemic will continue to impact international students, at least the no-Trump situation will save us a lot of trouble," Li said.
Many students who are either currently studying in the U.S. or planning to pursue a degree there shared similar sentiments — that a Biden presidency may be in their favor.
"I had hoped Biden would win," said Yu, a piano performance major at a university in Michigan, adding that visa and job policies under the Trump administration were unfriendly to Chinese students like her. "Trump's term has made Chinese students' lives harder. I had to pay more for visa-related fees. A lot of my friends who were thinking of remaining in the U.S. to work eventually chose to return to China."
Editor: Bibek Bhandari.
(Header image: People Visual)