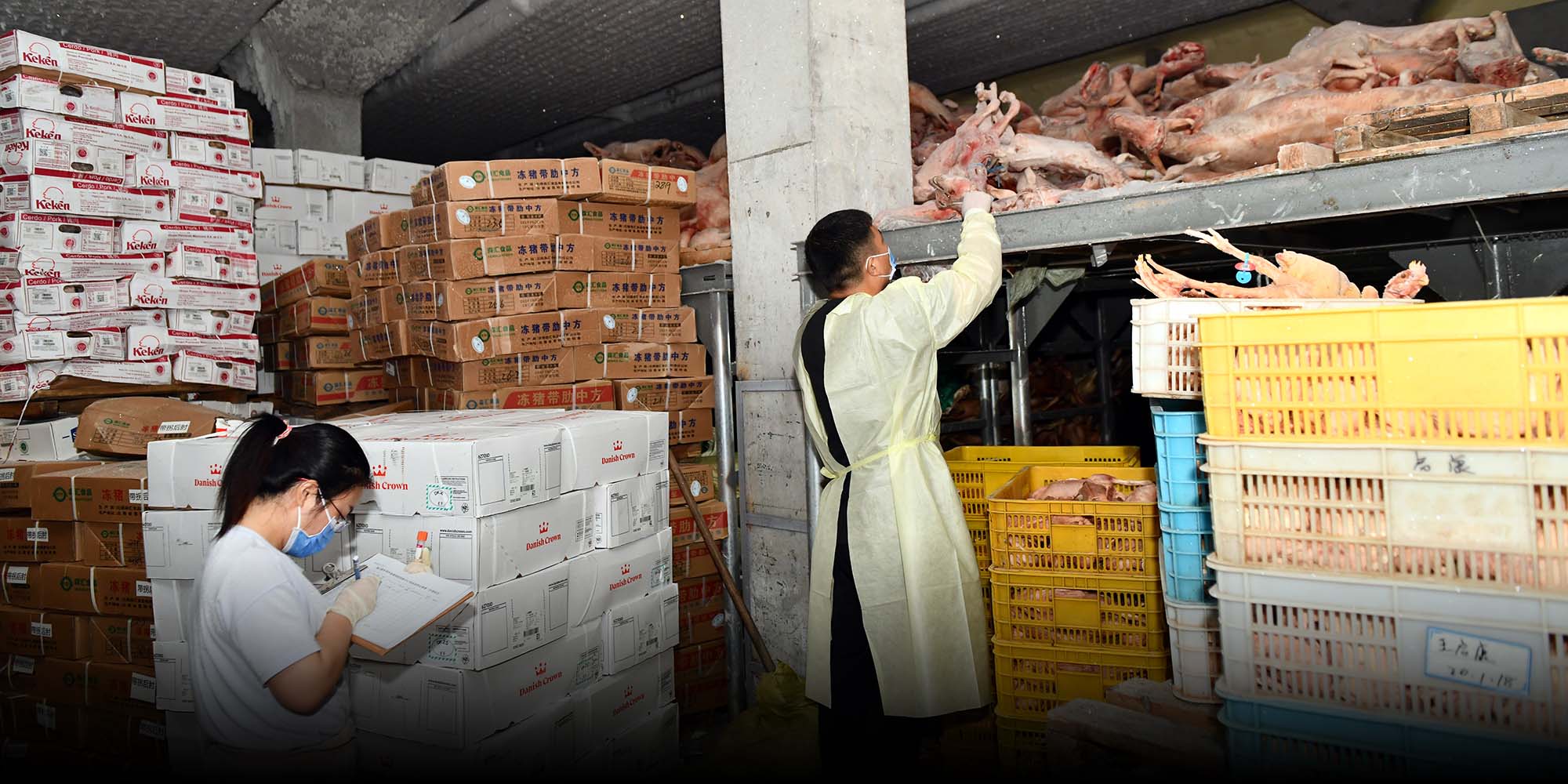 NEWS
China Tightens Rules on Frozen Food Imports Over COVID-19 Concerns
All foreign cold chain products will be disinfected and tracked closely, as Chinese authorities trace more coronavirus infections to imported food.
Chinese authorities published plans to tighten supervision of all imported cold chain products Monday, after confirming another COVID-19 infection linked to packages of foreign food the same day.
The infected individual, who showed no clinical symptoms, is a truck driver who tested positive for COVID-19 after loading packages of cold chain products in the northern port city of Tianjin.
The driver was tested as part of a test-and-trace campaign, which authorities launched after two other northern Chinese cities — Dezhou and Taiyuan — identified live coronavirus on shipments of imported food. The packages — containing pork knuckle from Germany and fish from India — had both entered China via Tianjin, local officials confirmed Saturday.
On Sunday, a worker at a cold storage facility in Tianjin also tested positive for COVID-19, Beijing Daily reported.
The new document, published by the State Council, China's Cabinet, aims to prevent similar cases arising in the future by strengthening requirements for disinfecting and tracking frozen food imports.
According to the new guidelines, disinfection will need to be carried out before loading or transporting imported cold chain products. Details of all disinfection work — including the date, location, and product used — must be recorded and kept for at least two years.
Packages that test positive for COVID-19, meanwhile, should be returned or destroyed, according to the document. All imported cold chain products must also obtain a disinfection certificate before being solid in markets.
This isn't the first time frozen food imports have raised concerns in China. In late October, officials in the coastal city of Qingdao said they had found evidence that coronavirus detected on shipments of imported cod was capable of infecting humans. China had previously found coronavirus on packages of foreign fish and seafood on multiple occasions.
In late October, Beijing authorities announced that companies transporting or storing imported frozen food would be required to upload detailed information about the products through a government-supervised online platform starting this week.
Cold chain products exhibited at the ongoing China International Import Expo in Shanghai, meanwhile, are being subject to extra scrutiny over virus concerns.
Editor: Dominic Morgan.
(Header image: Inspectors check samples of imported meat at a food company in Dongyang, Zhejiang province, July 16, 2020. People Visual)