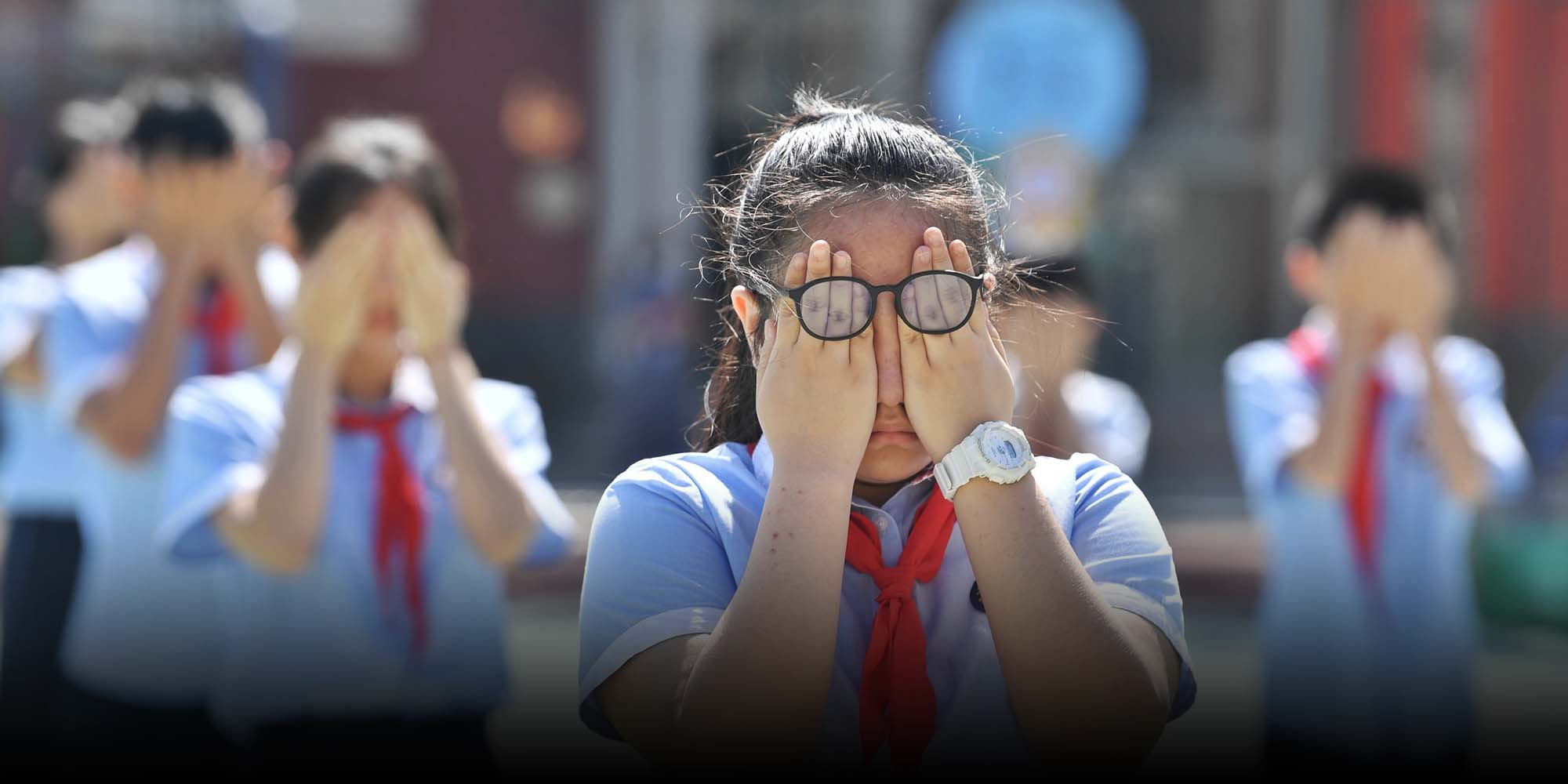 NEWS
Chinese-Developed Lens Can Slow Childhood Myopia by 60%
The new product is a welcome sign after nearsightedness in the country soared with classes moving online during the pandemic.
SHANGHAI — The Chinese government views climbing rates of nearsightedness in children as a major problem. New lenses jointly developed by French and Chinese engineers may present a solution.
Together with Wenzhou Medical University in eastern China's Zhejiang province, French ophthalmic optics company Essilor Group has designed a new product — the Stellest lens — capable of dramatically slowing down the rate at which a child's eyesight deteriorates.
"Compared with a control group wearing regular lenses, the myopia slowdown rate was over 60% on average," Sun Yihan, a public relations officer for the project, told Sixth Tone. Unlike a normal lens, the Stellest lens consists of over 1,000 "micro-lenses" that focus light at the front of the retina, reducing much of the strain that contributes to nearsightedness.
The researchers' bold claims are based on a three-year clinical trial involving 16 myopic children conducted at a Chinese research center beginning in 2018. Though the Stellest lens is already being prescribed at Wenzhou Medical University's eye hospital, the team presented their product to the public for the first time this week, at the ongoing China International Import Expo (CIIE) in Shanghai. They hope to introduce the Stellest lens to other hospitals in China, too, before taking it abroad.
To the Chinese government, childhood myopia represents a health crisis, and the problem has only worsened during the COVID-19 pandemic. In the first half of this year, childhood myopia rose by 11.5%, according to the Ministry of Education.
"In China, more than half of all teenagers suffer from nearsightedness," Arnaud Ribadeau Dumas, head of Essilor's China operations, told Sixth Tone's sister publication The Paper last week. "We hope to call attention to the serious issue of childhood myopia through CIIE."
According to official data from 2018, China has one of the highest rates of childhood myopia in the world, affecting around 81% of all third- and fourth-year high school students. Due to the COVID-19 outbreak, schools across China were forced to cancel on-campus classes in the spring, replacing them with online education. The uptick in screen time is believed to have exacerbated the country's already-bad myopia rate.
To meet the country's goal of lowering childhood myopia by 0.5% annually over the next decade, now that classes are back in session, schools are being required to take a "vision census" of their pupils, as well as report their plans for reducing students' workloads and limiting screen time.
Editor: David Paulk.
(Header image: IC)