SHANGHAI — One of the most expensive items at this year's China International Import Expo can be found in a rather unassuming place. Tucked away in a tiny corner of the food and agriculture exhibit is a booth manned by representatives from the Pacific Island nation of East Timor, participating in the expo for the first time this year to show off their kopi luwak: coffee made from beans excreted by civet cats.
"They say we're the smallest exhibit booth with the most expensive coffee," Liang Liwei, CEO of East Timor National Pavilion Coffee Industry Center, told Sixth Tone.
Visitors sample kopi luwak, made from coffee beans excreted by civet cats, at the third annual China International Import Expo in Shanghai. By Du Xinyu and Ye Yuhui/Sixth Tone
Originally developed in Indonesia, East Timor's western neighbor, kopi luwak has become a highly sought-after commodity among high-end coffee enthusiasts. The product is special because catlike Asian palm civets are notoriously picky eaters, only consuming the best parts of the coffee plant. Although kopi luwak has long been criticized by animal rights organizations, it has nonetheless been embraced by many Southeast Asian countries including Vietnam and the Philippines.
According to Liang, East Timor's production process strictly follows animal welfare guidelines. As a result, the island nation makes just 800 kilograms of civet coffee per year. The price for 1 gram is 20 yuan ($3), a 500-gram bag costs 1,000 yuan, and a regular-sized cup might be priced at 500 yuan.
"From rough calculations, there will only be 40,000 cups of civet coffee from East Timor (each year)," Liang said, adding that he hopes the product will receive a warm reception from the Chinese market.
According to import and export data from Global Trade Online, a research firm based in the eastern Jiangsu province, China is expected to surpass the U.S. and become the world's largest coffee consumer "in a few years." Already, China imports around $300 million worth of coffee annually, and the average unit price of imported coffee is around $4 per kilogram.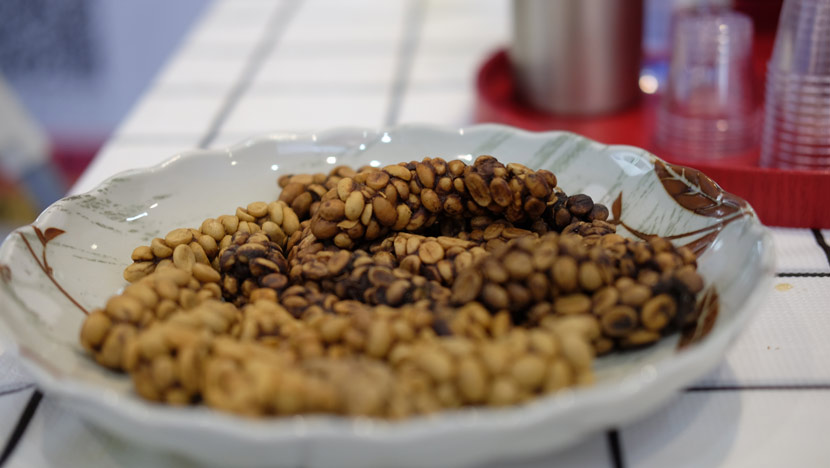 Kopi luwak made from coffee beans digested by Asian palm civets in East Timor is displayed at the third annual China International Import Expo in Shanghai, Nov. 8, 2020. Du Xinyu/Sixth Tone
"More and more young people in China are becoming coffee drinkers," said Liang. "We also hope civet coffee will build a bridge between China and East Timor, attracting more Chinese tourists."
Though Chinese people have traditionally preferred tea over coffee, modern consumers' tastes are changing. In 2017, global coffee giant Starbucks opened a 2,700-square-meter Reserve Roastery in Shanghai. At the time, it was the first such facility outside the United States.
Piggybacking on the success of Starbucks and China's massively popular tea shop chains, homegrown startup Luckin Coffee expanded from just nine shops in 2017 to over 4,500 by the end of last year, eclipsing even Starbucks' 4,200 China locations. Then in April, a major fraud scandal led to Luckin's delisting from the Nasdaq Stock Market.
Editor: David Paulk.
(Header image: A staff member pours a cup of kopi luwak coffee imported from East Timor during the third annual China International Import Expo in Shanghai, Nov. 8, 2020. Du Xinyu/Sixth Tone)