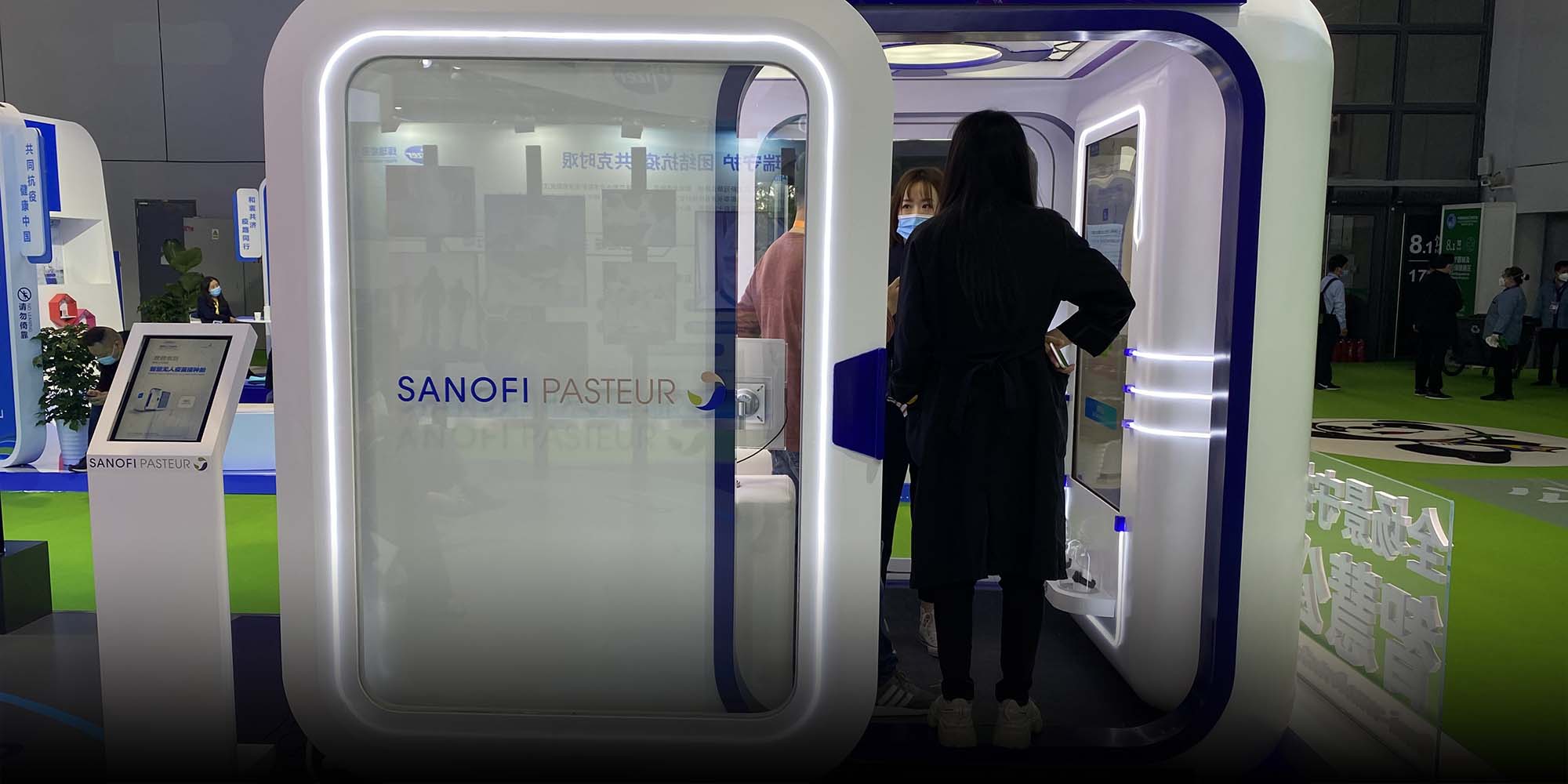 NEWS
Robot Inoculators Accelerate China's Vaccine Rollout
As China begins mass COVID-19 vaccination, the country is trialling systems to make the program faster and safer.
SHANGHAI — As China begins rolling out its COVID-19 vaccines, the country is trialling an unconventional approach to speed up the program: cutting health care workers out of the process.
Unmanned vaccination booths are already being used in the central Henan province, and the system's creators hope they will ultimately be put into use across the country.
Produced by French pharmaceutical giant Sanofi, the cabins resemble a higher-tech version of a photo booth. After entering the cabin, users receive a temperature check, fill out a health questionnaire, and then place their arms in a robotic stirrup that administers the injection. The entire process takes around 10 minutes.
Speaking with Sixth Tone at the third China International Import Expo (CIIE) in Shanghai, a Sanofi employee said the company began developing the system after the start of the COVID-19 pandemic, as they realized any mass inoculation programs could overstretch health systems around the world.
China has already administered COVID-19 vaccines produced by Sinovac and Sinopharm — two state-owned pharmaceutical firms — to thousands of people, and inoculations are set to accelerate next year. Sinopharm aims to produce 1 billion doses of its coronavirus vaccines in 2021, primarily for use on Chinese citizens, the company's CEO, Liu Jingzhen, confirmed during a speech Friday.
Two of Sanofi's unmanned booths are currently assisting with China's flu vaccination program, which is also under strain this year. "The vaccination clinics are under extreme pressure," the employee said. "We did the research because we saw some pain points."
The company has yet to confirm plans to use the system to administer COVID-19 vaccines, but it hopes to convince Chinese policymakers to do so. "We really need the support of the government to make it happen," the employee said.
(Header image: A woman stands at the entrance to an unmanned vaccination booth at the China International Import Expo in Shanghai, Nov. 6, 2020. Shi Yangkun/Sixth Tone)