SHANGHAI — How can Chinese pig farms, whose businesses have been devastated the past two years by the deadly and infectious African swine fever, prevent further disease outbreaks?
A German company says the answer may be found in analyzing the animals' coughs.
At Shanghai's six-day China International Import Expo that opened Thursday, Boehringer Ingelheim, the world's second-biggest animal health company, is presenting a digital sound-monitoring tool that can identify pigs in respiratory distress by monitoring their coughs. The product is already being piloted in two Chinese pig barns to gather data before an official rollout next fall, the company says.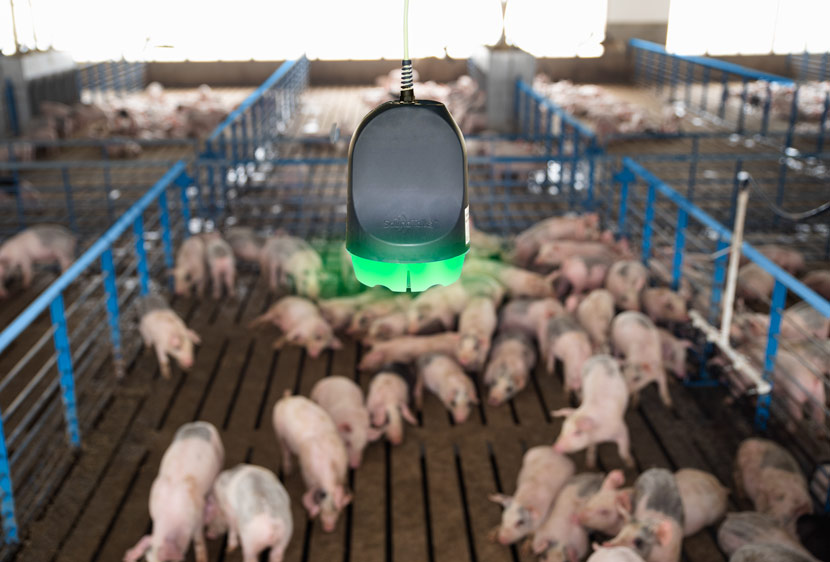 Boehringer Ingelheim's sound-monitoring device capable of predicting whether pigs are sick based on their coughing frequency. Katie Knapp/Boehringer Ingelheim
Zhu Feng, the multinational's integrated health project lead, told Sixth Tone that the restructuring of China's pig sector toward bigger farms due to African swine fever (ASF) means there are more resources in the industry to invest in technology-based solutions for keeping the animals healthy — in other words, increasing biosecurity.
"We believe that using intelligent technology for animal husbandry will be a trend, especially as China is aging and the population of farmers is decreasing," said Wang.
Another CIIE participant betting on Chinese pigs farms' growing appreciation for hygiene is MSD. The American pharmaceutical company is showcasing an injection gun that doesn't use needles, and thus could help prevent cross-infection.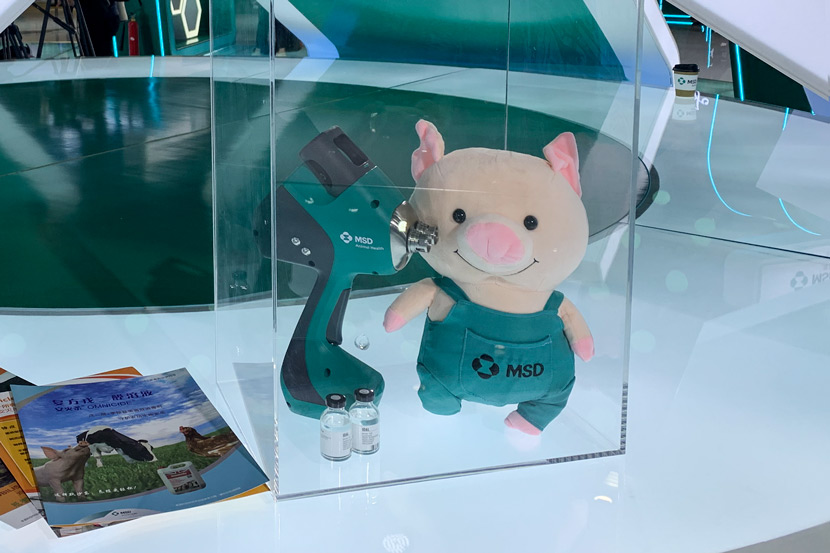 MSD's needleless injection gun for administering vaccines to pigs, displayed at the third annual China International Import Expo in Shanghai, Nov. 5, 2020. Yuan Ye/Sixth Tone
Some Chinese farms have adopted smart camera systems that can spot irregular hog behavior, a sign that they might be uncomfortable or unhealthy. Domestic tech giants like Alibaba, JD.com, and NetEase have also invested in technology-based pig-raising ventures.
Since the first outbreak was reported in 2018 in Shenyang, a city in the country's northeast, ASF has swept through large parts of China, the world's biggest producer and consumer of pork, causing deadly hemorrhaging in pigs or necessitating large-scale culls. China's hog herd reportedly shrank by 40%, or 180 million animals, in 2019. Pork prices have more than doubled as a result.
The ASF virus has also been found at farms in other countries around the world, most recently elsewhere in Asia. There is currently no vaccine for the disease, though there is hope for a domestically produced candidate that has shown promising results in clinical trials, according to the official Xinhua News Agency.
In the meantime, China's farms have focused on controlling the spread of ASF and other infectious diseases by enhancing screenings, immediately culling infected or at-risk animals, and improving biosecurity.
Editor: Kevin Schoenmakers.
(Header image: A view of Boehringer Ingelheim's exhibit booth at the third annual China International Import Expo in Shanghai, Nov. 5, 2020. Shi Yangkun/Sixth Tone)