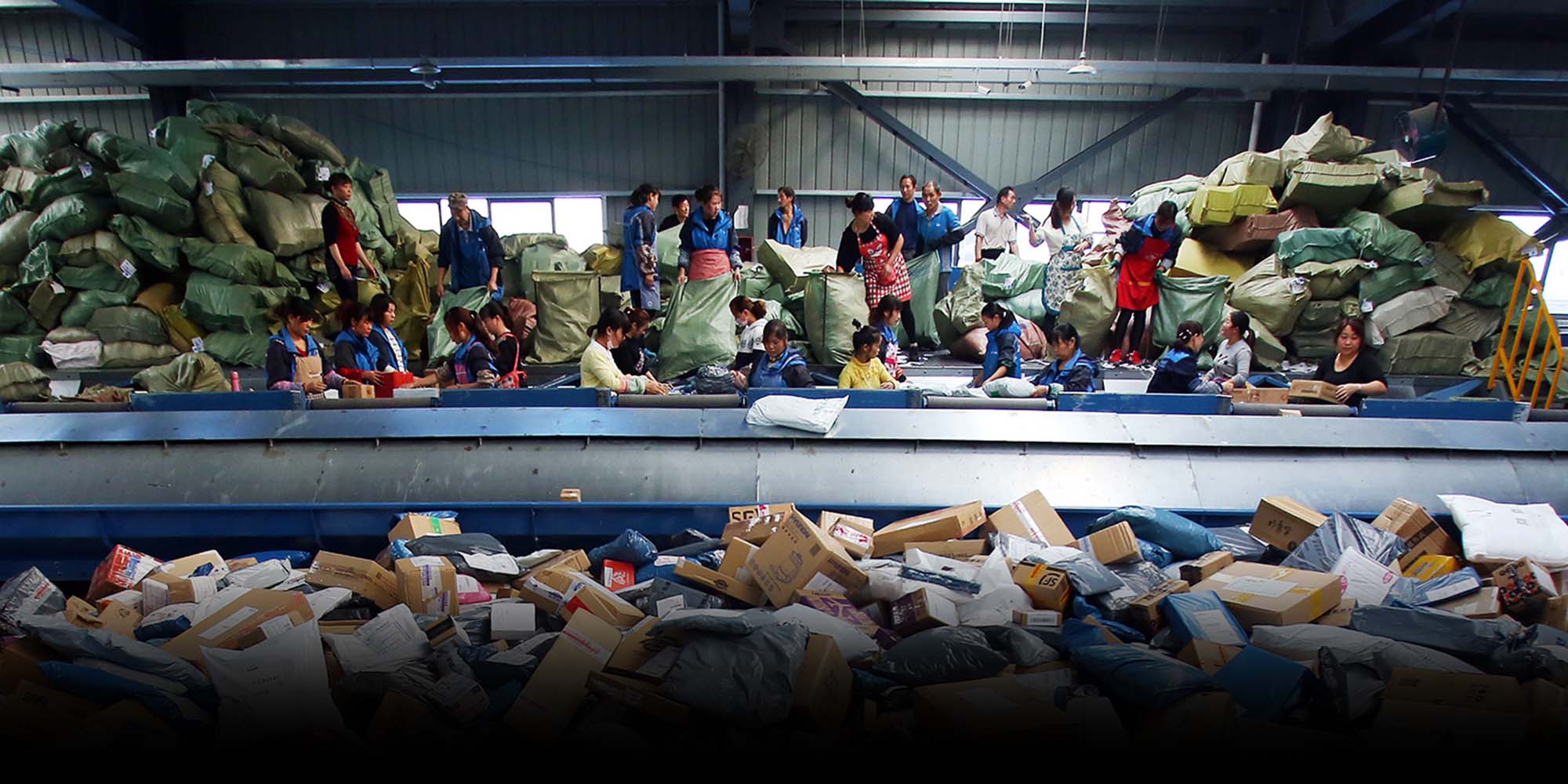 FEATURES
Amid Price War and Unpaid Wages, Couriers Strike and Strive
As China's yearly Nov. 11 e-commerce bonanza nears, cutthroat competition for market share has crushed the incomes of delivery drivers.
This story is part of a weekend column featuring translations from respected Chinese media outlets, as selected and edited by Sixth Tone. All are reproduced with the outlets' permission. A version of this article was first published in China Newsweek.
In his eight years delivering packages, Wang has never been busier. And yet, his income has never been lower. Since a price war broke out in China's courier industry last year, every package he picks up or delivers has been worth less and less.
The increase in competition has put so much pressure on the entire network of Wang's company, Yunda Express, that the delivery station he works for in the eastern Chinese city of Suzhou is behind on wages, owing its drivers more than 100,000 yuan ($15,000). Wang is missing two months of pay.
Similar conflicts have been playing out all over the country this year. On Oct. 18, in response to rumors of strikes and shutdowns at delivery stations, several courier companies all issued denials, stating their networks were operating normally.
But employees at multiple delivery stations of companies often collectively called the "Tongda Operators" — YTO Express, STO Express, ZTO Express, Best Express, and Yunda — have provided China Newsweek with data that shows an increasing number of delivery stations in their networks have been in troubled waters since March. Operations at many were marked as "abnormal," with a "severe packages backlog," or with "no courier available." The employees say most of these abnormal operations are due to unpaid wages leading couriers to go on strike and stations to shut down, which then affects parcel delivery. The situation remains unresolved at many stations.
Such incidents are just the tip of the iceberg for issues facing the Tongda Operators. Since their competitor SF Express set off a market share war in May 2019 by lowering its prices, the incomes of delivery stations and couriers at these companies have been squeezed to subsistence levels, while their delivery networks are becoming increasingly unstable. The smooth engine that is China's express delivery industry — the employer of more than 3 million drivers who handle billions of packages every month — is showing a few warning lights.
Unpaid Wages
Delivery stations and their couriers are forced to bear the ultimate consequences of this price war. Unlike its initiator SF Express, the Tongda Operators are similarly structured to franchisors. The head office sets prices and takes care of the main logistics. Every city or larger area has a main depot which acts as a franchisee, or first-level agent, who then subcontracts the last-mile pickup and delivery to stations, or second-level partners, sprinkled across China.
While the head offices of these companies have lowered prices to gain market share, they have not or barely lowered the fees they charge for the main logistics — the bulk transport of packages between cities. Instead, the fees stations and their couriers receive for picking up and delivering packages have decreased. According to industry insiders, a survey has shown that within delivery firms using the franchising model, 40% of delivery stations are losing money, 50% are breaking even, and just 10% are turning a profit.
"When the strategy of price competition becomes a common weapon used by all enterprises to compete with one another, it destroys rather than creates competition," Yang Daqing, an expert in e-commerce logistics and deputy director of the research office at the China Federation of Logistics & Purchasing, tells China Newsweek. "In the end, the delivery stations become unprofitable due to the vicious competition." 
When these stations run out of money, wage arrears pile up. But because of the way the Tongda Operators are structured, their head offices can waive responsibility. When Wang and his colleagues tried to get their money, they were given the runaround. "We can't get in touch with the boss of the service department; all we can do is contact the head office," Wang tells China Newsweek. "But their reply is always that they will 'coordinate.' We still have no idea who we're supposed to be asking to get the money we're owed." 
In addition, couriers are employed directly by stations and have neither labor contracts nor social security. Whenever a dispute arises, they are often unable to even provide evidence to protect their rights. Wang — who, like other interviewees, asked for partial or full anonymity when discussing their employers — says their wages are agreed upon verbally with the person in charge of the station.
"Even if it gets as far as a strike, it doesn't necessarily mean we'll get our money," Wang says. "Couriers will hang up banners and strike at the entrance to their stations to claim their unpaid wages. It's not only useless — it also affects public security. All we can do is wait for a new boss to take over and then carry on as usual. Who knows if you'll actually get the unpaid wages you're owed?"
After employees of Wang's station filed a police report to try and recover unpaid wages, a new person was put in charge of Yunda's service department in Suzhou's Gusu District, and a system was implemented whereby workers' wages were settled daily. Since August, the department has been in arrears to the tune of more than 100,000 yuan in wages. The former person in charge of the department has vanished, while the head office is not assuming responsibility for the station's debts. All the drivers can do is keep working. They don't want to miss the busiest and most profitable period of the year, the Nov. 11 "Double Eleven" e-commerce bonanza. 
Blame Game
"Second-level network partners among the Tongda Operators earn the least and suffer the most. Especially after several rounds of price cuts last year, second-level network partners across the country are almost all hovering around the loss line," a second-level YTO Express network partner surnamed Yu tells China Newsweek. Second-level network partners — people who run delivery stations — not only need to pay contract fees and deposits to first-level partners, he says, but are also fined if they fail to meet various goals. At the same time, they have to pay for rent and staff. "Unless you're located near a school or in a densely populated community, it's difficult for most second-level network partners to make money," Yu says. 
Delivery stations have little ability to mitigate risk. Once depots higher up are mismanaged or fall behind on payments, stations will immediately face trouble. Recently, Yunda Express' Guanshaling depot in Changsha, central Hunan province, was unable to pay its delivery stations, which then suspended work and ended up owing wages to couriers. Many only received 5,000 yuan in pay since April.
On Oct. 12, Yunda Express responded to the issue of unpaid wages at the Guanshaling depot, saying the problem there was between depots and stations. The company added that network partners are responsible for the unpaid wages of couriers, and it was urging coordination.
"This kind of situation is all too common. In the event of a dispute, the head office will put the onus squarely on the agents and the network partners, while failing to mention its own management problems," Ma Jianjun, a station operator for Yunda Express in Hunan province, tells China Newsweek. "The head office doesn't properly supervise first-level agents. If there's a problem with first-level agents, all second-level network partners under their jurisdiction will be affected." 
Shao Zhonglin, former deputy secretary general of the China Express Association, said in a recent interview that he believes the franchising business model inevitably leads to such situations. This is mainly because of the diverging interests of the head office and network partners. The price war has only exacerbated their differences. 
According to statistics from financial consultancy Shenwan Hongyuan, the industry's average revenue per parcel has continued to decline, hitting an all-time low of 10.05 yuan this August. At the same time, financial data from various express delivery companies showed that in September, revenue per parcel for Yunda Express was 2.15 yuan, and that of YTO Express and STO Express was 2.18 yuan, which represents decreases of 31%, 23%, and 20% respectively compared with the same period last year.
Several couriers working for Tongda Operators tell China Newsweek that so far this year, the per-package fee paid by depots to delivery stations has dropped from 1.50 yuan to 1.20 yuan, while the fee paid by stations to their couriers has dropped from over 1 yuan to 0.70 yuan. "The delivery fee has dropped and keeps on dropping. Last year it was down to 0.90 yuan. This year it dropped to 0.70 yuan," says Wang. Many of his peers have switched jobs and now deliver takeout food, which pays better, he says. "The couriers on the bottom rung deliver hundreds of packages every single day. The work is exhausting, but incomes are getting worse by the day."
A courier for Yunda Express tells China Newsweek some stations and depots rely on fining those beneath them to bolster their bottom lines, with several dozen violations starting at 100 yuan each: "They fine you if you arrive late to work, if you arrive late for a meeting, if a package is damaged, if a customer complains, and so on. After a few fines, you'll have done a week's work for nothing. That's another reason why so many couriers are leaving."
Dysfunctional Price War
Oct. 18 marked China's 60 billionth express delivery of 2020. Monitoring data from the State Post Bureau shows that 8.09 billion express deliveries were shipped this September, representing the fastest month-to-month growth rate in three years. However, this growth does not mean that revenue has grown on the same scale. Rapid market expansion has led to more intense price competition within the industry. According to the National Bureau of Statistics, while the annual volume of express deliveries and revenue are both rising in China, the unit price per delivery is less than half of what it was a decade ago. With e-commerce growth slowing down and various delivery companies offering mostly the same services, they are relying more and more on lowering prices to gain market share.
According to the financial results of six listed express delivery companies for the first half of 2020, the per parcel prices all dropped by more than 20%. In the fiercest period from March to June, one company even launched a campaign in Yiwu, a city in eastern China's Zhejiang province famous for its sprawling wholesale markets, offering nationwide delivery for just 0.80 yuan in an attempt to quickly boost their market share.
As a direct result of all this price-cutting, the net profit of express delivery companies has been consistently declining. Financial data released by Yunda Express — which ranks second in terms of market share — shows that from the first half of 2019 to the first half of this year, the company's volume of deliveries increased by more than 1 billion, however, their profit per parcel dropped from 0.30 yuan to 0.12 yuan.
The industry's profits are approaching a red line, but the Tongda Operators continue to engage in a strategic price war. The secondary listing of ZTO Express in Hong Kong this September stated in its prospectus that the company must keep costs under control to maintain competitive pricing and enhance its profit margins.
"The current price war has become so bloody, it's unclear whether the companies are hurting themselves or their competitors. They kill 1,000 enemies but hurt 900 of their own," Zhao Xiaomin, a columnist for Forbes and for industry magazine Kuaidi, tells China Newsweek. He says the rapid rise of express delivery firms over the past decade was founded on cheap labor, strong public purchasing power, and rapid economic development. The first round of competition relying on manual labor and raw capital has long since come to an end. The second round has now begun, with new considerations such as cold chains, supply chains, rural revitalization, and internationalization requiring large investment and logistics construction. "Unfortunately, relying on price wars is still the easiest way to compete," he says. "Companies aren't actively seeking more advanced ways to compete."
Outside the Tongda Operators, new entrants into the price war have added fuel to the fire. This year alone, four emerging companies — J&T Express, Zhongyou, and a lower-cost franchising off-shoot from SF Express called Fengwang — have joined the fray with low prices. J&T Express in particular has managed to achieve the business volume traditional courier companies build in a decade within just half a year by relying on ultra-low prices and using other companies' delivery stations.
On Oct. 19, Yunda Express posted a statement on its official website forbidding its stations from working with J&T Express. Prior to this, STO Express and YTO Express had also issued similar bans aimed at the company.
Zhao predicts the industry price war will reach a tipping point within the next eight to 10 months. "We're currently within a period of concentrated conflict," he explains. But the competition will at some point become untenable, Zhao says. "Until the price war is over, strikes and bosses running away at express delivery outlets will continue to occur." 
Translator: David Ball; editors: Kevin Schoenmakers and Yang Xiaozhou.
(Header image: Delivery workers sort parcels at a distribution center in Nanjing, Jiangsu province, Nov. 14, 2016. People Visual)