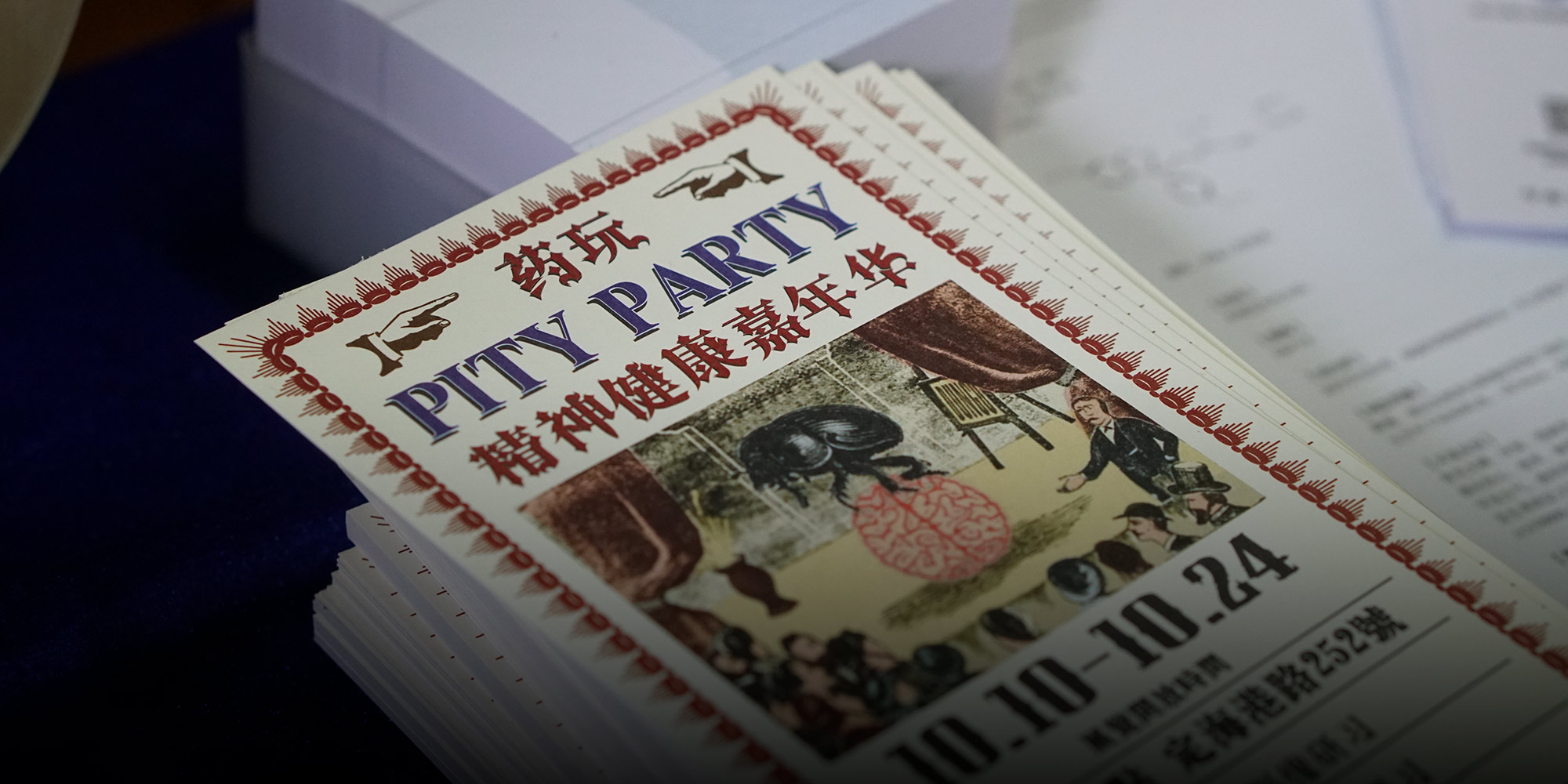 VOICES & OPINION
Want to Improve Mental Health Care? Try Throwing a 'Pity Party.'
China's overworked and underappreciated mental health care workers and advocates need space to share ideas, exchange experiences, and vent.
This October, I curated "Pity Party," an art exhibition in Shanghai that sought to educate the public about mental health issues. As part of the program, Chen Zhimin, a doctor at the Shanghai Mental Health Center, introduced a project he has been working on for a year: encouraging people with mental illnesses to devote themselves to the arts. "I consciously teach them to break the habit of drawing realistically and encourage them to produce more abstract works," Chen explained.
Gallerygoers — many of whom also had backgrounds in mental health treatment, whether as advocates, doctors, caregivers, or patients — were far from convinced. Some of the critiques were aesthetic: Why is abstraction necessarily more sophisticated than realism? Others wanted to know why Chen wouldn't simply let his patients draw what they wanted. And might the patients feel pressured to make art to avoid disappointing their doctors? Chen eventually had to rush back to the hospital for his next shift, but on his way out the door he was chased down by Emile Li, a member of the grassroots advocacy group Bipolar World, who continued to pepper Chen with questions along his walk back to the metro station.
That level of intensity was exactly what I was hoping for. Chinese doctors wield immense power over their patients and mental health care in the country, and they're more used to ordering social workers and grassroots advocates around than taking their criticism or questions. One of the goals of my exhibitions has been to push participants and attendees to call this absolute authority into question, giving them the chance to share their ideas and experiences with doctors, and giving doctors a chance to hear outside perspectives.
Bipolar World is one of those outsider groups. As the name suggests, it is devoted to raising awareness on issues surrounding bipolar disorder. One of the team's core members, Li works year-round encouraging patients with bipolar disorder to share their artwork with the public, but she also strongly believes programs such as hers must abide by strict principles. Bipolar disorder, in particular, is often associated in the popular imagination with artistic inspiration and grand talent, but Bipolar World doesn't want to traffic in stereotypes, even romantic ones.
So if Li came off as fanatical in her commitment to questioning Chen, it is only because she is deeply concerned about the ethical issues surrounding the use of art in mental health treatment. She's not alone. In recent years, as public awareness of mental health issues has risen in China, an increasing number of nongovernmental organizations have joined hands with doctors, psychologists, and social workers to destigmatize mental illness and educate the public on available treatment options.
Many of these grassroots organizations are launched by people who have personal experience with mental illness. Their funding usually comes from members or their relatives and friends; sometimes, they raise small donations from foundations or through charity sales. Because they are typically not officially registered with the government, they have no access to state funding.
It's an exhausting path, fraught with ethical quandaries. In the absence of external and societal support, both mutual assistance and self-care are of particular importance. So every year, I use my exhibition to try to spark a mutually supportive exchange between mental health practitioners, including grassroots NGOs, social workers, and therapists. Last year's theme was "How Institutions Survive." This year's was "Helping Those Who Help."
It helps to know some of these struggles firsthand. Unlike Li and many of her peers in the grassroots world, I have a formal background in social work, having studied it for six years. Upon graduation, however, I opted not to pursue a career as a social worker, instead using the values and methods I'd learned to organize trainings and other events aimed at educating the public on mental health issues.
My decision had to do with the awkward status of social workers in the field of mental health care. In China, social workers are largely assigned to psychiatric hospitals and "community-based rehabilitation" duties. In these roles, they are second to doctors and generally have few opportunities to work with the public. Although the Chinese government has sought in recent years to promote social work, most social workers continue to feel marginalized: The actual duties they perform are often at odds with their expertise, there is a lack of institutional support for their work, and they find it difficult to attract public interest for more creative or innovative events.
At this year's exhibition, I spoke to a first-year graduate student majoring in social work who reminded me of my younger self. "I used to want to be a social worker," she told me.
"So what made you change your mind?" I asked her.
She recounted her experiences as an undergraduate intern at a psychiatric hospital. At times, the stress of being thrown headfirst into treating patients without prior training or mental preparation was too much for her to take. "In the beginning, I would cry my eyes out at least once a week," she said.
I tried to reassure her by telling her the truth: She's far from alone. Many students start studying social work not as a fallback, but because they're passionate about making a difference. Unfortunately, their educational institutions rarely teach them the practical skills they need, and by the time they finish their internships, many find their enthusiasm has been replaced by doubt and disillusionment.
Exhibitions like mine can't fully fix this problem, but they can unite disparate parts of China's mental health safety net: doctors, grassroots organizers, social workers, and others, and help them see how their respective experiences reflect the various challenges of providing the mentally ill with effective care. I also hope they can create both a sense of community and a space in which everyone feels comfortable sharing their knowledge and experiences. I think of it as a safe haven, a place where they can retreat, recharge their batteries, and remember what got them into this field in the first place.
Translator: Lewis Wright; editors: Cai Yineng and Kilian O'Donnell; portrait artist: Zhang Zeqin.
(Header image: Promotional prints for "Pity Party," an exhibition curated by Xiao Ka in Shanghai, October 2020. Courtesy of Xiao Ka)