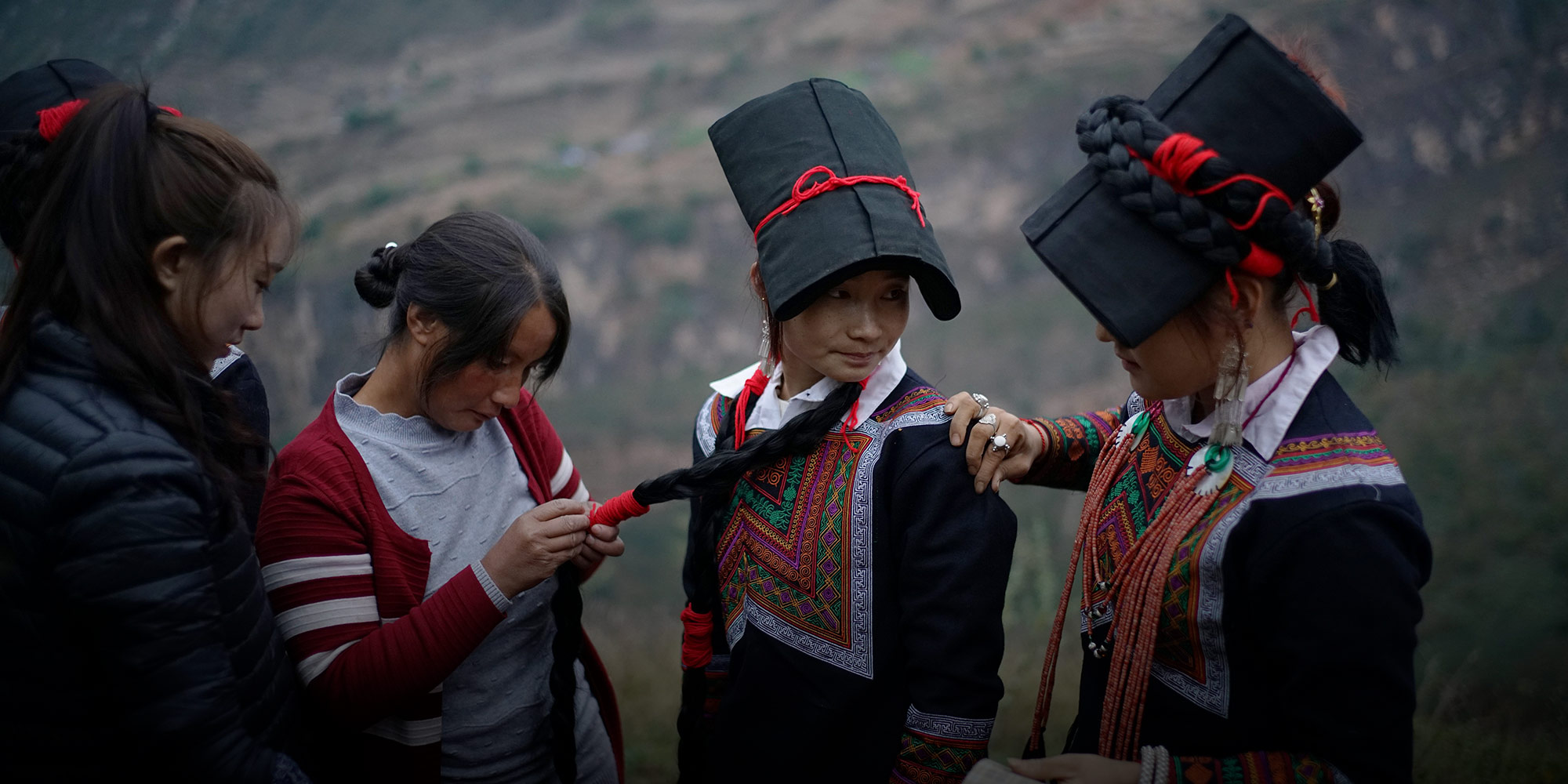 VOICES & OPINION
How Liangshan's Runaway Brides Are Upending Centuries of Patriarchy
In some rural parts of the prefecture, Yi wedding customs call for marriage as young as 14 or 15. But a new generation of young women wants control over their love lives.
When I met Qin in 2013, she was working on an electronics assembly line in the southern city of Dongguan. As we returned to her dorm after her 12-hour shift, she started telling me her story. "I'm married, but I want to get a divorce," she said. She had just turned 16.
Qin — to protect the identities of my research participants, I have given them all pseudonyms — explained that she'd been betrothed to a distant cousin at a young age, and their marriage took place the year of her 16th birthday. She didn't want to go through with the ceremony, but Qin recalls her mother sobbing and threatening, "I'll drink poison and kill myself if you don't get married." Qin spent her wedding day in tears. Once a good student, her interest in academics soon strayed, and when a group of people in her village decided to leave and search for work elsewhere, she seized the opportunity to escape with them.
"A part of me wants to go back to my studies, but I can't because I've worked for a year now," she said, casting a glance at the world outside her factory dorm.

Qin's story turned out to be a common refrain in my interviews with women from her hometown: the remote southwestern prefecture of Liangshan. Best known for its rugged terrain and extreme poverty, Liangshan has been home to the Yi ethnic group for generations and is a center of Yi culture and folk traditions. Helped by its geographic isolation, many of these cultural traditions proved remarkably resilient in the face of the past century's upheavals. Since the turn of the millenium, however, more and more residents, including women, have begun migrating elsewhere in search of opportunity, and their experiences in the outside world are fomenting a backlash against patriarchal gender norms and practices.
Traditional Yi marital practices in the Liangshan region involve betrothal at birth or young age, with the marriage carried out when the participants are roughly 15 years old. The rules governing betrothal agreements are rigid: To preserve the purity of their bloodlines, Liangshan Yi households rarely intermarry with other ethnic groups. Within the Yi community, aristocratic "Black Yi" are expected to refrain from marrying "White Yi" commoners, and a child's potential spouses are typically restricted to members of clans that have been intermarrying for generations.
Even after China passed its New Marriage Law in 1950, raising the legal age of marriage to 18 for women and 20 for men and guaranteeing both genders the right to choose their own partners, these practices persisted in Liangshan. A middle-aged villager I spoke with, reminiscing on marriage customs among previous generations, said, "You could cry or make a scene all you wanted, but you were getting married once a betrothal was set, even if they (your in-laws) had to use force."
Of the women in their 40s I interviewed, most of them went through with their arranged marriages. A few rebelled. After Meizhen was forced to marry a cousin of hers, she resolutely played dumb. She pretended she couldn't understand her in-laws, made a mess of her chores, and kept dropping things into the indoor fire pit. Her in-laws finally broke off the betrothal, convinced that she had a mental illness. Her act won her the chance to choose her own partner.
To Qin and other young Yi today, the Yi marital norms Meizhen fought against feel outdated. Not only did they grow up with more knowledge of the outside world thanks to television and other technologies, but many of them have lived elsewhere, as part of the wave of outmigration that has swept through Liangshan since the early 2000s. Armed with more experience and increased economic resources from their factory jobs, they're renegotiating the terms of their lives with their elders.
In an interview this summer, 24-year-old Xiao Mei explained to me how she got out of her marriage. At 14, Xiao Mei was married to a boy of her parents' choosing according to local custom, but — as has become increasingly common in recent years — both sets of parents agreed the "couple" would not move in together until she turned 17 or 18. As the day drew closer, Xiao Mei started contemplating how to escape.
At the time, Xiao Mei, her "husband," and several of their friends were living and working in the eastern city of Hangzhou. Finally, she decided to flee to the southern city of Guangzhou, where she had a family friend who worked as a factory foreman and could get her a job. One day, before the sun had risen, she caught a cab from the factory to the train station. "It was an hourlong drive, and my heart was pounding up until I got in line to buy my ticket," she said. Only after she boarded did she answer a call from her "husband," in which she informed him "we really aren't a fit for each other."
Her in-laws called her multiple times after she reached Guangzhou. They told her to spend that year on her own, but to return to her husband the next year. Xiao Mei refused, and told her own parents that she wanted out of the marriage.
Actually persuading them to go along with her decision presented a greater challenge. Although the stigmas attached to getting divorced or choosing your own partner are fading, an Yi woman who wants to terminate her marriage contract for no other reason than she doesn't have feelings for her betrothed will usually run into strong opposition from her parents and family. This is partly a matter of "face," as calling off a marriage to another family after generations of good relations calls the reputation of a bride's family into question. There's also the difficulty of paying back the bride price.
As annulments and divorces have grown more common, Liangshan Yi have developed new, informal rules governing the process. For instance, if the bride initiates the annulment and the groom has committed no apparent wrong, then her family should reimburse the groom's family the bride price at its current market value — even if it differs from the original bride price.
Although the Chinese government has tried to get bride price practices under control for years, rates have continued to climb in some regions, including Liangshan. In a prefecture where the average income is measured in thousands of yuan, the bride price for a young woman in parts of rural Liangshan now ranges from 250,000 yuan to 300,000 yuan ($37,000 to $45,000). In Xiao Mei's case, her parents eventually agreed to pay 140,000 yuan to call off the marriage, almost five times what the groom's family had paid to seal the marriage contract all those years before.
Young girls thus need a convincing strategy if they want their elders to back them. "A reasonable way to ask the parents to negotiate an annulment is finding out that your betrothed is dating someone else or that he's done something illegal," Xiao Mei's co-worker, Ya, told me. "Plus, once something like that happens, the bride price paid back to his family usually gets reduced a bit."
Increased mobility and interaction with the outside world have given young Yi people new values. Yi women, too, are being shaped by the feminist awakening in China today, as they become more autonomous and outspoken in gender and marriage matters. Toppling patriarchal norms that have survived for thousands of years will not be easy, but the young Yi women I spoke with, all teens and young adults, said they don't plan to betrothe their children. Perhaps the freedom to choose your partner may come to Liangshan after all.
Translator: Katherine Tse; editors: Cai Yiwen and Kilian O'Donnell; portrait artist: Wang Zhenhao.
(Header image: A bride from the Yi ethnic group prepares for her wedding in Liangshan Yi Autonomous Prefecture, Sichuan province, Nov. 9, 2016. Chen Jie/Beijing News/People Visual)