China has lost its title as the world's biggest source of sea plastic, according to a new study co-authored by researchers whose widely cited 2015 paper had bestowed the title on China in the first place — a designation some in the country felt was unfair.
The paper, published Friday in the journal Science Advances, focuses on plastic trash generated by coastal populations in the U.S. It concludes that their contributions to sea waste are up to five times higher than the previous study estimated, possibly placing the country third behind Indonesia and India, with Thailand and China rounding out the top five.
Plastic pollution has become an urgent environmental issue in recent years. When waste is not managed well and escapes into bodies of water, much of it ends up in seas, where it can harm wildlife or break down into smaller pieces called microplastics and enter the food chain. By one estimate, humans ingest 21 grams of plastic per month on average.
In 2015, a team of American researchers for the first time modeled how much plastic trash had ended up in the oceans, and from which countries it had originated. Their calculations said China was responsible for 27% of the 8.75 million tons of plastic that escaped into the sea in 2010.
That conclusion has since been widely cited. In 2018, U.S. President Donald Trump named China as an example of a country that was "making our oceans into their landfills."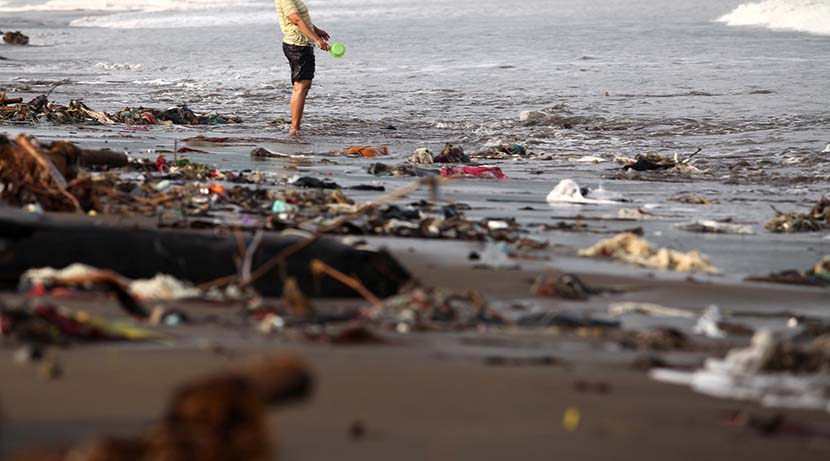 Moment/People Visual
Though three authors of Friday's study were also involved in the earlier paper, "We were not attempting to re-do the 2015 study," lead author Kara Lavender Law, a marine scientist at the Sea Education Association in Massachusetts, told National Geographic. "The whole point was to examine the United States." Law and the other authors did not reply to Sixth Tone's requests for comment.
While the U.S. generated the most plastic garbage of any country according to the 2015 study, just 2% of that waste was assumed to be mismanaged. For the new study, researchers factored in illegal dumping and the large amounts of plastic waste the U.S. shipped to other countries for disposal.
Before the Chinese government banned plastic waste imports at the end of 2017, the country was a major destination for American garbage, importing around 1.4 million tons of plastic trash from the country each year.
"We (the U.S.) are massive consumers and that has consequences," Ted Siegler, a resource economist and co-author of the study, told National Geographic. "We have to get out of this silliness that all we have to do is stop Asians from dumping in the ocean and we'd be all set."
The Friday paper updated the figure for how much garbage was mismanaged in 2016. According to the latest estimate, China mismanaged just one-quarter of its waste in 2016, compared with a rate more than three times higher that was used in the earlier research. But Li Daoji, a marine pollution expert at East China Normal University, told Sixth Tone this figure is still too high. He estimates that only 4% to 7% of plastic is mismanaged by China's coastal populations.
"People who live near China's coast are mostly in urban areas. Even back then, the garbage disposal systems of most cities were mature," Li said, pointing to why the mismanagement rate shouldn't be as high as the U.S. estimate.
In recent years, Chinese cities such as Shanghai and Beijing have launched strict garbage sorting policies, and several provinces have implemented bans on single-use plastic items such as straws. The central government has also announced a ban on all nonbiodegradable plastic bags for 2035.
But, Li argued, China's problems with plastic were overblown even before the country began cleaning up its act. The 2015 study "misled the entire world," he said. "It made (everyone believe) China was the largest polluter of trash in the ocean." His team's own research arrived at a much smaller figure in 2018. Now, he believes China's efforts have brought the country's total sea plastic figure down to about 300,000 tons per year.
Li is bullish about further improvement, too. "The 2020 data isn't out yet, but we're expecting to see a noticeable decrease in the level of mismanaged waste," he said. "I'm very confident that we can have near-zero garbage emissions by 2030."
Editor: Kevin Schoenmakers.
(Header image: A trash collector picks up garbage on a beach in Qionghai, Hainan province, Sept. 9, 2014. IC)