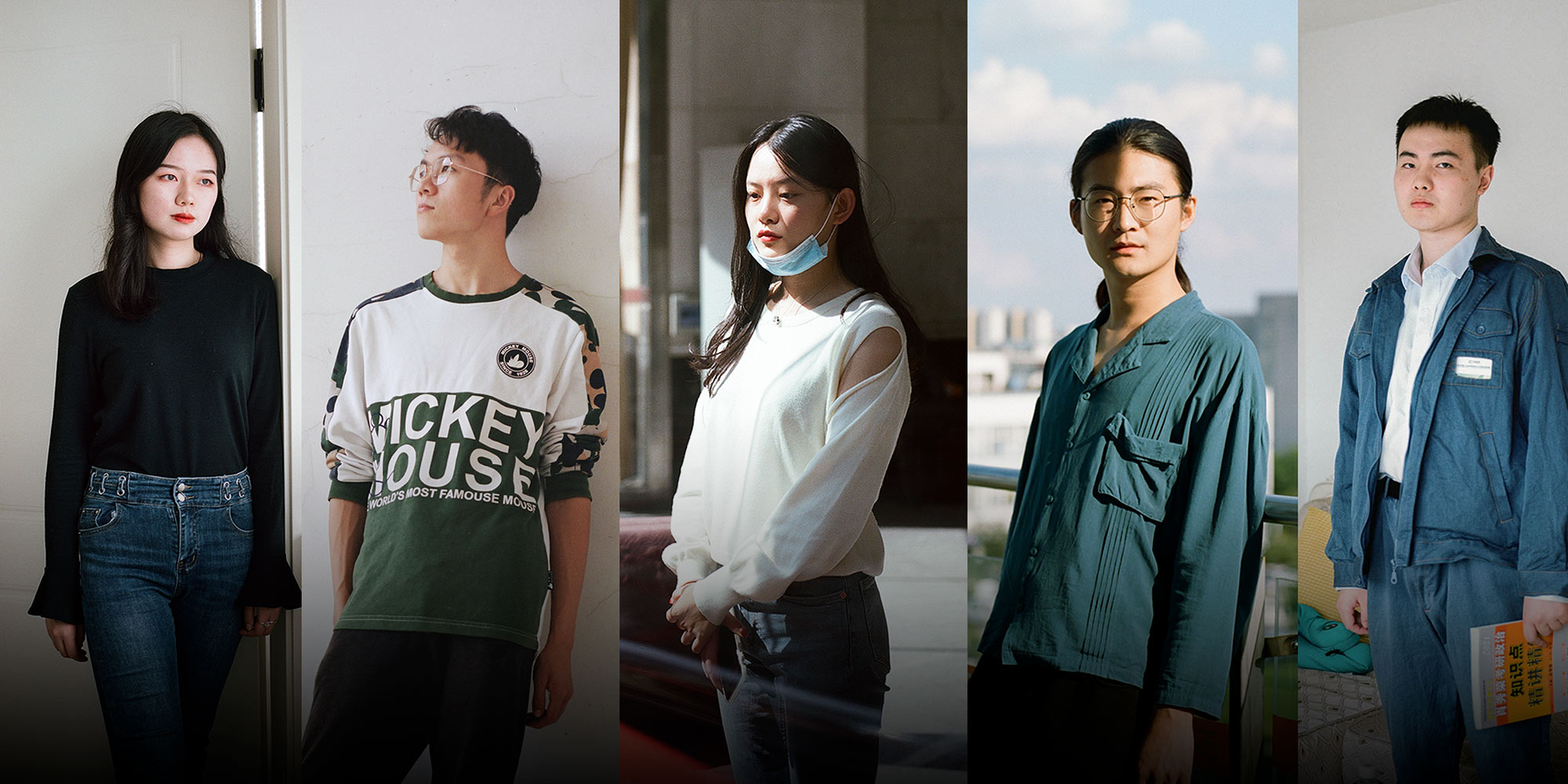 MULTIMEDIA
Navigating a Post-Pandemic World: Portraits of China's Class of 2020
For China's fresh grads, the future has never looked more uncertain. Here's how one class of 2020 is coping.
At the start of this year, I was about to begin my final semester as an undergraduate at Soochow University in eastern China. In the summer, I'd be moving to London to start a graduate program in photography — an exciting opportunity that I was sure would open up new possibilities for my future.
Then, COVID-19 descended, and everything changed. All over China, stores closed, factories shut down, and schools suspended classes. Soon after, the same thing started happening in countries across the world. Our entire society seemed to have hit the pause button.
At that time, I was deeply anxious. I was forced to defer my photography program, and worries about the future ate away at me. It felt like students graduating this year would have to shoulder a greater burden than any generation in decades.
Though I could only communicate with them online, my friends were experiencing the same concerns. The future looked fragile and uncertain. Throughout the spring semester, classes were solely online, and the design students' final-year exhibitions were all canceled.
Before we knew it, our finals were over. Normally, fresh grads like us would enjoy a "buffer period" — one last summer of fun before real life begins. But with campuses still closed, each of us found ourselves alone and suddenly confronting a harsh new reality: scarce job openings, hypercompetitive postgraduate entrance exams, and curtailed foreign study openings.
A survey of recent graduates conducted by Sixth Tone's sister publication The Paper and tech giant Tencent shows how deeply China's class of 2020 has been affected. As of late September, less than half the grads had found jobs. Of those in work, the majority had started job hunting before the pandemic struck.
In October, I met up with some university friends, and the encounter opened my eyes to just how much everyone's lives had changed. I decided to record this extraordinary moment in history. Over the next few weeks, I traveled across eastern China — to the cities of Shanghai, Suzhou, Nanjing, and Yangzhou — and photographed 13 graduates, each of whom shared their story.
For me, this visual archive of the graduates of 2020 is important and precious.  
Zhang Guyue failed his postgraduate entrance examinations this year. During the outbreak, he felt frustrated and anxious. After graduating, he went to work at a tobacco company in the eastern Jiangsu province. But he still insists he wants to continue his studies in radio and television.
"Because the competition in the postgraduate exams was tougher, especially in my major, the (pandemic) situation has impacted me throughout the year," he says.
Zhang chose to take part-time postgraduate exams this year outside of work. The anxiety of preparing for exams alone and the loneliness of returning home after work by himself filled his heart. He's hopeful things will improve in the future.
Zhang Yingyue graduated from her radio and television program this summer, but she left with a feeling of unfinished business. The school canceled its graduation ceremony due to the pandemic, and the short film that Zhang had spent half a year working on was never screened.
On the bright side, she did succeed in getting a place in a graduate program at King's College London. But there was a problem. Before starting the course, she needed to pass a language test, but China's IELTS test centers were all shut.
Taking a big risk, Zhang flew to Thailand to sit the English exam. She passed, and she has now started her new degree. At the moment, she's studying online.
"The epidemic has affected the choices I've made this year," Zhang says.
Cao Panpan is one of the lucky students who succeeded in securing a place in a graduate program after sitting China's postgraduate entrance exams this year. She is continuing her studies at Yangzhou University, where she completed her undergraduate degree in agriculture.
"It was actually a good thing for me that they changed the postgraduate exams from offline to online," says Cao.
Though the pandemic hasn't affected her too much so far, Pan is anxious about finding work after she finishes graduate school.
The pandemic didn't worry Xu Xiangfeng too much. Soon after completing his advertising degree, he landed a job at a creative communications agency in neighboring city Hangzhou.
"When I was job hunting, I didn't feel extra pressure," he says. "I personally felt my previous internship experience … gave me an edge over other fresh graduates."
China's advertising industry has bounced back strongly from a dramatic slowdown during the first half of the year. Xu now often has to work until late into the night, but he's adapting to the intense schedule.
"I'm satisfied so far," says Xu. "I feel I still have a lot to learn. Maybe in one, two, or three years, I'll see if I can move to another city like Shanghai."
Gao Kaiyi spent the first half of the year almost entirely cut off from the outside world. Her parents, who were very worried about the pandemic, prevented her from leaving the house for months. The prolonged isolation followed by the pressure of post-university life wreaked havoc on her emotions.
"Graduation was like an accident that I knew was going to happen to me," she says.
With the help of her relatives, Gao was able to get a job at a local newspaper. The salary, however, was far lower than she expected. Now, she's feeling stressed about the future. She's making plans to save money and learn more skills.
Pan Haotian had been expecting to start an internship in early 2020. Instead, he spent months at home, barely seeing anyone. The extended isolation left the advertising graduate with intense social anxiety.
"When I went back to school, I saw all the classmates I knew from before, but I felt a little strange," says Pan.
In May, once China's epidemic was under control, Pan managed to get a job in the advertising industry. But he found social interaction in the office difficult, and he ended up quitting.
Finding himself out of work in a depressed job market, Pan was worried. If he didn't find something soon, he'd end up having to compete with the next batch of graduates in 2021 — and he'd be even less attractive as a candidate. 
So, he gave up looking for a job related to his major, and took a position at an investment company in Suzhou. He's now trying to brush up on investing, and make a new plan for the future.
After finishing her degree in visual communication design, Zhang Qingyi originally planned to go to the United Kingdom for further studies. The impact of COVID-19, however, prevented her family from being able to pay off their business loans, plunging them into financial difficulties. Zhang's overseas education plans had to be shelved, and she began to take on more responsibilities at home.
Now, the family business has finally started to emerge from the shadow of the pandemic, and Zhang is preparing her applications to study abroad next year. She's eager to find a job in Suzhou that will allow her to support herself and save up to continue her education.
"It's just more difficult now," she says. "Things will get better in the future."
Ni Xueyan took his postgraduate entrance exams for the first time in the middle of the country's epidemic. He passed the test, but didn't get selected by a school that time. Having no work experience and concerned about his prospects in the post-pandemic job market, Ni decided to sit the exams again.
This year, the number of candidates sitting the postgraduate entrance exams is twice as high as normal. But Ni still holds out hope of securing a place in a visual communication design graduate program somewhere. 
Zhao Fengmi is a research student in the final year of her postgraduate program, whose studies focus on the Sinicization of Marxism. She feels the pandemic hasn't had a great impact on those studying her major, since most of them go on to become teachers or Ph.D. candidates.
Students who want to work at state-owned enterprises or in the government, however, might be impacted. "The pandemic has led to the government focusing its resources on hiring grassroots cadres this year," says Zhao.
Life for postgraduate students is also getting tougher. Zhao's school is continually raising the threshold for graduating. She feels young people have to hustle and work hard to secure a good future.
During the senior year of his higher education degree, Yang Chen had two choices: Work as a Chinese teacher at a local high school, or study a postgraduate program. He chose the latter, and is now at Yangzhou University, majoring in subject teaching. Yang thinks the extra period of study will help him develop as an educator and experiment with new teaching methods.
"For my future employment prospects, it's better to take the postgraduate course," says Yang.
After finishing her undergraduate program, Qin Chang received an offer to study digital asset management at King's College London. With the COVID-19 situation in the United Kingdom worsening, she decided to study online this semester and hopes to travel to London to continue her studies in January.
The imminent launch of China's COVID-19 vaccines has given Qin renewed hope. She feels the past few months have been a useful life experience.
"It has given me a 'trial-and-error opportunity' that will help me make good life choices in the future," says Qin.
Lu Yao was hoping to study abroad after completing his interior design degree this year, but the pandemic nixed those plans. Instead, he has started working as an art teacher at a large tutoring organization in Nanjing. Because it's his first year of work, he has to travel between several different campuses giving classes.
But Lu is content with life right now. He plans to work hard and buy an apartment in Nanjing.
"Although I didn't get to go abroad, I'm very happy with my current job," he says.
Zhang Shuhan has been studying electrical engineering at The University of Sydney this year. After COVID-19 began spreading in China, she was forced to spend over two weeks in Thailand to circumvent Australia's travel restrictions and return to her university. She arrived just in time. Soon after, the Australian government tightened its entry policies, and many of Zhang's classmates faced enormous disruptions.
Due to the impact of the pandemic, Zhang is eager to find a good job. She's now studying at a training school in Nanjing to prepare for her professional exams.
Editors: Dominic Morgan and Shi Yangkun.
(Header image: Chen Yuxing for Sixth Tone)