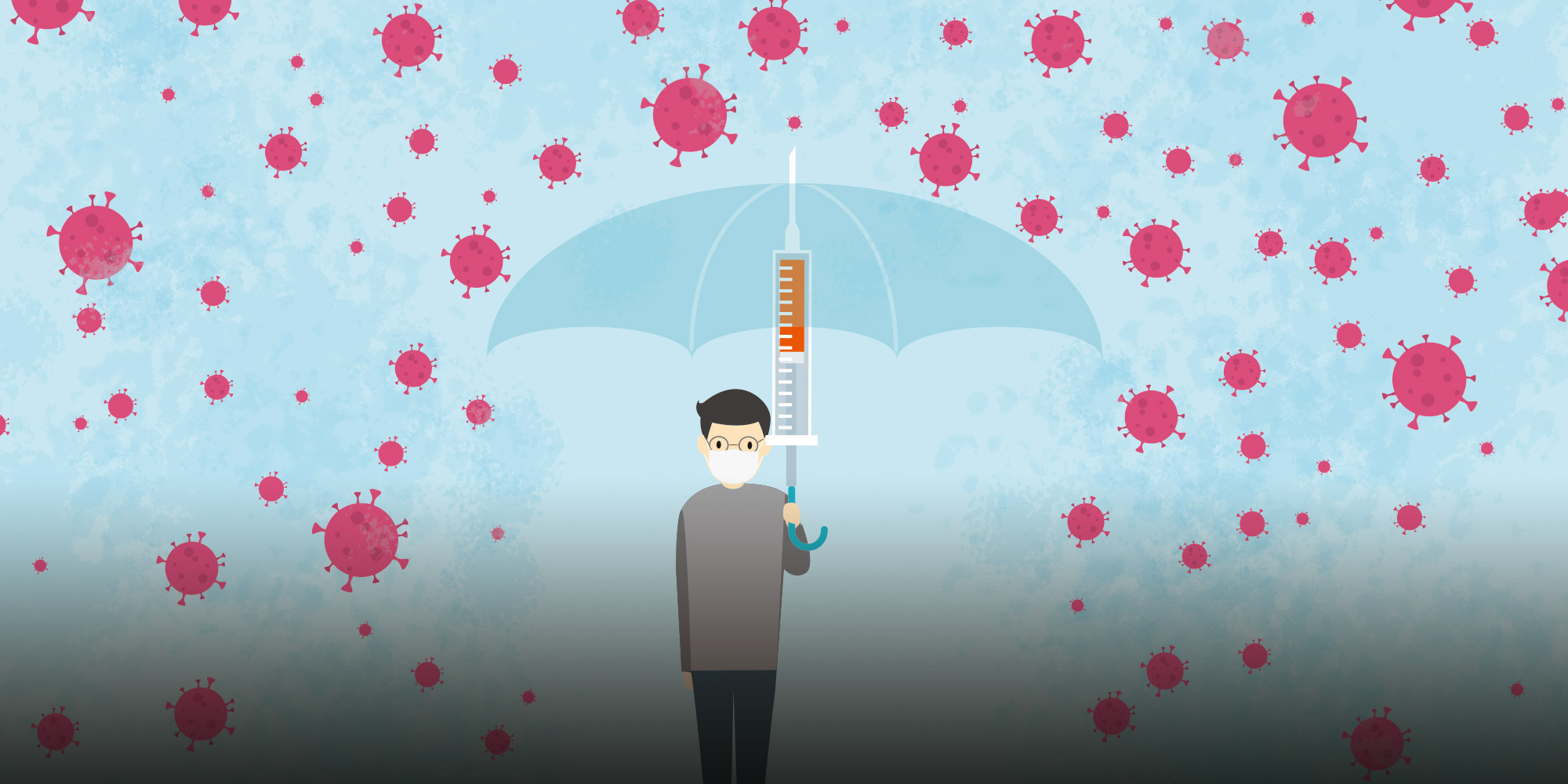 FEATURES
Students Bound for COVID Hotbeds Scramble for Unproven Vaccines
As young people headed abroad organize online to get into China's emergency inoculation program, experts warn of the risks.
Fed up with taking online classes organized for a different time zone and paying rent for a room she wasn't using, graduate student Chen decided last month to book a ticket to London for early November. Initially worried about the many daily coronavirus infections in the U.K., she resolved to just risk it.
"I thought my destiny was to run straight into the virus," Chen would later write on her Weibo microblog.
But then, in late September, a classmate from Chen's program in London forwarded her a webpage, purportedly by Chinese pharmaceutical giant Sinopharm, on which she could register her interest in receiving a vaccine for protection against the coronavirus. Skeptical of its authenticity, she filled it out without expecting much to come of it.
There was some reason to believe it was genuine. China had begun a preliminary inoculation program in the summer. Three domestically developed COVID-19 vaccines had been greenlighted for emergency use to protect high-risk groups. Two of these come from Sinopharm, who has said that, although still in clinical trials, their shots have shown promising results without causing serious side effects.
Though the program's intended target groups — medical staff, customs officials, and people working overseas — do not include students, the learners have spent the last few weeks desperately trying to get their hands on shots. In dozens of chat groups on messaging apps WeChat and QQ, these young adults in their late teens and early 20s have been guiding each other on how and whether to get a coronavirus vaccine that has yet to be proved safe or effective. 
To many, including Chen, moving to countries with daily COVID-19 cases in the thousands or even tens of thousands outweighs the risk of getting an experimental vaccination. "Compared with the harm of getting infected, the side effects of the vaccine aren't even worth mentioning to me," Chen, who did not want to use her given name out of privacy concerns, tells Sixth Tone. Experts, meanwhile, are urging caution. There's no way of knowing, for now, whether it's worth the risk, they say.
Chen was sucked into this world when, in early October, the webpage form she filled out produced a response. Sinopharm was going to start offering its COVID-19 vaccine in three cities — Wuhan, Beijing, and Guangzhou, a city in southern China near Chen — and students who were about to go abroad would be eligible, according to a text she showed Sixth Tone that claimed to be from China National Biotec Group, a Sinopharm subsidiary.
Chen signed up without hesitation, and was soon added to a 300-person group chat titled "Group 3," populated mostly by other students whose flights out of China were quickly approaching. "It turned out that our country had not given up on us," Chen wrote in that same Weibo post, on Oct. 18.
Meanwhile, domestic outlet Cls.cn broke the news of Sinopharm providing overseas-bound students priority access. The story was widely shared, and on social media some people lamented how this already-privileged group of people was being given precedence. The page Chen had used to register disappeared the next day.
A week after Chen joined the WeChat group, on Oct. 13, an organizer whose identity remains unclear announced that the inoculation program in Guangzhou had been canceled. Chen first signed up to go to Wuhan, but the next day that program, too, was canceled. She then switched to the 2,000-person Beijing group chat. One day before Chen booked her flight, an organizer notified the group that Sinopharm could no longer provide them with vaccines. All group chats Chen had joined were closed that night.
"At that moment, I kind of already knew there was no way for me to board this Noah's Ark," Chen says. "But I didn't give up trying."
Neither did other students. Xu, a Beijing-based sophomore enrolled at an American university, had also applied through the same webpage Chen had used, but after seeing how many people had signed up, she realized her chance of success would be low. After a friend of her father with the right connections "lent some help," Xu nevertheless managed to schedule a vaccination appointment, she tells Sixth Tone. (Xu declined to use her full name because Sinopharm had her sign a nondisclosure agreement prior to being inoculated.)
Because of imminent travel plans, Xu chose to receive two shots in one sitting, as opposed to leaving a two- to three-week gap that would better train the body's immune system. After staying half an hour for observation, she left the hospital with two slightly sore arms and much relief. "I'm not that worried," Xu says when asked about being administered an unapproved vaccine in a less-than-ideal fashion. "Lots of people are getting vaccinated. Also, I have to go back to the U.S. What other options do I have?"
It's unclear how often Sinopharm offers two shots in one sitting, but Yang Zhanqiu, a virologist at Wuhan University, tells Sixth Tone that while he supports students going abroad getting one shot for "at least some protection," getting two shots at the same time is "pointless." It does not train our immune system any better than one shot would, he says. "Administering a bigger dose even has the possibility of triggering adverse reactions." Sinopharm and China National Biotec Group did not respond to Sixth Tone's request for comment.
In any case, with the vaccines still in trials, people getting inoculated early are taking a risk. "What we know now is that the vaccines are safe at least in the short term," Lu Hongzhou, an infectious disease expert at Shanghai Public Health Clinical Center, tells Sixth Tone. He says phase 1 and 2 trials that run for less than six months can catch acute adverse reactions, but the long-term side effects — if there are any — remain unknown. Early trials also only involve a few hundred participants, meaning it is possible adverse reactions that affect a tiny percentage of people remain undiscovered.
Wang Jun, a pharmacologist at the University of Arizona in the U.S., tells Sixth Tone that emergency use authorization (EUA) is a risky move. The U.S. Food and Drug Administration issued such a permit to hydroxychloroquine, an antimalarial drug, in March for treating COVID-19. However, growing evidence from larger and more rigorous studies later showed the drug didn't work and could cause negative side effects. The FDA had to revoke the authorization within three months.
"The permit can make many believe that the drug or vaccine is effective, but it can turn out to be the opposite. EUA has to be granted with extra care," Wang says. "You can't lower the standards of science because you want to be the first to have a (COVID-19) vaccine."
In the U.S., authorities usually give emergency use permits based on early data from the large-scale trial, if it shows promise, Wang says. But it's unclear on what information China has based its emergency use authorization. Executives at Sinopharm have repeatedly said their vaccines are safe and effective. The company's chief legal consultant told domestic media last month they had given their vaccine to over 100,000 people and reported "no one with obvious adverse effects, and no one infected."
"They (the pharmaceutical companies) don't release their data, so they can say whatever they want," Wang says. "Without data from rigorously conducted studies, there's no way to make that conclusion."
Beijing-based biotech company Sinovac, the maker of the third COVID-19 vaccine that was approved for preliminary use, has also begun publicly rolling out its shots. In mid-October, authorities in eastern China's Zhejiang province announced that several cities including Jiaxing, Yiwu, and Shaoxing would start accepting inoculation appointments for the company's CoronaVac. These programs are aimed primarily at local residents who "wish to receive emergency inoculation," according to the authorities.
Liu Peicheng, a spokesperson at Sinovac, did not want to answer questions about the company's domestic inoculation program. But he told Sixth Tone in an email that the company plans to conduct a preliminary analysis of data from its ongoing large-scale human trial in Brazil at the end of the year. "We hope drug administrations in countries like China, Brazil, and Indonesia can approve our vaccine as soon as we show its effectiveness in providing protection," he says.
"I think it's a very personal choice whether to take the risk and get the experimental vaccine," Qi Hai, an immunologist at Tsinghua University in Beijing, tells Sixth Tone. "But regardless of whether you get the shot, it's utterly important to keep practicing mask wearing and social distancing. Even if the vaccines are largely effective, you may be among the small percentage of people the vaccine fails to protect."
For Evelyn Wu, a sophomore at University of Birmingham in the U.K., the choice was simple. Per her parents' request, she returned to her hometown Yongkang, in Zhejiang province, in March when the number of COVID-19 cases in the U.K. began increasing. Earlier this month, a friend alerted her about the possibility of getting inoculated. "I decided to get vaccinated as soon as I saw the announcement," Wu tells Sixth Tone. "I trust China's research on the vaccine and our medical personnel." 
On Oct. 12, Wu scheduled an appointment at the local hospital, needing her identity card, passport, and proof of international travel plans. Two days later, Wu received her first injection for 228 yuan ($34), with a second one scheduled in a few weeks. She told Sixth Tone that the vaccination was pain-free and gave her a sense of security. "I will still be cautious though," Wu says, adding that she plans to return to Birmingham in January. "It's not (because I doubt) the efficacy of the vaccine; I just want to be well-prepared."
Chen, meanwhile, has given up hope. When she called Yiwu's Center for Disease Control on Oct. 18, a staff member told her they had run out of the 500 shots they received, and that it was unclear when the next batch would arrive. Chen's flight is now just days away.
"First they said there were vaccines and I had high hopes, but then they suddenly said there were none," she says. "I don't want this one year study abroad to end before it even starts."

Contributions: Li Yinru; editor: Kevin Schoenmakers.
(Header image: Visual elements from Wenmei Zhou/People Visual, re-edited by Ding Yining/Sixth Tone)