David, the pseudonym of an American expat from a small town in the state of Virginia, had never touched a cigarette before graduating from university. But not long after arriving in the southwestern city of Kunming for a job at a local education company, he was hooked. At first, he refused the incessant offers of a smoke from business partners and friends over dinner or at a KTV, but eventually he found himself relenting, largely to avoid embarrassment. Just in the course of our two-hour long interview, the current keyboard player and nightclub worker went through six cigarettes.
Whether he realized it or not, the cigarettes David was smoking in Kunming were inextricably linked to his home state in the U.S. In 1881, the world's first cigarette rolling machine was patented in Virginia. Capable of producing 200 cigarettes per minute, these machines marked the start of the industrial age for tobacco. As production increased, tobacco companies increasingly looked to expand into overseas markets, and the first machine-rolled cigarettes arrived in Shanghai in 1888. In 1904, the British American Tobacco Company — the largest tobacco company in China at the time — established an office in Kunming, and it later monopolized the cigarette market in the surrounding Yunnan province.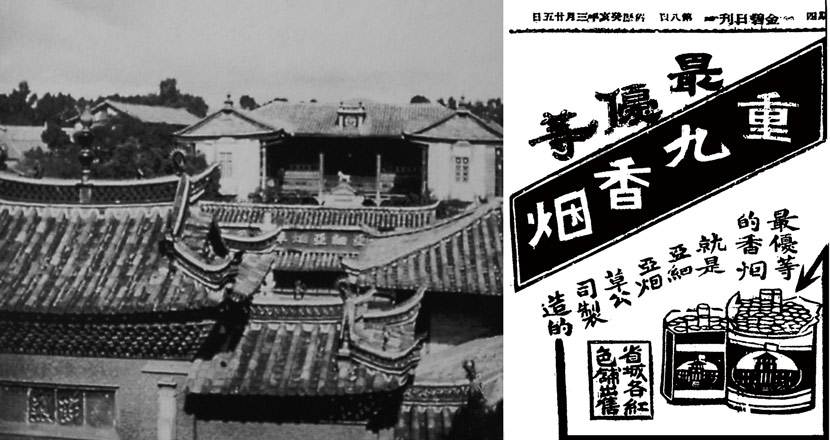 Left: An exterior view of the Asia Tobacco Company building in Yunnan province, 1920s; Right: An ad for Asia Tobacco Company cigarettes from 1923. Courtesy of the author
By the first half of the 20th century, smoking cigarettes had become a fashionable way to highlight one's cultivation and cosmopolitanism. Chu Shouzhuang, who worked in the tobacco industry in Yunnan province in the 1940s, recorded how people in Kunming felt about foreign cigarettes, and especially those made in the United States: "Many in the upper-middle class (of China) see smoking American cigarettes as a status symbol. Even the lower-middle class, who are clearly smoking Chinese-made cigarettes, keep them in American cigarette packets."
Of course, even many of these locally produced cigarettes could trace their heritage back to Virginia. When Japan invaded in 1937, much of the country's elite sought refuge in remote Kunming. Then, in 1941, the U.S. sent the Flying Tigers air squadron to the city to support the country's fight against Japan.
The ensuing increase in interactions between American soldiers and Chinese intellectuals, forward-thinking capitalists, and ordinary residents gave Kunming a unique, international atmosphere, and tobacco helped grease the wheels of these interactions. One local, He Liyi, later recalled in his autobiography that residents swapped fake jade with American airmen stationed in the city for Western-produced cigarettes.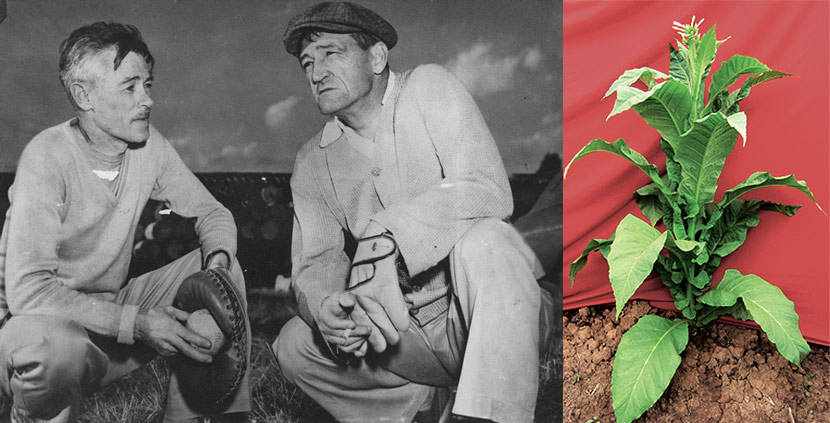 Claire Lee Chennault (right) takes a break during a baseball match in Yunnan province, 1940s. From Kongfz.com; Right: A Yunnan Mammoth Gold tobacco plant. Courtesy of the author
Long Yun, the largely autonomous warlord and governor of Yunnan province, saw an opportunity to develop the region's tobacco industry but struggled to find seeds of native Virginian tobacco suitable for making cigarettes. Finally, he entrusted Claire Lee Chennault of the Flying Tigers with 30 taels of gold (worth roughly $76,000 today) and asked him to procure some on his behalf. Chennault brought back Mammoth Gold tobacco seeds from Virginia, and the plant soon became the most important raw material in the production of local cigarettes, giving the province's growers a leg up on their domestic competition and making it the center of tobacco production in China.
Tobacco abruptly lost its role as a means and medium of international exchange between China and the outside world after the People's Republic of China was established in 1949, but the industry nevertheless remained a priority. One of Chairman Mao's first directives, issued roughly a month after founding the country, was to improve the quality of domestic cigarettes. He also encouraged party members, government officials, and military personnel to smoke cigarettes manufactured in state-run factories to support the development of the national tobacco industry.
In the West, meanwhile, the harmful side effects of smoking were becoming too big a problem to ignore any longer. Official attitudes in the U.S. and other countries began to shift from tobacco after British and American scientists published papers in 1950 connecting smoking and lung cancer, leading to a decadeslong campaign to curb smoking in these countries.
Although China, too, eventually came to the same realization — and signed on to the WHO Framework Convention on Tobacco Control in 2003 — anti-smoking campaigns continue to be hampered by the country's state monopoly of tobacco, which generates significant tax revenue at both the national and local levels. There are also cultural factors at play. For example, in the tobacco-producing region of Yunnan, exchanging and lighting cigarettes when meeting for the first time is a common way to build relationships. Locals are proud of the strength of the provincial tobacco industry, and see its consumption as a way to contribute to the economy. Tobacco is also often given as a gift, with workers using premium cigarettes to bribe their superiors.
Thus, when non-Chinese like David arrive in Yunnan from countries where smoking is frowned upon, they find the tables have turned. Where once it was Westerners passing out cigarettes to locals, now it's the other way around, and even those who never smoked or even hated smoking find themselves having to accept cigarettes to integrate into the local culture. Of course, not everyone winds up hooked like David. Some instead adopt strategies for accepting — but not smoking — cigarettes, and take part in the culture of handing them out.
When I first conducted fieldwork on the daily lives of non-Chinese in Kunming in 2007, their smoking habits were largely shaped by and confined to the expat bubble. The cheap price of cigarettes in the city, lack of restrictions on smoking, and the fact that people around them generally didn't mind the habit, turned smoking into a symbol of freedom from the strict controls in their own countries.
Following up on my study this year, however, I found that the development of the local economy was pushing more foreigners in the city to integrate into local life. Smoking — or at least exchanging cigarettes — is now seen as a valuable way for them to obtain more local resources and make contacts, just as it has long been for Chinese.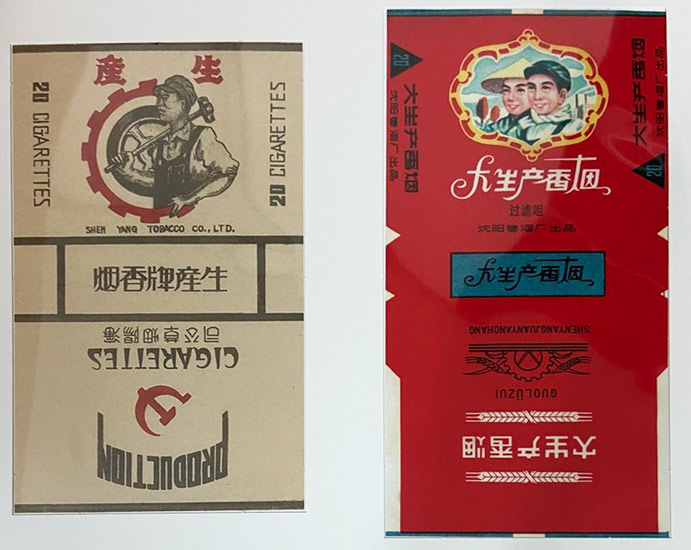 Packages of "Big Production" cigarettes, made by the Shenyang Tobacco Company in the 1950s (left) and 1970s. Courtesy of the author
Ironically, this is happening just as China's anti-smoking campaigns are finally bearing fruit. Attitudes toward smoking are changing, with increasing numbers of young people opting not to smoke. One American restaurant owner explained to me that when he opened his first eatery in Kunming in 2004, he had to follow the local practice and allow diners to smoke while they ate. But now, two of his three restaurants are completely non-smoking.
Still, one non-Chinese motorcycle enthusiast I interviewed told me that even though he personally doesn't smoke, he often carries a few packs when out riding with friends, or for offering to security guards, police officers, or other people he meets. "Handing out cigarettes brings people closer," he said.
The locals who traded fake jade to American pilots for a chance to try a Western cigarette more than 70 years ago probably never imagined that one day their descendants would be offering them to Americans. But if times and attitudes have changed, people's desire to communicate and understand one another has remained the same.
Translator: David Ball; editors: Cai Yiwen and Kilian O'Donnell; portrait artist: Wang Zhenhao.
(Header image: Smokers at a market in Lijiang, Yunnan province, 2013. Michael Freeman/People Visual)