The past decade has seen a rise in the number of Chinese universities spicing up their curricula with a little Love 101. Known collectively as "relationship courses," these mostly unofficial, elective classes seek to foster "healthy views of love" among students by teaching them how to build and maintain healthier intimate relationships.
There's real demand for such content on Chinese campuses: According to a report published this month by China Youth Daily, nearly 90% of college students surveyed supported the creation of relationship courses. But there's also little oversight on how teachers use these platforms, or what they're telling students about sex and gender. And if the taped classes and interviews I've seen are any indication, the classes could end up hurting as much as helping.
To start, it's clear that many relationship courses are packed with harmful gender stereotypes. One course, offered at East China Normal University, bills itself as The Art of Love and War for College Students. The teacher, Hong Yafei, claims that "the biggest difference between men and women is that women are emotional, while men are rational." "Women are often disingenuous," he explains. "When angry, the thinking behind what a woman says is backward. It's reverse logic."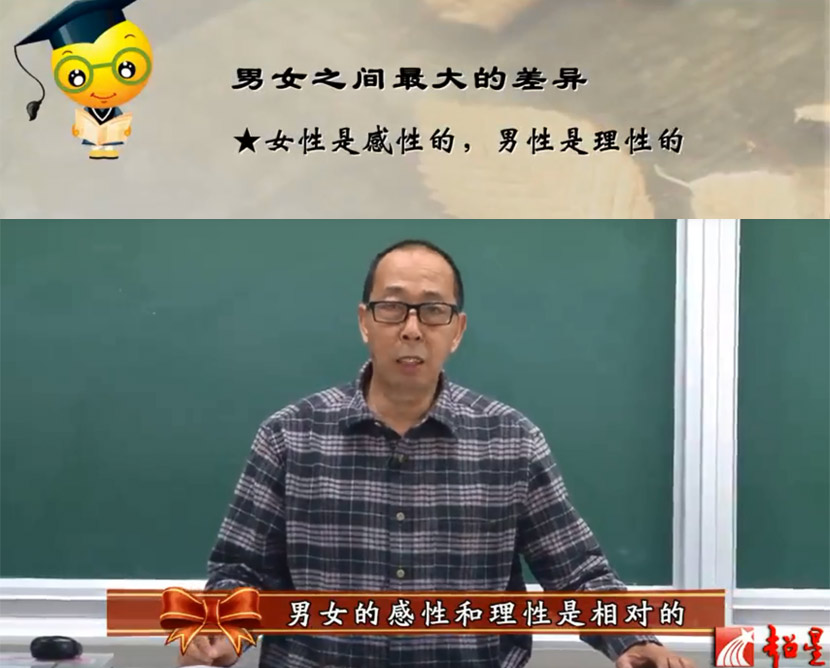 Screenshots from Hong Yafei's online course, including his claim that "the biggest difference between men and women is that women are emotional, while men are rational." From Bilibili
Hong offers students a vision of the two sexes positioned poles apart, while differences within the sexes are not even touched upon. Other lecturers use stereotypes to explain how men and women approach relationships differently. Hu Deng, in his Emotional Psychology course at Renmin University of China, tells students that, when it comes to romantic interactions, gender differences are innate. "Girls complain about their boyfriend looking at other women on the street," he was quoted as saying in an interview. "Biologically speaking, men are visual creatures. And men don't understand why women want to hear sweet talk — that it's because girls are innately drawn more to what they hear." According to this interpretation, relationship difficulties are the result of misunderstandings caused by not knowing the objective differences between the sexes. If young people simply recognize these differences and play their roles correctly, all will be well.
"Women, you can be proactive," Hong says. "But if you're the one taking the initiative, you'll need to change and become more passive once the relationship is established." Men, meanwhile, shouldn't take what a woman says too seriously: "When a girl suggests breaking up, it tends to be emotional, exploratory, a kind of roundabout way of expressing her love. She wants her boyfriend to say: 'I can't live without you.' If he adds a few heart-wrenching expressions and gestures, then all the better."
I can't help but wonder what the cost of these ideas has been. Just over a year ago, a Peking University student identified in media reports only as Bao Li killed herself after suffering prolonged psychological abuse from her boyfriend. The boyfriend, a fellow student named Mou Linhan, allegedly berated her for not being a virgin and threatened to post nude photos of her online. But when Bao tried to break it off, Mou sent her a photo of a hospital note that supposedly showed he had been treated for a sleeping pill overdose. (Mou was arrested this year on suspicion of abuse.)
Admittedly, the cliché gender stereotypes taught in relationship courses are often grounded in the social realities of modern China, but the purpose of education should be to question, think about, and transform reality, not rationalize it. When instructors explain away jealousy, adultery, and divorce as the results of "innate differences between the sexes," they reinforce the idea that sexual morals and mores are somehow different for each gender. In doing so, they miss a rare opportunity to show students how gender is socially constructed, and how traditional, rigid notions of gender result in the kinds of emotionally stunted relationships that lead to violence.
Even when they do make ostensible concessions to women, the courses do so in ways that reinforce gender inequality. Or as Hong puts it: "Remember, there are two rules in a marriage. Rule 1: The wife is always right; and Rule 2: If you think your wife is wrong, refer back to Rule 1." Imagine you're a woman who desires a relationship built on equality. How would "friendly" remarks like these make you feel?
I searched in vain for the answer to this and other questions in Hong's recorded lectures. But the students are resolutely silent throughout. No space is given for discussion or for students to express their own thoughts.
College students at a university flea market in Wuhan, Hubei province, June 10, 2019. People Visual
Some teachers even use their classes to try their hands at matchmaking. The organizer of a course titled Relationship Studies: Practice and Theory, arranged by a student association at Tianjin University, told media that students who found a "good partner" during the course could potentially receive full marks.
It's not my intention to diminish the value of a good relationship, but when teachers make finding their students a boyfriend or girlfriend their primary goal, a hierarchy is created between those who are single and those who are partnered up. Singletons start to seem faulty, in need of change, or likened to symbols of failure. Being alone or entering a relationship with no expectations of marriage cease to be viable options.
Another hidden fault line in these courses is sexual orientation. Class content is extremely heteronormative, and its participants assumed to be looking for a partner of the opposite sex. During a relationship course at Henan Normal University, the teacher, surnamed Liu, asked the males present if they had girlfriends. When they answered "no," she encouraged them to start adding girls on messaging app WeChat. It's difficult to imagine the gay and lesbian students in the audience gaining much from such lessons, let alone being better prepared to deal with the unique difficulties that arise in intimate same-sex relationships.
Same-sex relationships are just one of a myriad of forms of intimacy that are rarely, if ever, touched upon in relationship courses. What about interracial relationships? Or relationships between an older woman and younger man? Consensual non-monogamy or polyamory? And what of the barriers to intimacy faced by marginalized groups such as transgender individuals or those with disabilities?
Sexuality, gender, race, age, class, and other social factors are often closely linked, and the ways they intersect result in a diverse array of unique experiences. Relationship courses should present this range of sexual and gender identities and experiences, and help students examine how social norms and systems affect intimate relationships. Restricting the content of relationship courses to individual psychological guidance for young heterosexuals isn't just too narrow a lens, it also misses how many relationship problems arise not because of individual conflicts, but because of social norms. When the pressure is external, no amount of skilled communication will solve the issue.
Of course, learning about these issues can be somewhat unsettling and painful at first, but critical thinking helps individuals become more aware of how they personally interact with society, and helps them avoid being brainwashed by mainstream gender norms or easily manipulated in intimate relationships.
I realize that this is asking a lot of teachers and the current teaching environment. Currently, many of the instructors teaching relationship courses have little-to-no grounding in gender studies. Without the knowledge and expertise to critically examine gender norms, it's no surprise they spend their time regurgitating stereotypes or force-feeding students hearty bowls of "Chicken Soup for the Soul."
Can love only exist between a man and a woman? What place does sex have in a relationship? And is romantic love the only or even the best form of intimacy? It's good that Chinese universities are trying to help students answer their questions about life and love. I just wish they were doing so in ways that promoted equity and diversity in intimate relationships, rather than reinforcing an already unhealthy status quo.
Translator: David Ball; editors: Cai Yineng and Kilian O'Donnell; portrait artist: Zhang Zeqin.
(Header image: A couple at a university library in Hangzhou, Zhejiang province, Dec. 29, 2013. Li Huachun/People Visual)