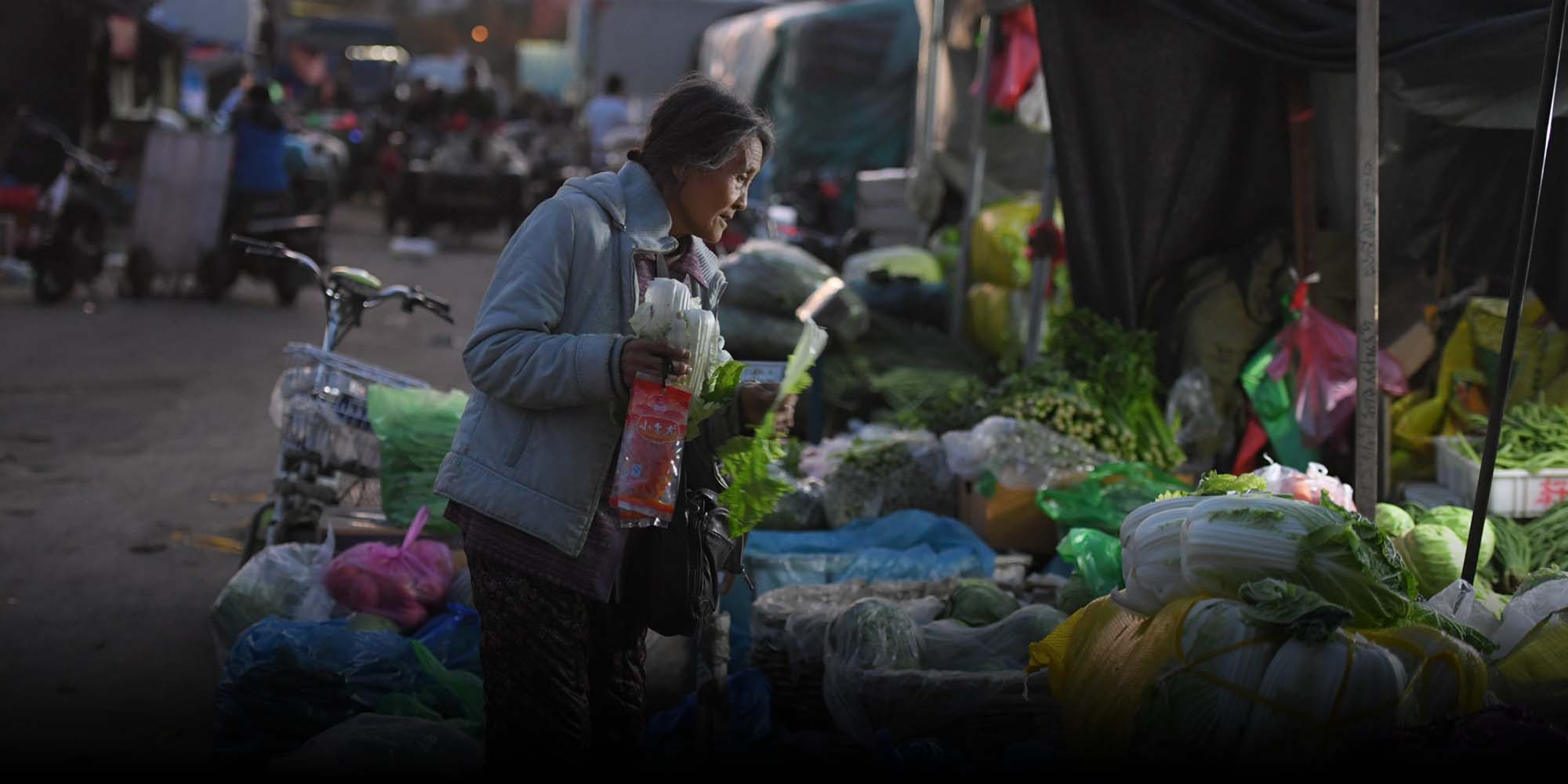 NEWS
Wuhan Market's Ageism Against Vendors Sparks Backlash
Companies overseeing the Shengli produce market say only female vendors 45 or younger and male vendors 50 or younger are eligible for training and testing required to resume business.
A produce market in the central Chinese city of Wuhan is making waves over a new policy some say unfairly — and illegally — discriminates against older food vendors.
After a strange new respiratory illness was initially thought to have originated from another Wuhan market in the early days of China's COVID-19 outbreak, the Shengli Vegetable Market, located in the city's central Jiang'an District, was renovated to create a more hygienic environment. But according to an official document included in media reports last week, the market will no longer allow female vendors over 45 years old or male vendors over 50.
"I'm already 50 years old. If I can't sell agricultural products, what else will I do?" one vendor told reporters visiting the market.
The recent renovation of the 40-year-old Shengli market, begun in July, is in line with a 2001 local government mandate that the city's downtown wet markets be "upgraded" to supermarket chain-level standards — better sanitary practices, higher quality control, and a streamlined shopping experience — over the next 20 years.
With the newly renovated market nearing reopening, locals began noticing flyers posted around the site saying all vendors would need to attend two weeks of mandatory training as well as pass an exam in order to continue doing business — and only if they were young enough. The 2001 mandate, however, does not include age restrictions.
A staff member from Dongfang Bailing, one of three subcontractors overseeing operations at Shengli Vegetable Market, told local media that the company is within its rights to enforce such standards. "The age restriction is to ensure that the quality of services here is compatible with the requirements of the market renovation project," she said.
Though ageist policies against food vendors appear to be isolated to the Wuhan market, the case has stirred heated discussion on Chinese social media, with a related hashtag on microblogging platform Weibo viewed for more than 120 million times by Tuesday evening.
"While it is indeed necessary to consider the physical condition and work-related risk of each vendor, this should be judged according to their health — not their age," read one representative comment.
In a recent news segment, China Central Television anchor Hai Xia also decried the Wuhan market's "irrational regulations" against older vendors. "In modern society, people are living longer and in better physical health," she said. "Let's end our obsession with age."
Apart from the moral argument against such discriminatory policies, they may also violate the law, according to Ding Jinkun, a lawyer specializing in labor cases. "It's obviously employment discrimination, and an invalid policy to exclude people from such a wide age range," Ding told Sixth Tone. "The local government has the authority — and the obligation — to supervise and eliminate this kind of discrimination."
It appears the local government is aiming to do just that. In a Weibo post last Friday, the Jiang'an District market supervision bureau ordered the subcontractors to immediately rectify their misguided policy and create a "fair and legal" market environment.
Age-based discrimination is fairly common in China, according to Ding. The national civil service exam, for example, only accepts candidates under 35, and on online recruiting platforms, many companies explicitly stipulate that 35 is their upper limit for potential new hires.
At a small produce market in Shanghai, meanwhile, a 34-year-old seafood vendor surnamed Huang told Sixth Tone that she has never heard of age-restrictive policies for people like her. "Some of the vendors here are already in their 60s," she said, gesturing to a neighbor. "She's doing just fine."
Additional reporting: Chen Qi'an; editor: David Paulk.
(Header image: People Visual)